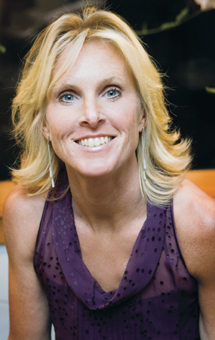 Elin Hilderbrand is a graduate of Johns Hopkins University and the graduate fiction workshop at University of Iowa.

The popular author lives with her husband and their three children on Nantucket - the setting for all of her bestselling novels.

Hilderbrand often writes the first draft of her novels on paper which she says may take a long time but is worth it. We would agree. She has topped many bestseller charts with her summer-themed Nantucket books.
Book List in Order:
34

titles
Summer Days Again

In SUMMER DAYS AGAIN, Elin Hilderbrand offers nine delectable stories—prequels, sequels, and "missing chapters" from her cherished books—some of which have never been published, until now.Inside the collection, you'll find...

---

The Hotel Nantucket

"The queen of beach reads" (New York Magazine) delivers an immensely satisfying page-turner in this tale about a summer of scandal at a storied Nantucket hotel.Fresh off a bad breakup with a longtime boyfriend, Nantucket sweetheart Lizbet Keaton ...

---

---

Golden Girl

In this satisfying page-turner, a Nantucket novelist has one final summer to protect her secrets while her loved ones on earth learn to live without their golden girl. On a perfect June day, Vivian Howe, author of thirteen beach novels and mother ...

---

Reunion Beach

NEW YORK TIMES BESTSELLER!In this warm and moving anthology, a group of bestselling authors and writers pay tribute to legendary, larger-than-life New York Times bestselling author Dorothea Benton Frank and her literary legacy.Inspired by t...

---

Troubles in Paradise

Travel to the bright Caribbean one last time in the satisfying conclusion to the nationally bestselling Winter in Paradise trilogy by Elin Hilderbrand.. After uprooting her life in the States, Irene Steele has just settled in at the villa on St. J...

---

28 Summers

Their secret love affair has lasted for decades -- but this could be the summer that changes everything When Mallory Blessing's son, Link, receives deathbed instructions from his mother to call a number on a slip of paper in her desk drawer, h...

---

Summer of '79

/ General Fiction

Elin Hilderbrand's brief, irresistible postscript to her #1 New York Times bestselling novel Summer of '69. Catch up with Blair, Jessie, and Kirby Levin ten years after the summer everything changed. This "Summer of '69 story" by Elin Hilderbran...

---

What Happens in Paradise

Spend your winter on sunlit shores in the New York Times bestselling follow-up to Winter in Paradise, as secret lives and new loves emerge under the bright Caribbean sky. A year ago, Irene Steele had the shock of her life: her loving husband, fath...

---






---

Summer of '69

Four siblings experience the drama, intrigue, and upheaval of a summer when everything changed, in New York Times bestselling author Elin Hilderbrand's first historical novel Welcome to the most tumultuous summer of the twentieth century. It...

---

Winter in Paradise

Spend the coldest days of winter on a Caribbean beach with New York Times Bestselling author Elin Hilderbrand. Join New York Times Bestselling author Elin Hilderbrand on the stunning beaches of St. John for the beginning of her thrilling new wint...

---

The Perfect Couple

From New York Times bestselling author Elin Hilderbrand, comes a novel about the many ways family can fill our lives with love...if they don't kill us first. It's Nantucket wedding season, also known as summer--the sight of a bride racing down Ma...

---

Winter Solstice

Raise one last glass with the Quinn Family at the Winter Street Inn. It's been too long since the entire Quinn family has been able to celebrate the holidays under the same roof, but that's about to change. With Bart back safe and sound from Afghanis...

---

The Identicals

Identical twin sisters who couldn't look more alike...or live more differently. Harper Frost is laid-back, easygoing. She doesn't care what anyone thinks of her. She likes a beer and a shot and wouldn't be caught dead wearing anything fashionable....

---

Winter Storms

Gather under the mistletoe for one last round of caroling with the Quinn family in this heartwarming conclusion to Elin Hilderbrand's bestselling Winter Street Trilogy. Some of the stormy weather of the past few seasons seems to have finally lifte...

---

Here's to Us

Three romantic rivals. One crowded house. Plenty of room for jealousy. Laurel Thorpe, Belinda Rowe, and Scarlett Oliver share only two things; a love for the man they all married, Deacon Thorpe--a celebrity chef with an insatiable appetite for lif...

---

Winter Stroll

"Happy Holidays 2015! It has been a rough year for the Quinns, but I would like to start by saying thank you for all of the well wishes and positive missives sent our way." Another Christmas on Nantucket finds Winter Street Inn owner Kelley Quinn ...

---

---

Winter Street

In bestseller Elin Hilderbrand's first Christmas novel, a family gathers on Nantucket for a holiday filled with surprises. Kelley Quinn is the owner of Nantucket's Winter Street Inn and the proud father of four, all of them grown and living in var...

---






---

The Matchmaker

A touching new novel from bestselling author Elin Hilderbrand in which a woman sets out to find love for those closest to her - before it's too late. 48-year-old Nantucketer Dabney Kimball Beech has always had a gift for matchmaking. Some call her...

---

The Tailgate

/ General Fiction

A stirring portrait of a relationship at a crossroads, this digital original short story follows two irresistible young lovers as they cope with college life, and invites us into a world we don't want to leave. Clendenin Hughes first kissed Dabney Ki...

---

Beautiful Day

It would be a perfect wedding... The Carmichaels and the Grahams have gathered on Nantucket for a wedding. Plans are being made according to the wishes of the bride's late mother, who left behind The Notebook: specific instructions for every detai...

---

The Surfing Lesson

/ General Fiction

Margot's reservoir of romantic feelings for her husband Drum is running dry. But while the family is on vacation in Nantucket, Margot finds an opportunity to potentially regain her romantic love for her husband - in the form of Hadley Axelram, his ex...

---

Summerland

A warm June evening, a local tradition: the students of Nantucket High have gathered for a bonfire on the beach. But what begins as a graduation night celebration ends in tragedy after a horrible car crash leaves the driver of the car, Penny Alistair...

---

Silver Girl

Meredith Martin Delinn just lost everything: her friends, her homes, her social standing - because her husband Freddy cheated rich investors out of billions of dollars. Desperate and facing homelessness, Meredith receives a call from her old best ...

---

The Island

Birdie Cousins has thrown herself into the details of her daughter Chess's lavish wedding, from the floating dance floor in her Connecticut back yard to the color of the cocktail napkins. Like any mother of a bride-to-be, she is weathering the storms...

---

The Castaways

WITH RUMORS OF INFIDELITY straining Greg and Tess MacAvoy's marriage, the couple head out on their sailboat one early-summer day to celebrate their wedding anniversary, hoping the roughest waters are behind them. But in an accident off Nantucket, the...

---

A Summer Affair

CLAIRE WANTS IT ALL -- and in the eyes of her friends, she has it: a devoted husband, four beautiful children, even a successful career as an artist. But when serving as co-chair of Nantucket's social event of the year propels Claire into the orbi...

---

---






---

The Love Season

It's a hot August Saturday on Nantucket Island. Over the course of the next 24 hours, two lives will be transformed forever. Marguerite Beale, former chef of culinary hot spot Les Parapluies, has been out of the public eye for over a decade. This ...

---

The Blue Bistro

AN UNEXPECTED OPPORTUNITY LEADS TO... Adrienne Dealey has spent the past six years working for hotels in exotic resort towns. This summer she has decided to make Nantucket home. Left flat broke by her ex-boyfriend, she is desperate to earn some fast...

---

Summer People

IT WAS THE SUMMER THAT WOULD CHANGE THEIR LIVES FOREVER Every summer the Newton family retreats to their beloved home on Nantucket for three months of sunshine, cookouts, and bonfires on the beach. But this summer will not be like any other. When ...

---

Nantucket Nights

A FULL MOON, A TWENTY-YEAR-OLD FRIENDSHIP--AND A NANTUCKET NIGHT NO ONE WOULD EVER FORGET... For twenty years, Kayla, Antoinette, and Val have performed their ow~ special summer ritual. Once a year, the old friends put aside their daily, separate ...

---

The Beach Club

Gorgeous Nantucket is an island where memories are made, friendships begun, passions ignited. Now, during one unforgettable summer, the exclusive Nantucket Beach Club and Hotel will shape the fates of the men and women who walk through its doors... ...

---
Complete Series List in Order
28 Summers
1) 28 Summers (Jun-2020)
1.5) The Sixth Wedding (Jul-2021)
Beautiful Day
0.5) The Surfing Lesson (May-2013)
1) Beautiful Day (Jun-2013)
Nantucket
1) A Summer Affair (Jun-2008)
2) The Castaways (Jun-2009)
3) The Perfect Couple (May-2018)
Paradise
1) Winter in Paradise (Oct-2018)
2) What Happens in Paradise (Oct-2019)
3) Troubles in Paradise (Sep-2020)
Quinn Family
1) Winter Street (Oct-2014)
2) Winter Stroll (Oct-2015)
3) Winter Storms (Oct-2016)
4) Winter Solstice (Oct-2017)
5) Winter in Paradise (Oct-2018)