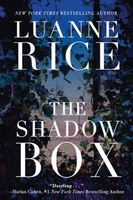 Newest Release
About the Author
Luanne Rice first published a poem in The Hartford Courant's poetry column. About four years later, American Girl Magazine published a short story she wrote. Rice attended Connecticut College until her father became ill. She later received an honorary degree from Connecticut College in 2002. She continued to write by supporting herself in a variety of jobs as a maid, researcher at the National Academy of Sciences and a whale researcher/deckhand.

Rice's first novel, Angels All Over Town, was published in 1985. Since then her short stories, essays and articles have been widely published in newspapers and magazines. She has written 30 novels that have been translated into 24 languages. A New York Times Bestselling author, many of Rice's novels have also been adapted into popular television movies. Her latest novel, Little Night, was released in June 2012. She divides her time between New York City and Southern California. Her favorite travel companions are her three cats.
Full Series List in Order
1 - Firefly Beach (Jun-2001)
2 - Safe Harbor (Feb-2002)
3 - True Blue (Aug-2002)
4 - The Perfect Summer (Jul-2003)
5 - Beach Girls (Aug-2004)
6 - Last Kiss (Aug-2008)
1 - The Geometry of Sisters (Apr-2009)
2 - The Deep Blue Sea for Beginners (Aug-2009)
1 - Sandcastles (Jul-2006)
2 - What Matters Most (Jul-2007)
1 - Summer's Child (May-2005)
2 - Summer of Roses (Jun-2005)
Book List in Order:
37

titles
---

Angels All Over Town

Una Cavan doesn't believe in ghosts. But ghosts seem to believe in her. At least, her father's ghost does, walking into and out of her life as casually as if he were entering and exiting a room. Una has always believed the Cavan women had the power o...

---

Crazy in Love

Head over heels, Georgie can barely stand to be apart from Nick for one night. Even when Nick's work as a hot-shot Wall Street lawyer keeps him away from their Connecticut family compound, Georgie reserves a hotel room and joins him in Manhattan. The...

---

Stone Heart

From New York Times bestselling author Luanne Rice comes a long-awaited opportunity for readers to discover an acclaimed early novel -- one of this cherished storyteller's most powerful and complex portraits of the fragile bonds of family and home....

---

Secrets of Paris

Irresistible, long sought by readers, and now in paperback for the first time, Secrets of Paris shows New York Times bestselling author Luanne Rice at her most incandescent -- a deeply moving story of true love, abiding friendship, and a once perfec...

---

---

Home Fires

Anne Davis has returned to the house where she grew up, trading her glamorous Manhattan lifestyle for a harsh winter on a wind-whipped New England island. Her marriage has crumbled in the wake of a tragic accident. Now she has returned to the home on...

---

Cloud Nine

Sarah Talbot surely thought she'd never live to see another birthday. But against all odds, she beat the disease that threatened to take her life and she reopened her bedding shop, Cloud Nine. It is a new beginning for Sarah - a fresh start at life t...

---

Follow the Stars Home

Abandoned by her husband, Tim McIntosh, before their daughter was born, Dianne Robbins has spent eleven years caring for her exceptional child's every need--almost alone. It was Tim's brother, Alan, the town pediatrician, who stood by Dianne and her ...

---

Dream Country

THE TIES THAT BIND A BROKEN FAMILY CAN BE THE STRONGEST OF ALL Bestselling novelist Luanne Rice writes of the abiding love within families--and how it can save us even in the most difficult of times. The truth and beauty in her stories will break ...

---

---

Firefly Beach

Under the summer sky, anything is possible.... Author of the acclaimed novels Cloud Nine and Follow the Stars Home, Luanne Rice returns with another moving portrait of a family in crisis -- as three sisters come face-to-face with the past and find...

---

Summer Light

WHEN IT COMES TO LOVE AND FAMILY, THE THINGS YOU CAN'T SEE ARE WHAT MATTER MOST OF ALL An entrancing story of love at first sight, the true meaning of family; and angels right here on earth. May Taylor works as a wedding planner, passing on the...

---

Safe Harbor

AFTER EVERY STORM THERE IS A PLACE TO RETURN TOE YOU HAVE THE COURAGE TO FOLLOW YOUR HEART.... Artist Dana Underhill has always been a free spirit, traveling the world, filling her canvases with the mysterious colors of the seas she and her sister...

---

True Blue

THE STORY OF TWO SISTERS AND THE BOY NEXT DOOR... Veterinarian Rumer Larkin never felt the need to stray from Hubbard's Point. Rich with legends of seafaring spirits and lost treasures, the rustic village still echoes with the memories of Rumer's ...

---

The Secret Hour

Beneath his careful and controlled demeanor, attorney John O'Rourke is a man whose life is in turmoil. Since the death of his wife, he has been juggling the rigors of a controversial capital murder case and the demands of raising two children. Eleven...

---

The Perfect Summer

OLD FRIENDS -- AND LOVE -- MAKE ALL THINGS NEW AGAIN The acclaimed author of Safe Harbor and other New York Times bestsellers returns to the seaside, delving into the heart of a once happy family facing troubled waters. Bay McCabe relishes life's s...

---

Dance With Me

Jane Porter left the apple orchards of rural Twin Rivers, Rhode Island, years ago, fleeing memories that could tear two families apart. Now she has been unexpectedly drawn home to her mother and only sister. Dylan Chadwick has come back, too, sheddin...

---

Beach Girls

TRUE FRIENDSHIPS--LIKE TRUE LOVE--ARE MADE TO LAST FOREVER.... Acclaimed author of The Secret Hour and many other New York Times bestsellers, Luanne Rice brings readers the unforgettable story of a friendship that echoes across generations, and th...

---

Silver Bells

On a quaint, snowy Chelsea street, librarian Catherine Tierney and a widowed Christmas tree seller from Nova Scotia will rediscover the magic of the season, in a chance encounter that leads to a holiday surprise of love and hope powerful enough to la...

---

Summer's Child

THERE'S A PLACE IN OUR HEARTS RESERVED FOR MIRACLES.... On the first day of summer, Mara Jameson went out to water her garden -- and was never seen again. Years after her disappearance, no one could forget the expectant mother whose glowing smile ...

---

---

Summer of Roses

On the windswept coast of Nova Scotia, two friends and their young daughters have found refuge in the rugged community of Cape Hawk. Lily Malone and nine-year-old Rose are making a new home with a man who will do whatever it takes to protect them. Ma...

---

Sandcastles

Painter Honor Sullivan has made a life for herself and her three daughters - Regis, Agnes, and Cecilia - at Star of the Sea Academy on the magical Connecticut shore. Here she teaches art at the convent school's beautiful seaside campus, over which Ho...

---

The Edge of Winter

New York Times bestselling author Luanne Rice takes readers on an emotional journey into the tender, unmapped territory that lies between mothers and daughters, fathers and sons, in a mesmerizing new novel that reaches into the past to find the key t...

---

What Matters Most

Sister Bernadette Ignatius has returned to Ireland in the company of Tom Kelly to search for the past--and the son--they left behind. For it was here that these two long-ago lovers spent a season of magic before Bernadette's calling led her to a voca...

---

Light of the Moon

Against a backdrop of stunning natural beauty, and in the shadow of a mysterious family legend, one woman is about to discover that to find your way home, sometimes you must travel far away.... An accomplished anthropologist, Susannah Connolly sudde...

---

Last Kiss

Is it true that old love never dies, that hearts can mend, that a secret revealed can change everything? New York Times bestselling author Luanne Rice spins a mesmerizing tale readers will long remember -- the powerful story of a close-knit communit...

---

The Geometry of Sisters

New York Times bestselling author Luanne Rice explores the complex emotional equations of love and loyalty that hold together three pairs of remarkable sisters, in an unforgettable story of loss, redemption, and forgiveness. The storm off Mackinac I...

---

The Deep Blue Sea for Beginners

Years ago, Lyra Davis fled the people she loved most, unable to reconcile the expectations of her wealthy family with the longings of her own wild heart. Now she lives quietly among a community of expatriates on the isle of Capri, slowly, carefully l...

---

The Silver Boat

From the beloved New York Times bestselling Luanne Rice comes a heartwarming yet heart-wrenching portrait of three far-flung sisters who come home to Martha's Vineyard one last time. Their mother's beach house is the only place any of them ever found...

---

How We Started

/ General Fiction

From New York Times bestselling author Luanne Rice, two original stories featuring characters from The Silver Boat and Little Night In these stories, bestselling author Luanne Rice gives her readers two tales of early love and longing. "Paul ...

---

---

Little Night

Clare Burke's life took a devastating turn when she tried to protect her sister, Anne, from an abusive and controlling husband and ended up serving prison time for assault. The verdict largely hinged on Anne's defense of her spouse -- all lies --...

---

The Lemon Orchard

A heartrending, timely love story of two people from seemingly different worlds -- at once dramatic and romantic Luanne Rice is the beloved author of twenty-two New York Times bestsellers. In The Lemon Orchard, one of her most moving and accomplis...

---

The Night Before

/ Romance

A new short story by Luanne RiceOn the eve of a wedding by the edge of the sea, a once-in-a-lifetime storm sweeps through a family Christmas tree farm on the Connecticut Shoreline and sets in motion the events of The Night Before. New York Times bes...

---

The Secret Language of Sisters

When Ruth Ann (Roo) McCabe responds to a text message while she's driving, her life as she knows it ends. The car flips, and Roo winds up in a hospital bed, paralyzed. Silent. Everyone thinks she's in a coma, but Roo has locked-in syndrome -- she can...

---

The Beautiful Lost

Here are three things to know about Maia: 1. Ever since her mother left, Maia's struggled with depression -- which once got so bad, she had to go to an institution for a while. She doesn't want to go back. 2. Maia's sure that if she finds her m...

---

Pretend She's Here

Emily Lonergan's best friend died last year. And Emily hasn't stopped grieving. Lizzie Porter was lively, loud, and fun -- Emily's better half. Emily can't accept that she's gone. When Lizzie's parents and her sister come back to town to visit,...

---

---

The Shadow Box

The Amazon Charts bestselling author of Last Day delivers a haunting thriller about how far one wife is willing to go to expose the truth -- and the lengths someone will go to stop her. After artist Claire Beaudry Chase is attacked and left for dead...

---
Award-Winning Books by Luanne Rice
Dance With Me
2004 RT Reviewers Choice Award -- Women's Fiction
Safe Harbor
2002 RT Reviewers Choice Award -- Contemporary Novel
Sandcastles
2006 RT Reviewers Choice Award -- Women's Fiction
Frequently Asked Questions (FAQ)
Luanne Rice has published 37 books.
Luanne Rice does not have a new book coming out soon. The latest book, The Shadow Box, was published in February 2021.
The first book by Luanne Rice, Angels All Over Town, was published in December 1985.
Yes. Luanne Rice has 4 series.