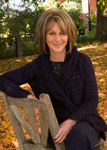 About the Author
Born and raised in suburban Boston, Barbara Delinsky's defining moment came at the age of eight, when her mother died. Despite this tragedy, her childhood was ordinary – dance and music lessons and summer camp. She graduated from Tufts with a B.A. in Psychology and later earned an M.A. in Sociology from Boston College. She worked as a researcher for the Massachusetts Society for the Prevention of Cruelty to Children. She also worked as a photographer and reporter for the Belmont Herald. She soon discovered that she was better at writing than photography.

She decided to become a writer after interviewing three female authors. After three months of researching, plotting and writing, she sold her first book. Delinsky's novels focus on characters and the navigation of the complex relationships in their lives.

Full Series List in Order
1 - Lake News (Jul-1999)
2 - An Accidental Woman (Jul-2002)
1 - The Dream (Oct-1990)
2 - The Dream Unfolds (Nov-1990)
3 - The Dream Comes True (Dec-1990)
1 - A Special Something (Mar-1984)
2 - The Forever Instinct (Jan-1985)
1 - The Real Thing (Nov-1986)
2 - Twelve Across // Crossed Hearts (Feb-1987)
3 - A Single Rose // The Invitation (Apr-1987)
Multi-Author Series List
Fulfillment
(Sep-1988)
The Outsider
(Mar-1992)
Book List in Order:
62

titles
---

A Special Something

Men like him didn't exist in real life Virile, achingly handsome, gentle--to Leslie Parish the male model in the cologne ad looked just about perfect. His faint sexy smile set her senses churning, and she imagined herself in his arms, those warm m...

---

Bronze Mystique

They met literally by accident, on a rain-slicked road. Sasha Blake was knocked unconscious when her motorcycle skidded into his Maserati. Doug Donohue was struck speechless when, gently loosening her helmet, he caught sight of her auburn beauty .......

---

Finger Prints

In another life she was Robyn Hart, a journalist who saw too much and was willing to talk about it. Now she is Carly, with a new job and identity courtesy of the Witness Relocation Program. But even with a different name and appearance, Carly lives i...

---

The Forever Instinct

They took each other by surprise The New Hampshire woods was the last place Jordanna Kirland expected to encounter Patrick Clayes. Her ex-husband's long-time professional rival, Patrick rivaled no man for sheer good looks, virile charm and depth o...

---

Secret of the Stone

She was more than willing to share Sculptress Paige Mattheson shied away from the glamorous New York galleries that displayed her art. A private person, she was perfectly happy living by herself in her beautiful beach-front home...until Jesse Dall...

---

Chances Are

He was a master at the game Public-relations expert Liz Jerome treated all her clients with professional detachment. But her new client, sexy Donovan Grant, just wasn't having any. Instead he caught her off guard with his subtle come-ons and his h...

---

First Things First

Love was easy... in paradise Chelsea Ross was devoted to finding missing children. But Samuel Prescott London, the son of a wealthy Boston socialite, was not the usual runaway--he was a forty-year-old executive! Discovering Samuel's hideaway ou...

---

Threats and Promises

Mistaken identity ... or the real thing? Lauren Stevenson still felt self-conscious about the way she looked after having undergone plastic surgery in the Bahamas. But she'd opened a frame shop in Boston with a friend and welcomed starting afresh....

---

Straight from the Heart

The attraction was undeniable Heather Cole had an urgent reason for seeking Robert McCrae. But the renowned heart specialist distracted her from her purpose with his marvelous bedside manner .... In no time, they were dating steadily. Every tim...

---

---

Within Reach

Daughter of a wealthy senator, wife of a ruthless tycoon, she had everything a woman could want...except love Danica Lindsey's cool violet eyes belied the passion that surged beneath her patrician beauty. Locked into a loveless marriage, she t...

---

First, Best and Only

He was a hard man to forget... The last thing Marni Lange wanted was to appear on the cover of a national magazine. Instinct told her she was making a huge mistake...and when she walked into the photographer's studio she knew she'd been ri...

---

Jasmine Sorcery

He was cause for excitement All along Pepper MacNeil's mail delivery route, people were buzzing about "him" -- the new man in the neighborhood. But no wagging tongue prepared her for the gorgeous male -- lean, tanned, gleaming with swe...

---

The Real Thing

It was a setup After breaking her leg, aerobics instructor Deirdre Joyce was fit company for no one. Especially not for equally disgruntled Neil Hersey, whose reputation as a lawyer had been unjustly tarnished. Craving solitude, both turned to ...

---

Twelve Across // Crossed Hearts

Thunder... and lightning Leah Gates made up crossword puzzles for a living, a nice tame occupation in a safe urbane setting. And this--knee-deep mud, lashing rain, a burned-down cabin--she knew spelled disaster. What had her friend Victoria been t...

---

A Single Rose // The Invitation

Victoria Lesser strikes again! Shaye Burke wasn't surprised at the invitation--a Caribbean treasure hunt was just her Aunt Victoria s style. But a beat-up old sloop with no engine? And an honest-to-goodness pirate at the helm . . . ? With a col...

---

Twilight Whispers

TO GIVE MY LOVE TO YOU... Katia Morell never looked at Jordan Whyte without wanting him. From the time she was a child, his laughter stirred her heart, his touch heated her blood. She had never stopped dreaming of him in all the years since she ha...

---

Cardinal Rules

He'd had a flock of women Corey Haraden wasn't nicknamed "the cardinal" for his red hair alone. Nor for his nesting instinct! Which was precisely why Corinne Fremont was determined to quash his amorous advances. But Corey was eq...

---

Heat Wave

It was simply sultry Caroline Cooper was hot. And after dealing with other people's crises all day, she was frustrated. But throwing open her window to catch the night breeze did little to solve her problems. Directly across the courtyard sat ...

---

Commitments

FROM THE DEPTHS OF DESPAIR TO PASSION'S HEIGHTS Derek McGill was an uncompromising investigative reporter, yet nothing had prepared Sabrina for the reality of the man himself. Handsome and intense, he had seen past her obvious wealth and beaut...

---

---

T.L.C.

His was a potent cure As if juggling two jobs, her studies and visits to Rowena Carlin weren't enough, Karen Drew was sick, miles from home in a blizzard and her car had died. Just when she thought things couldn't get any worse, she collap...

---

Fulfillment

The Montclair Emeralds and Fulfillment The tragic love affair between Diandra Casey's mother and Greg York's father had left them both a legacy of bitterness -- a legacy old Bartholomew York couldn't accept. Knowing these two were mea...

---

Through My Eyes

Peter Hathaway Big city, big name, big bucks, he embodied everything I'd rejected. But my friend Cooper was in trouble, so I'd sent for the best man money could buy. Now Peter Hathaway, legal eagle, lady-killer, man with the Midas touch...

---

Heart of the Night

"This is Jared Snow warming you...in the HEART OF THE NIGHT" Every night, the husky voice of D.J. Jared Snow wafts over the airwaves of Rhode Island. As warm and pliant as a kiss, it arouses scores of women listeners, each with a fantasy ...

---

Montana Man

He gave her direction Picking up a hitchhiker in a blizzard was a dangerous thing to do, but Lily Danziger was already living on the edge. Having run from the so-called security of New England society, she and her newborn were on their own -- dest...

---

Having Faith

One night changed everything Faith Barry knew making love with Sawyer Bell had been a huge mistake. First of all, he was an old and dear friend, and secondly, they were representing opposing clients in a complicated divorce case. She wished they...

---

The Dream

She was in turmoil Heiress Jessica Crosslyn had to make a decision. If she sold the family estate, she'd lose her ancestral home forever. If she turned it into the condominium development of her dreams, she'd have to work with Carter Malloy. He wa...

---

---

The Dream Unfolds

He wanted it his way Gideon Lowe was more than some macho construction worker, and the Crosslyn Rise building contract would prove it. The last thing he needed was Christine Gillette tromping onto his work site, disturbing his men--and his equilib...

---

The Dream Comes True

He drove her to distraction Nina Stone was a go-getter. As the broker for the Crosslyn Rise development--and an investor--she was on the fast track to success. But John Sawyer and his infernal dawdling were holding her back. John also had a sta...

---

---

Father of the Bride

ONE WEDDING -- FOUR LOVE STORIES FROM YOUR FAVORITE HARLEQUIN AUTHORS! The church is booked, the reception arranged and the invitations mailed. All Diane Bauer and Nick Granatelli have to do is walk down the aisle. Little do they realize that the ...

---

A Woman Betrayed

THEY WERE THE PICTURE PERFECT FAMILY With a twenty-year marriage, two terrific kids, and a successful career, Laura Frye has everything she could ask for... until her husband Jeff mysteriously disappears. Beside herself with worry, Laura mainta...

---

The Stud // Father Figure

He was perfect stud material Adventurer Spencer Smith was everything Jenna McCue required in a man -- tall, good-looking and virile. Spence was also rich, single and wouldn't want anything in return from her.. In short, Spence was the perfe...

---

The Passions of Chelsea Kane

A WOMAN'S SEARCH FOR HER PAST After the death of her adoptive mother, Chelsea Kane is a woman consumed by a need to discover her natural heritage. She arrives in the New Hampshire town where she was born, aching for answers. It is while she is loo...

---

The Outsider

/ Science Fiction Romance

Cameron Divine -- The roguish research scientist came from light-years away on a mission. A flesh-and-blood woman changed everything. Summer VanVorn -- A simple folk healer. Sexy, vulnerable, she'd been waiting all her life the right man to co...

---

More Than Friends

FRIENDSHIP, LOVE AND FORGIVENESS The Maxwells and the Popes are two families whose lives are interwoven like the threads of a beautiful, yet ultimately delicate, tapestry: the women were college roommates, their husbands are partners in the same l...

---

---

For My Daughters

A poignant and unforgettable story of the enduring power of love and the tenacious strength of family. Estranged sisters Caroline, Annette, and Leah St. Clair have spent their lives trying to escape the legacy of their wealthy, aloof, social-climb...

---

Together Alone

THREE WOMEN EXPERIENCE LOSS -- AND DISCOVER THEMSELVES Emily, Kay, and Celeste have been best friends forever. Their daughters are close, too, but all the girls are off to college now, and the mothers must redefine themselves as women. Emily, on...

---

Shades of Grace

AN END OFFERS HOPE OF NEW BEGINNINGS Grace Dorian is a national treasure. She is The Confidante, America's favorite advice columnist. Her wisdom and guidance over two generations have helped millions, including her daughter Francine and grandd...

---

---

A Woman's Place

HOW HIGH A PRICE MUST A WOMAN PAY FOR SUCCESS? Everything Claire Raphael has she's earned. On her own. The hard way. She built her part-time business up from nothing and made it successful through her imagination, creativity, and hard work. Sh...

---

Three Wishes

Here is a tale of courage, community, and the magical consequences of being given a second chance. What if wishes really could come true? It's the question facing waitress Bree Walker when she awakens in the hospital following a blizzard in...

---

Coast Road

When Jack McGill chose his career as an architect over his family, he returned home from yet another business trip to find that his wife Rachel had left him. But now six years later a car accident has left Rachel clinging to life, and she and their t...

---

Lake News

After an unscrupulous reporter falsely accuses Boston lounge singer Lily Blake of having an affair with a newly appointed Cardinal, she's hounded by the press, fired from her job, and robbed of all public freedom. The humiliation and violation of pri...

---

The Vineyard

To her family, Natalie Seebring is a woman who prizes appearances: exquisitely mannered, a supportive wife, and head of a successful wine-producing enterprise. So when she announces plans to marry a vineyard employee mere months after the death of he...

---

The Woman Next Door

New York Times bestselling author Barbara Delinsky paints an ingenious portrait of the secrets inside every marriage in a sharp-eyed novel filled with suspense and surprise. Three married couples in peaceful suburban Connecticut are challenged and fo...

---

An Accidental Woman

Lake Henry, New Hampshire, is buzzing over the annual maple syrup harvest...as well as the shocking revelation that longtime resident Heather Malone has been led away by the FBI, which claims the devoted stepmother and businesswoman fled the scene of...

---

Flirting with Pete

Psychologist Casey Ellis never met her father -- but that didn't stop her from following in his professional footsteps. Now he has died, and Casey is shocked to have inherited his elegant Boston town house, complete with a maid and a handsome, enigma...

---

The Summer I Dared

On Big Sawyer island, life is as steady as the routine of the lobstermen who leave with the tide each morning and return with their haul each night. But for forty-year-old New Yorker Julia Bechtel, life and what's important in it are about to be ...

---

Looking for Peyton Place

For Annie Barnes, going home to Middle River means dealing with truths long hidden, some of which she buried there herself. But it is a journey she knows she must take if she is to put to rest, once and for all, her misgivings about her mother's rece...

---

---

Family Tree

Dana Clarke has always longed for the stability of home and family -- her own childhood was not an easy one. Now she has married a man she adores who is from a prominent New England family, and she is about to give birth to their first child. But wha...

---

The Secret Between Us

Deborah Monroe and her daughter, Grace, are driving home from a party when their car hits a man running in the dark. Grace was at the wheel, but Deborah sends her home before the police arrive, determined to shoulder the blame for the accident. Her d...

---

While My Sister Sleeps

Molly and Robin Snow are sisters, and like all sisters they share a deep bond that sustains them through good times and bad. Their careers are flourishing -- Molly is a horticulturist and Robin is a world-class runner -- and they are in the prime of ...

---

Not My Daughter

A pregnancy pact between three teenaged girls puts their mothers' love to the ultimate test in this explosive new novel from Barbara Delinsky, 'a first-rate storyteller who creates characters as familiar as your neighbors.' (Boston Globe)...

---

---

Warm Hearts

HEAT WAVE It's a steamy summer night in Georgetown, and Caroline Cooper is feeling the heat -- in more ways than one. Her job, her family, her love life: everything's reached a boiling point and Caroline needs to cool off. But when she opens her...

---

The Right Wrong Number

/ Contemporary Romance

In this 30-page short story by bestselling author Barbara Delinsky, Carly Kelly has just been presented with a life-changing business opportunity for tiny nursery and flower store, Plant People. But she only has four days to decide, which means she w...

---

Sweet Salt Air

On Quinnipeague, hearts open under the summer stars and secrets float in the Sweet Salt Air... Charlotte and Nicole were once the best of friends, spending summers together in Nicole's coastal island house off of Maine. But many years, and many se...

---

What She Really Wants

/ Women's Fiction

Is it really the thought that counts? Sarah Markham loves her husband Tom. They've been married for eighteen happy years, but on some level, she worries that he doesn't see her as she really is. And nowhere is this more evident than in his gift gi...

---

Blueprints

Blueprints, the new novel from bestselling author Barbara Delinsky, is the story of two strong women, Caroline MacAfee, a skilled carpenter, and her daughter Jamie, a talented architect. The day after her 56th birthday, Caroline is told the network w...

---

Before and Again

A brand-new novel about a woman in hiding finding the courage to face the world again. Mackenzie Cooper took her eyes off the road for just a moment but the resulting collision was enough to rob her not only of her beloved daughter but ultimately ...

---

Fulfilment

Diandra Casey and Gregory York are childhood rivals and longtime adversaries, both vying for the same powerful position at one of the country's most elite department stores. In order to determine who is best suited for the job, the two are confin...

---

A Week at the Shore

In A Week at the Shore, New York Times bestselling author Barbara Delinsky explores how lives and relationships are forever changed when three sisters reunite at their family Rhode Island beach house. One phone call is all it takes to lure real es...

---
Award-Winning Books by Barbara Delinsky
Commitments
1988 RT Reviewers Choice Award -- Contemporary Novel
Heart of the Night
1990 RT Reviewers Choice Award -- Romantic Suspense
Twilight Whispers
1987 Golden Medallion -- Single Title
Frequently Asked Questions (FAQ)
Barbara Delinsky has published 62 books.
Barbara Delinsky does not have a new book coming out soon. The latest book, A Week at the Shore, was published in May 2020.
The first book by Barbara Delinsky, A Special Something, was published in March 1984.
Yes. Barbara Delinsky has 4 series.