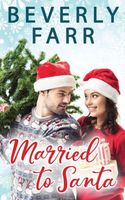 Newest Release
Bibliography:

16 Books - 2 Series

First Book:

March 2012

Latest Book:

January 2019

Rating:
Full Series List in Order
1 - Corporate Husband (Aug-2013)
2 - Marry the Doctor (Jun-2014)
3 - Something Sweet (May-2016)
1 - Dressed by Darcy (Apr-2018)
Multi-Author Series List
Dressed by Darcy
(Apr-2018)
Book List in Order:
16

titles
Baby Comes First

A secret baby.First comes love, then comes marriage, then comes baby in the baby carriage -- but Hannah's doing it in the wrong order. Hannah has a secret. She's given up her dream of a traditional family and gone to a sperm bank. She's thrilled to ...

---

Her Ex Next Door

Sometimes what happens in Vegas doesn't stay in Vegas.Ginny hasn't told anyone about her brief marriage nine years ago – not even her new fiancé.Ginny is planning to get married in six weeks, when her ex-husband Derek shows up. Derek has alway...

---

---

Forgotten Honeymoon

/ Contemporary Romance

A sweet romance with a touch of amnesia."How can I be pregnant when I've never had sex?"Kelly isn't worried about the three weeks she can't remember after a minor car accident -- until two months later when she discovers that she is pregnan...

---

The M-word

/ Contemporary Romance

There's nothing wrong with an arranged marriage, as long as she does the arranging.Having been burned by love, Brenda doesn't believe in happily ever after.But she wants a baby and Marius could use a green card, so she decides to take a practical a...

---

The Baby Tree

Two ordinary people . . . in extraordinary circumstances. As the single father of quintuplet babies, Michael doesn't just have his hands full. He has his life full. Too full. The last thing he wants is to fall in love with Olivia, the girl next doo...

---

Corporate Husband

To inherit her grandfather's chocolate company, Louisa Brannigan needs a loyal employee to marry her and keep his mouth shut. Justin Reilly seems like the ideal candidate, until he starts changing the rules. Corporate Husband is book one in the Love ...

---

Dreaming of the Boss

/ Romance

Office gossip says the new boss might fire them all. Jessica is nervous because she needs her paycheck. But she's even more concerned when her boss starts showing up in her dreams. Dreaming of the Boss is a romantic short story approximately 8000...

---

More Than Friends

/ Romance

Carrie is meeting a group of friends for dinner, but it ends up being just two of them -- her and a new guy, Josh. This could be awkward. More Than Friends is a sweet romantic short story,approximately 2500 words long....

---

---

When Ginger Snapped

/ General Fiction

Ginger thought she was happy with her normal, everyday life, and then one day -- she wasn't. When Ginger Snapped is a slightly romantic short story -- approximately 2800, which takes about 15 minutes or less to read....

---

Rainy Day Love

/ Romance

Claire is doing well at college, and she has a wonderful boyfriend. Then she gets a diagnosis that changes everything. Rainy Day Love is a very short, sweet, romantic story, which takes less than 10 minutes to read. Note: A shorter version ...

---

Marry the Doctor

/ Contemporary Romance

A CLEAN BILLIONAIRE ROMANCEIf only he could find a way to keep his billions a secret.Since the tragic death of his wife, Dr. Frank Brannigan has focused on raising his two daughters and furthering his medical practice, but now he's lonely. Maybe it...

---

Something Sweet

/ General Fiction

A CLEAN BILLIONAIRE ROMANCEWho has time to fall in love?As the single parent of a child on the Autism Spectrum, Amanda doesn't think her life is sweet. She's too tired, over-worked, and worried to even consider the possibility of finding love. ...

---

Dressed by Darcy

Even without a cravat, Mr. Darcy is still tall, dark, and arrogant.In this contemporary romance, Mr. Darcy is looking for a new face to represent Pemberley Fashions, his billion-dollar company. Elizabeth Bennet and her sister Jane ...

---

Rings and Things

A jaded good girl and the man from her past. Naomi's love life and acting career are both on an upswing, until her charming ex-husband Kirk comes back. He says he's changed, and he still loves her, but Naomi throws a drink in his face. In her opi...

---

---
Frequently Asked Questions (FAQ)
Beverly Farr has published 16 books.
Beverly Farr does not have a new book coming out soon. The latest book, Married to Santa, was published in January 2019.
The first book by Beverly Farr, Baby Comes First, was published in March 2012.
Yes. Beverly Farr has 2 series.