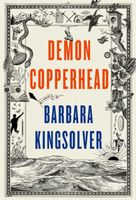 Newest Release
Bibliography:

16 Books

First Book:

June 1988

Latest Book:

October 2022

Rating:
Book List in Order:
16

titles
The Bean Trees

Meet Taylor Greer. Clear-eyed and spirited, she grew up poor in rural Kentucky with two goals: to avoid pregnancy and to get away. She succeeds on both counts when she buys a '55 Volkswagen and heads west. But by the time our plucky if unlikely heroi...

---

Homeland and Other Stories

With the same wit and sensitivity that have come to characterize her highly praised and beloved novels Animal Dreams and The Bean Trees, Barbara Kingsolver gives us a rich and emotionally resonant collection of twelve stories. Spreading her memorable...

---

Animal Dreams

"Animals dream about the things they do in the day time just like people do. If you want sweet dreams, you've got to live a sweet life." So says Loyd Peregrina, a handsome Apache trainman and latter-day philosopher. But when Codi Noline returns to...

---

Pigs in Heaven

A phenomenal bestseller and winner of the Los Angeles Times Book Award for fiction, Pigs in Heaven continues the story of Taylor and Turtle, first introduced in The Bean Trees.

...

---

High Tide In Tucson

Barbara Kingsolver has entertained and touched the lives of legions of readers with her critically acclaimed and bestselling novels The Bean Trees, Animal Dreams, and Pigs in Heaven.

In these twenty-five newly conceived essays, she returns once ag...

---

---

The Poisonwood Bible

The Poisonwood Bible is a story told by the wife and four daughters of Nathan Price, a fierce, evangelical Baptist who takes his family and mission to the Belgian Congo in 1959. They carry with them everything they believe they will need from home, b...

---

Prodigal Summer

Barbara Kingsolver's fifth novel is a hymn to wildness that celebrates the prodigal spirit of human nature, and of nature itself. It weaves together three stories of human love within a larger tapestry of lives amid the mountains and ...

---

The Best American Short Stories 2001

The acclaimed annual short fiction series--this year featuring guest editor Barbara Kingsolver--showcases the works of Alice Munro, Rick Moody, John Updike, Dorothy West, and many other notable authors....

---

---

The Lacuna

In her most accomplished novel, Barbara Kingsolver takes us on an epic journey from the Mexico City of artists Diego Rivera and Frida Kahlo to the America of Pearl Harbor, FDR, and J. Edgar Hoover. "The Lacuna" is a poignant story of a man pulled bet...

---

Flight Behavior

Flight Behavior transfixes from its opening scene, when a young woman's narrow experience of life is thrown wide with the force of a raging fire. In the lyrical language of her native Appalachia, Barbara Kingsolver bares the rich, tarnished humanity ...

---

Flight Behaviour

On the appalachian mountains above her home, a young mother discovers a beautiful and terrible marvel of nature. As the world around her is suddenly transformed by a seeming miracle, can the old certainties they have lived by for centuries remain unc...

---

Unsheltered

A timely novel that interweaves past and present to explore the human capacity for resiliency and compassion in times of great upheaval. How could two hardworking people do everything right in life, a woman asks, and end up destitute? Willa Knox a...

---

---

Demon Copperhead

"Kingsolver is a writer who can help us understand and navigate the chaos of these times." -- Minneapolis Star TribuneFrom the New York Times bestselling author of Unsheltered and Flight Behavior, a brilliant novel which enthralls, compels, and ...

---

Small Wonder

In her new essay collection, the beloved author of High Tide in Tucson brings to us from one of history's darker moments an extended love song to the world we still have. From its opening parable gleaned from recent news about a lost child saved i...

---
Award-Winning Books by Barbara Kingsolver
Animal Dreams
1991 PEN Literary Award -- Fiction
Flight Behavior
2013 Nautilus Award -- Fiction
The Lacuna
2010 Baileys Women's Prize for Fiction -- Fiction
Pigs in Heaven
1994 Reading the West -- Fiction
Frequently Asked Questions (FAQ)
Barbara Kingsolver has published 16 books.
Barbara Kingsolver does not have a new book coming out soon. The latest book, Demon Copperhead, was published in October 2022.
The first book by Barbara Kingsolver, The Bean Trees, was published in June 1988.
No. Barbara Kingsolver does not write books in series.