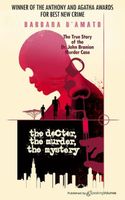 Newest Release
Bibliography:

26 Books - 3 Series

First Book:

January 1980

Latest Book:

March 2016

Rating:
Full Series List in Order
1 - Hardball (Dec-1989)
2 - Hard Tack (1991)
3 - Hard Luck (1992)
4 - Hard Women (Apr-1993)
5 - Hard Case (Sep-1994)
6 - Hard Christmas (Nov-1995)
7 - Hard Bargain (Sep-1997)
8 - Hard Evidence (May-1999)
9 - Hard Road (Aug-2001)
1 - The Hands of Healing Murder (1980)
2 - The Eyes on Utopia Murders (Dec-1981)
1 - Killer.app (Apr-1996)
2 - Good Cop, Bad Cop (Mar-1998)
3 - Help Me Please (Oct-1999)
4 - Authorized Personnel Only (Dec-2000)
Book List in Order:
26

titles
The Hands of Healing Murder

After dinner, Dr. Adam Cotton settled in a chair by the fireplace to read, while his guests made up two tables of bridge. Engrossed in their game, no one left the room. And the two servants who were sitting in the hallway all evening, deep in convers...

---

The Eyes on Utopia Murders

"The Most Peaceful Town in the World" boasts the sign leading to the quiet adult community of Young Lake. And it was-until they started shooting across the generation gap. First there were the "incidents": a broken arm, a scorpion sting, rocks hurled...

---

Hardball

FOR A SOFT-SPOKEN GRANDMOTHERLY TYPE, LOUISE SUGARMAN HAD A LOT OF ENEMIES... As head of Common Sense, an organization to repeal Illinois' drug laws, Louise had earned the wrath of the PTA, police and church groups all over Chicago. Free-lance jou...

---

Hard Tack

DEAD MAN'S FLOAT Good food, rich company and a great story on how the other half lives combine for an assignment free-lance journalist Cat Marsala just can't pass up. Except for the fact that all this eating and making merry will take place on a ...

---

Hard Luck

Freelance journalist Cat Marsala hits her stride in this third outing in which Jack Sligh, in charge of advertising for the Illinois State Lottery, plummets to his death, literally at her feet, leaving behind a memo indicating that he wanted to talk ...

---

Hard Women

A DAY IN THE LIFE Does anybody care about a dead hooker? That's the question Chicago journalist Cat Marsala is wrestling with. The hooker, Sandra love, is sleeping on Cat's couch in exchange for the Inside scoop on life as a prostitute. Now she's ...

---

Hard Case

Cat figures on some quick bucks doing a feature on the life-and-death drama of one of Chicago's largest trauma centers. What she doesn't figure on is finding the director dead in the staff lounge, a lump of gauze stuck in her throat. Now Cat's story ...

---

Hard Christmas

When journalist-turned-sleuth Cat Marsala finds shady dealings on the DeGraaf Christmas tree farm and a fresh corpse turns up, she is sure that the family closet is full of other skeletons and becomes determined to get to the bottom of it all. Reprin...

---

Killer.app

/ Police/Detective/Law Enforcement

SJR Computer Systems is the largest, most powerful corporation of its kind. With secret tentacles that reach into all kinds of business, political, and government institutions, its power is mammoth. To Chicago cop Suze Figueroa, cyberspy is not in he...

---

---

Shelved

in Malice Domestic 5

Mystery Writers of America Grand Master Phyllis A. Whitney, author of more than seventy bestsellers, presides over a salon of today's wittiest writers of mystery in this sparkling new addition to the series. MALICE DOMESTIC 5 once again delivers the ...

---

Hard Bargain

She's an ace reporter. An amateur sleuth. And she's always clued in. But now Cat Marsala is faced with her toughest case, one that could put a friend's job--and life--on the line. A domestic-violence call turns into a case of murder--of one cop by an...

---

Good Cop, Bad Cop

/ Police/Detective/Law Enforcement

Beat cop Aldo Bertolucci, who is consumed by jealousy of his older brother, Nick--Superintendent of the Chicago Police--gets his chance at revenge when he discovers suppressed records of an illegal raid on a Black Panther stronghold back in 1969. Rep...

---

Dolley Madison And The Staff Of Life

in First Lady Murders

Nineteen of today's finest mystery writers--including Anne Perry, P. M. Carlson, John Lutz, Judith Kelman, Gillian Roberts, and Sarah Shankman--offer an entertaining selection of original mystery stories centered around America's First Ladies. Origin...

---

Hard Evidence

It begins with a romantic dinner for three: Chicago journalist Cat Marsala, her semi-significant other, Dr. Sam Davidian, and a temporary houseguest named Dapper, a Dalmatian with a bone to pick. Unfortunately, Dapper's doggie treat happens to be fro...

---

Help Me Please

/ Science Fiction / Fantasy

An hour and a half after three-year-old Danielle Gaston is kid-napped from the Holy Name Cathedral in Chicago, a new Web site pops up on the World Wide Web--featuring Danielle Gaston. She's isolated in a room with no food and only water to drink. Thi...

---

---

Authorized Personnel Only

For Chicago cop Suze Figueroa, home is a sanctuary, a quiet refuge from the crime, corruption, and tragedy she encounters everyday on the job. The creaky old Victorian house she shares with her little boy, her invalid sister, and her sister's family ...

---

Steak Tartare

in Death Dines at 8:30

CLAUDIA BISHOP AND NICK DICHARIO request the honor of your presence at a different kind of dinner party ... Festivities begin promptly at 8:3o. Sixteen short stories -- accompanied by dangerously delicious recipes -- will be served. Be the...

---

Hard Road

AWARD-WINNING AUTHOR BARBARA D'AMATO TAKES CAT MARSALA ON A DANGEROUS ADVENTURE IN THE WORLD OF OZ... From Hard Road "Jeremy, do you remember in Dorothy and the Wizard in Oz, Dorothy had gone to California, and there was a big earthquake and Dorothy,...

---

---

White Male Infant

Dr. Dooley McSweeny and his wife, Claudia, dearly love the son they adopted from Russia four years ago. But when medical tests indicate that their little boy could not possibly have come from Russia, the couple is plunged into the dark, complex and e...

---

On My Honor

In On My Honor, Samantha Lawton, recently separated, is raising two sons by herself. Fortunately, they're in Boy Scouts, and, with no father in the house, she is glad they have positive male role models. After a series of fatal accidents, however, sh...

---

Death of a Thousand Cuts

The Hawthorne House was once known for its remarkable success rate with autistic children. Now, fifteen years after it closed former residents have returned to Hawthorne House for their first-ever reunion. But the gala event turns into a bloody night...

---

---

The Conqueror Worm

in Crimes by Moonlight

An all-new mystery anthology edited and featuring a new story by #1 New York Times bestselling author Charlaine Harris Nighttime is the perfect time for the perfect crime. #1 New York Times bestselling author Charlaine Harris edits and contributes...

---

Other Eyes

Blue Eriksen is a famous forensic archaeologist based at Northwestern University. She and her team are traveling the globe, testing mummies to research the use of hallucinogens in the development of ancient religions. Armed with evidence from ancien...

---

The Doctor, The Murder, The Mystery

/ Historical Mystery

WINNER OF THE ANTHONY AND AGATHA AWARDS FOR BEST TRUE CRIMEIn 1968, Dr. John Branion was found guilty of murdering his wife in their posh Chicago home. After exhausting his appeals, he evaded authorities by fleeing to Africa. He was finally captured ...

---
Award-Winning Books by Barbara D'Amato
Authorized Personnel Only
2001 Edgar Allan Poe Award -- Mary Higgins Clark Award
Of Course You Know That Chocolate Is a Vegetable and Other Stories
1998 Agatha Award -- Short Story
Frequently Asked Questions (FAQ)
Barbara D'Amato has published 26 books.
Barbara D'Amato does not have a new book coming out soon. The latest book, The Doctor, The Murder, The Mystery, was published in March 2016.
The first book by Barbara D'Amato, The Hands of Healing Murder, was published in January 1980.
Yes. Barbara D'Amato has 3 series.