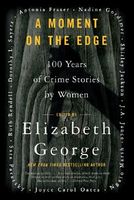 Newest Release
Bibliography:

24 Books - 1 Series

First Book:

January 1977

Latest Book:

December 2007

Rating:
Full Series List in Order
1 - Quiet As a Nun (1977)
2 - The Wild Island ()
3 - A Splash of Red (1981)
4 - Cool Repentance (1982)
5 - Oxford Blood (1985)
6 - Jemima Shore's First Case and Other Stories (1986)
7 - Your Royal Hostage (Dec-1987)
8 - The Cavalier Case (Jan-1991)
9 - Jemima Shore at the Sunny Grave and Other Stories (Jan-1993)
9.1 - Jemima Shore At The Sunny Grave (Jul-2005)
10 - Political Death (1994)
Book List in Order:
24

titles
Quiet As a Nun

When a murder takes place in a secluded tower at Blessed Eleanor's Convent in Sussex, and the victim is an old school friend, investigative TV reporter Jemima Shore finds herself in the middle of a disturbing puzzle. The dead woman, a nun and heiress...

---

A Splash of Red

With the ringing of the phone, the terror began.... Jemima Shore couldn't be sure the mysterious phone call was meant for her. After all, no one knew that Britain s most popular newswoman was staying at Chloe Fontaine's flat or-- that the tempestu...

---

Cool Repentance

A THEATRE COMPANY TAKES CENTER STAGE--WHILE MURDER WAITS IN THE WINGS.... After her well-publicized affair with an international pop star, a celebrated actress returned to her family and her career with no remorse. Now the leading lady must pay fo...

---

Oxford Blood

BLUE BLOOD SPILT AMONG THE SPOILED OFFSPRING OF BRITAIN'S BEST FAMILIES! Jemima Shore, Britain's most popular newswoman, is at Oxford University, reluctantly shooting a TV expose of the exotic life-styles of overprivileged undergraduates, among th...

---

Jemima Shore's First Case and Other Stories

MEET ANTONIA FRASER'S JEMIMA SHORE.... Jemima Shore didn't plan on a life of detection. But at the age of fifteen, while staying at a Catholic boarding school, she found herself plunged into a bizarre situation involving a suspicious miracle and a...

---

Your Royal Hostage

JEMIMA SHORE INVESTIGATOR Savvy, sophisticated Jemima Shore is Britain's best-loved television news anchorwoman. But she has another, less publicized, occupation--cracking ticklish crime cases one step ahead of Scotland Yard. THE ROYAL HOSTAGE...

---

The Cavalier Case

IT'S A CASE OF MURDER, PLAIN AND SIMPLE--EXCEPT THE PRIME SUSPECT HAS BEEN DEAD THREE HUNDRED YEARS! After the violent death of his predecessor, a former tennis superstar finds himself the new lord of Lackland Court. But he's about to learn that ...

---

The Twist

in Mysterious Pleasures

'Show me a man or woman who cannot stand mysteries and I will show you a fool. A clever fool -- perhaps -- but a fool just the same' RAYMOND CHANDLER Ever since its creation in 1953, the Crime Writers' Association has celebrated and champione...

---

The Pleasure of Reading

First edition. Issued to celebrate the bicentenary of W.H. Smith. An anthology of forty writers who were asked to describe their early reading, what did or did not influence them, what they enjoy reading today, and a list of their ten favorite books....

---

---

Jemima Shore at the Sunny Grave and Other Stories

Rescued from freezing London by an assignment in the West Indies, Jemima Shore looks forward to sunshine and rum punch, and maybe a little moonlight and romance. Instead she finds herself embroiled in the heated politics of an all-too-extended family...

---

---

The Weaker Vessel

Antonia Fraser's bestselling account of the lives of women in seventeenth-century England. Just how weak were the women of the Civil War era? What could they expect beyond marriage and childbirth in an age where infant and maternal mortality was freq...

---

Political Death

When the wayward lady Imogen Swain summons journalist Jemima Shore to her home, Jemima once again finds herself in the thick of love affairs--old and new--intrigue, and betrayal. For the colorful Lady Imogen kept diaries documenting her passionate af...

---

A Witch and Her Cats

in Women On the Case

Crime and detection are women's work for twenty-six great writers in this second brilliant collection of mystery fiction edited by Sara Paretsky. From wicked irony and white-collar crime in Amanda Cross's "The Baroness," to the chilling "Only a Woman...

---

The Gunpowder Plot

A bestselling historian's account of the Gunpowder Plot.With a narrative that grips the reader like a detective story, Antonia Fraser brings the characters and events of the Gunpowder Plot to life. Dramatically recreating the conditions and motives t...

---

Marie Antoinette

France's iconic queen, Marie Antoinette, wrongly accused of uttering the infamous "Let them eat cake," was alternately revered and reviled during her lifetime. For centuries since, she has been the object of debate, speculation, and the fascination s...

---

---

Jemima Shore At The Sunny Grave

in A Moment on the Edge

""An absolutely first-rate anthology. . . a thoughtful and intelligent paean to crime fiction." — New York Sun#1 New York Times bestselling author Elizabeth George serves up a century''s worth of superb crime fiction penne...

---

---

---

---

---

---

---

The Wild Island

Here, Jemima Shore, investigator and TV personality, arrives at Inverness Station for a Highland holiday. The sun is shining. Paradise, she thinks. But at that moment, she hears a voice: "All this way for a funeral."So begins an adventure far removed...

---
Frequently Asked Questions (FAQ)
Antonia Fraser has published 24 books.
Antonia Fraser does not have a new book coming out soon. The latest book, Cromwell, was published in December 2007.
The first book by Antonia Fraser, Quiet As a Nun, was published in January 1977.
Yes. Antonia Fraser has 1 series.