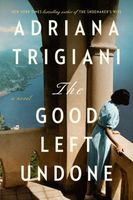 Newest Release
Bibliography:

20 Books - 3 Series

First Book:

April 2000

Latest Book:

May 2022

Rating:
Full Series List in Order
1 - Big Stone Gap (Apr-2000)
2 - Big Cherry Holler (May-2001)
3 - Milk Glass Moon (Jul-2002)
4 - Home to Big Stone Gap (Nov-2006)
1 - Very Valentine (Sep-2008)
2 - Brava, Valentine (Feb-2010)
3 - The Supreme Macaroni Company (Dec-2013)
1 - Viola in Reel Life (Sep-2009)
2 - Viola in the Spotlight (Apr-2011)
Book List in Order:
20

titles
Big Stone Gap

Nestled in the Blue Ridge Mountains of Virginia, the tiny town of Big Stone Gap is home to some of the most charming eccentrics in the state. Ave Maria Mulligan is the town's self-proclaimed spinster, a thirty-five-year-old pharmacist with a "mountai...

---

Big Cherry Holler

Eight years have passed since Ave Maria Mulligan married Jack Mac, moved up into the hills, and dug her roots in even deeper. But Ave Maria soon discovers that the mountains cannot shelter her from the painful lessons of the heart. As her life reache...

---

Milk Glass Moon

Ave Maria Mulligan MacChesney has never been a devotee of tarot cards or crystal balls. But when the fortune-teller at the county fair suggests that she "redream" her life, Ave Maria figures a little redirection is in order. After all, her daughter, ...

---

Lucia, Lucia

Set in the glittering, vibrant New York City of 1950, Lucia, Lucia is the enthralling story of a passionate, determined young woman whose decision to follow her heart changes her life forever. Lucia Sartori is the beautiful twenty-five-year-old da...

---

The Queen of the Big Time

New York Times bestselling author Adriana Trigiani returns to the charm and drama of small-town life with The Queen of the Big Time. Nella Castelluca, middle daughter of five, aspires to a genteel life "in town," far from the rigors of life on the fa...

---

My Great Brit Book Tour

in American Girls About Town

A STAR-STUDDED STORY COLLECTION FEATURING AMERICA'S RED-HOT WOMEN WRITERS They're taking liberties--and pursuing happiness on their own terms! Jennifer Weiner (In Her Shoes) learns "The Truth About Nigel"--and the trouble with falling for an in...

---

---

---

Home to Big Stone Gap

Nestled in the lush Blue Ridge Mountains of Virginia, the town of Big Stone Gap has been home for Ave Maria Mulligan MacChesney and her beloved family and friends for generations. But with her daughter, Etta, having flown the nest to enchanting Italy...

---

---

Very Valentine

Meet the Roncalli and Angelini families, a vibrant cast of colorful characters who navigate tricky family dynamics with hilarity and brio, from magical Manhattan to the picturesque hills of bella Italia. Very Valentine is the first novel in a trilogy...

---

Viola in Reel Life

I'm marooned. Abandoned. Left to rot in boarding school . . . Viola doesn't want to go to boarding school, but somehow she ends up at an all-girls school in South Bend, Indiana, far, far away from her home in Brooklyn, New York. Now Viola is...

---

Brava, Valentine

Adriana Trigiani's bestselling novels are beloved by millions of readers around the world. From the Big Stone Gap series to Lucia, Lucia, each is a sumptuous treat as Trigiani tells hilarious and romantic stories that we want to return to again and a...

---

Viola in the Spotlight

I AM IN THE MIDST OF A CONUNDRUM. Viola is finally where she belongs -- back home in Brooklyn, where there are no khakis or sherbet-colored sweaters and people actually think her yellow flats are cool. With two whole months of nothing to do but hang...

---

The Shoemaker's Wife

The majestic and haunting beauty of the Italian Alps is the setting of the first meeting of Enza, a practical beauty, and Ciro, a strapping mountain boy, who meet as teenagers, despite growing up in villages just a few miles apart. At the turn of the...

---

The Supreme Macaroni Company

In The Supreme Macaroni Company, Adriana Trigiani transports readers from the cobblestone streets of Greenwich Village to lush New Orleans to Italy and back again while exploring the tricky dynamics between Old World craftsmanship and New World ambit...

---

All the Stars in the Heavens

The movie business is booming in 1935 when twenty-one-year-old Loretta Young meets thirty-four-year old Clark Gable on the set of The Call of the Wild. Though he's already married, Gable falls for the stunning and vivacious young actress, and she ret...

---

Kiss Carlo

Adriana Trigiani explores the vibrant, complex Italian-American experience in this dazzling novel that brings to life the golden years of post-war America -- a celebration of ambition, risk, love, reinvention, and one remarkable family with a secret,...

---

Tony's Wife

Set in the lush Big Band era of the 1940s and World War II, this spellbinding saga from beloved New York Times bestselling author Adriana Trigiani tells the story of two talented working class kids who marry and become a successful singing act, until...

---

---

---

The Good Left Undone

From Adriana Trigiani, "a master of visual and palpable detail" (The Washington Post), comes a lush, immersive novel about three generations of Tuscan artisans with one remarkable secret. Epic in scope and resplendent with the glorious themes of ...

---
Frequently Asked Questions (FAQ)
Adriana Trigiani has published 20 books.
Adriana Trigiani does not have a new book coming out soon. The latest book, The Good Left Undone, was published in May 2022.
The first book by Adriana Trigiani, Big Stone Gap, was published in April 2000.
Yes. Adriana Trigiani has 3 series.