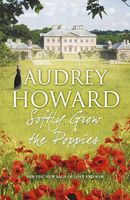 Newest Release
About the Author
Audrey Howard was born on 1929 in Liverpool, Merseyside, England, UK, and grew up in St Annes on Sea, Lancashire, where she lives in her childhood home.

Before she began to write she had a variety of jobs, among them hairdresser, model, shop assistant, cleaner and civil servant. In 1981, while living in Australia, she wrote the first of her bestselling novels published since 1984. In 1988, her novel The Juniper Bush won the Romantic Novel of the Year Award by the Romantic Novelists' Association.
Full Series List in Order
1 - Promises Lost (May-1996)
2 - The Shadowed Hills (Nov-1996)
1 - The Mallow Years (Jan-1989)
2 - Shining Threads (Mar-1991)
1 - Ambitions (Mar-1987)
2 - All the Dear Faces (Nov-1992)
3 - There Is No Parting (Aug-1993)
1 - The Silence of Strangers (Apr-1995)
2 - A World of Difference (Oct-1995)
Book List in Order:
37

titles
---

The Skylark's Song

A portrayal of a girl from the Mersey docks battling to escape the brutal squalor of her background. Zoe Taylor is born into poverty and hardship. But her beauty marks her out as someone special, and when local schoolmistress Joanna Dale adopts he...

---

The Morning Tide

Liverpool, 1921. It was the year lively Kate Fowler rebelled against working in her hated father's chip shop and, with her gentle sister Jenny, left his brutal house forever. For this was the Jazz Age - and Kate and Jenny revelled in their freedom an...

---

Ambitions

An English beauty, Lacy Hemingway, the daughter of Liverpool's wealthiest shipping magnate, disavowed for her rebelliousness, and Rose O'Malley, a poor Irish servant girl, forge an unlikely friendship which bonds them for ever when they find themselv...

---

The Juniper Bush

The passionate saga of a 19th-century Lakeland girl, and her search for happiness in a web of conflicting emotions and loyalties. Christy is the only daughter of a wealthy businessman and is betrothed to the squire's son, but just weeks before the...

---

Between Friends

Set in Liverpool, this is the story of three poor children, Meg Hughes, Tom Fraser and Martin Hunter, three children who meet and become lifelong friends in one of the city's orphanages. The book explores what they do with their lives - lives which a...

---

The Mallow Years

Kit Chapman is the beautiful daughter of a rich Lancashire mill-owner: a man who exploits his workpeople ruthlessly. She is to inherit the business - but only if she can prove herself as hard and determined as he. Joss Greenwood is a weaver, drive...

---

Shining Threads

When beautiful Tessa Harrison and her twin cousins take over their parents' Lancashire cotton mill, their luxurious upbringing has left them unprepared for their new responsibilities. For Tessa, there is an added but forbidden attraction at the mi...

---

A Day Will Come

Set in Lancashire in the 19th century, this is the story of a woman whose life becomes a search for revenge against the rich landowner who helped ruin her childhood. Daisy Brindle is a field girl, tramping the roads of Lancashire in a gang of wome...

---

All the Dear Faces

A saga-type romance about life before and during World War I as seen from the point of view of a large Irish family in Liverpool and an aristocratic family up at the big house, the members of which become involved with the Irish family. It follows...

---

---

There Is No Parting

Callum O'Shaughnessy is Liverpool Irish. Ninth child of a tumultuous, affectionate, mostly devout, sometimes too outspoken family. He has 'got on', working his way up by sheer hard work and dedication to be master of his own ship. Maris Woodall's fam...

---

The Woman from Browhead

Set in the Lake District in the late 1840s and early 1850s. The heroine is Annie Abbott, daughter and only child of a poverty-stricken hill farmer and his downtrodden wife, who runs away with a theatrical group at the age of 15. Annie returns to Brow...

---

Echo of Another Time

Celie Marlow begins working in the Latimers' kitchen when she is only ten, learning her art from Mrs Harper. By the age of 18 she has become a talented cook. But when she falls in love with a Latimer, all their lives change with frightening swiftness...

---

The Silence of Strangers

Set in the 1840s in the Lancashire coalfields, this is the story of two women who love the same man. Heiress Nella Fielden sets her heart on Jonas Townley and marries him, believing he is the one man who deserves her hand and her fortune. The Lanc...

---

A World of Difference

Heiress Jenna Townley is used to getting her own way. And when she meets Scottish ship-owner Conal McRae, the most exciting man that cosseted Jenna has ever met, she knows he's the man she must marry, despite her father's disapproval, that believes h...

---

Promises Lost

After navvy Jack Andrews rescues wealthy Sara Hamilton from an attacker, he nearly pays for it with his life. As Sara nurses him back to health, the two fall in love, but Sara's sister Alice, determined to part them, moves the family to Liverpool. Bu...

---

The Shadowed Hills

Set high in the Pennines, where farmers and shepherds eke out a precarious living from the wild moorland, this is a passionate story of an untamed girl who brings heartache and tragedy to those she loves....

---

Strand of Dreams

Her happy childhood shattered forever by the Great War, mill-worker Molly O'Dowd is left to fend for herself and make her own way in an unforgiving world. She started to work in a Lancashire cotton mill, but her startling good looks attract the atten...

---

Tomorrow's Memories

A family saga set in the outskirts of Liverpool, during the 1850s. Her work is her life, efficient but rather bossy, Sally Grimshaw runs The Grimshaw Arms, her feckless brother Freddy's pub. She almost forgets that it is his property, when her bro...

---

Not a Bird Will Sing

A new family saga set in the countryside around Liverpool in the 1870s in which a young girl is adopted by a farmer's wife, and later it is agreed that she should marry their son, who will inherit the farm, but after the marriage the young woman fall...

---

---

When Morning Comes

Set in the Lake District in the years just before the outbreak of the First World War. Lucy Dean is a young woman of eighteen years with no money, no job and four young brothers and sisters to support. James Buchanan is a young man of thirty-four ...

---

Beyond the Shining Water

Set in the slums of 19th-century Liverpool, this novel tells the story of a girl's journey from riches to rags. Lily Elliott is not so much spoiled as loved -- petted and indulged by her adored Ma and Pa, dreaming of the day when she will be capta...

---

Angel Meadow

From the age of nine, Nancy Brody knew she wanted to save her sisters from the life of prostitution that plagued their mother. She finds them jobs and becomes a manufacturer herself, but there are many more obstacles the brave young girl must face be...

---

The Seasons Will Pass

Clare Hanrahan has nothing left to lose the day she stumbles into Lew Earnshaw's arms. Her family is gone and her own life hangs by a thread after a desperate season seeking work. By the time Lew and his kindly neighbours have nursed Clare back to ...

---

Rivers of the Heart

Beautiful and untameable, Kitty Hayes has only ever loved one man. From the moment she met him, she believed with all her heart that her adopted brother Freddy would one day be her husband. When he chooses to marry her sister instead, it breaks her h...

---

A Place Called Hope

To Sir Robert Blenkinsopp, his frail, exquisite wife Amy is just another possession - to be used, misused or discarded like anything else at Newton Law, his grand moorland estate. He resolves to tame her or destory her for having the impertinence to ...

---

Annie's Girl

Briar Macauley's stubbornness to prove to the world that she is the equal to any man leads her into so many disastrous circumstances that her parents despair of ever making a lady of her. With the appearance of Hal Saunders, Briar exchanges her wild ...

---

Whispers on the Water

The first time Grace Tooley meets Rupert Bradley she is the tomboylsh only girl in a happy, noisy family of six boys. He comes back into her life when her eldest brother's sudden death has forced her to take on burdens beyond her years. From that mom...

---

A Flower in Season

Briony Marsden has led a hard life, forced to do the work of a grown man while enduring her drunkard father's taunts and blows. But when he goes too far one day, her fate becomes even worse as she makes her way alone in a heartless world. Not quite a...

---

Painted Highway

Vibrant and headstrong, Ally Pearce loves working on the Edith, her family's narrowboat, proving she's the equal of any man on the Leeds to Liverpool canal. Betsy, delicate, calculating and sensuously beautiful, wants only to become a 'lady' - and...

---

---

Reflections From the Past

Audrey Howard's new novel, set in Lancashire's glass works, is the bittersweet story of a girl torn between two powerful men. When Abby Murphy discovers she's heiress to one of St Helens' largest glass works, her whole life is turned upside down. Tor...

---

Distant Images

As they dazzle all the men at Queen Victoria's jubilee ball, Beth and Milly Goodwin seem to be mirror images of one another: beautiful, graceful and rich, they can take their pick of any man in St Helens. Only those who know them best realize that ...

---

As The Night Ends

Driven by her idealism and courage, Alex Goodwin will make any sacrifice to win votes for women. Her despairing family is overjoyed when Patrick O'Leary comes into her life. A hard-working young surgeon, Patrick is as idealistic as Alex and loves her...

---

Rose Alley

Rose Alley is one of the city's worst slums - a place where hunger, filth and violence are a way of life. It's no place for proud Queenie Logan and her daughter Gillyflower. And it seems Queenie's dreams of escape will come true. Transformed by Miss ...

---

---

The Long Way Home

Amy Pearson's family is desperately poor -- even by the standards of Edwardian Liverpool -- but they have each other. Until Amy is torn from her home by her rich aunt, a woman obsessed by religion and snobbery who wants a girl she can mould as she wi...

---

The Flight of Swallows

Charlotte Drummond knows she has a duty to obey her father. Girls, especially well-bred upper-class ones, are expected to be submissive to the men in their lives. But Charlotte's father is a cruel man, viciously beating her and her brothers for the s...

---

Softly Grow the Poppies

Rose Beechworth is mistress of a charming country house - her own, left to her by her wealthy father. In the summer of 1914, she is not even looking for love. Alice Weatherly turns Rose's world upside down. The loveable young heiress longs to kiss...

---
Award-Winning Books by Audrey Howard
The Juniper Bush
1988 RoNA -- Romantic Novel of the Year
Frequently Asked Questions (FAQ)
Audrey Howard has published 37 books.
Audrey Howard does not have a new book coming out soon. The latest book, Softly Grow the Poppies, was published in August 2012.
The first book by Audrey Howard, The Skylark's Song, was published in February 1984.
Yes. Audrey Howard has 4 series.