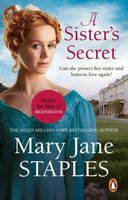 Newest Release
Bibliography:

46 Books - 1 Series

First Book:

January 1988

Latest Book:

September 2013

Rating:
Full Series List in Order
0.5 - The Soldier's Girl (Nov-2006)
1 - Down Lambeth Way (Jan-1988)
2 - Our Emily (Feb-1989)
3 - King Of Camberwell (Jan-2000)
4 - On Mother Brown's Doorstep (Oct-2011)
5 - A Family Affair (Jan-1993)
6 - Missing Person (Sep-1994)
7 - Echoes of Yesterday (Jan-1995)
8 - Pride of Walworth (Jan-1995)
9 - The Camberwell Raid (Sep-1996)
10 - Young Ones (Jan-2000)
11 - The Family At War (Jan-2001)
12 - The Last Summer ()
13 - Fire over London (Oct-2011)
14 - Bright Day, Dark Night (1999)
15 - Churchill's People (Nov-2011)
16 - Tomorrow Is Another Day (Oct-2011)
17 - The Way Ahead (Oct-2011)
18 - The Homecoming (Feb-2012)
19 - Year of Victory (Oct-2011)
20 - Appointment at the Palace (Sep-2002)
21 - Sons and Daughters ()
22 - Changing Times (Jan-2002)
23 - Spreading Wings (Nov-2011)
24 - Family Fortunes (Nov-2011)
25 - A Girl Next Door ()
26 - Out of the Shadows (Nov-2005)
27 - Ups and Downs (Jan-2005)
28 - Escape to London (Feb-2007)
29 - The Price Of Freedom (Oct-2007)
30 - A Wartime Marriage (Feb-2008)
Book List in Order:
46

titles
Down Lambeth Way

The Adams family of Walworth were poor, cheerful, and above all respectable - even though they sometimes had to seek a little help from the pawnbroker. Mrs Adams - affectionately called Chinese Lady by her children - was a widow, her soldier husband ...

---

Our Emily

Emily had been a quite horrible child. Pushy, rough, and none too clean (for it must have been Emily who passed on her head-lice to the Adams family), she had been the bane of Mrs Adams and her children who lived next door, and especially she had bee...

---

A Family Affair

1926 was the year of the General Strike, but Adams Enterprises, under the wily management of Sammy Adams, youngest entrepreneur in Walworth and Lambeth, was doing very well. All the Adams brothers worked in the business, and so did two of the wives, ...

---

Missing Person

Mr. Finch had never told the rest of his family the secrets of his past, or what kind of work he did for the government, and he decided not to tell them about the slightly sinister telephone calls he started receiving either. It was when he took his...

---

Echoes of Yesterday

It was June 1916 when Sergeant Boots Adams of the Royal West Kents, together with his men, was billeted on the Descartes farm in Northern France. It was a short break from the turmoil and horror of the trenches, and Boots and his men, in return for t...

---

Pride of Walworth

There was a new family in Browning Street, Walworth - the Harrisons. Respectable and well-behaved, the only thing unusual about them was that Mr Harrison was never there. He was a sailor, said Ma Harrison, away fighting pirates in the China Seas. Act...

---

The Camberwell Raid

There was a double wedding planned in Walworth. Sally Brown was marrying Horace Cooper, and her brother, Freddy, was at last getting hitched to his childhood sweetheart, Cassie Ford. But the wedding wasn't the only thing being planned, for Ginger Car...

---

Bright Day, Dark Night

It is summer, 1941, and the country is still at war. In the Devon village of Ashleigh, however, evacuees from the London blitz are living in an atmosphere of rural peacefulness, although Daisy Ricketts of Bermondsey isn't sure if she'll ever get o...

---

King Of Camberwell

Sammy was the sharp one of the Adams family.Since he was nine-years-old - when he'd charged his mother interest on a loan to make up the rent money - he'd been busy setting up deals and expanding the family business - a china stall in East Street mar...

---

---

Young Ones

Once they had been called Orrice and Effel, two bedraggled, scruffy waifs who lived rough off the streets of Walworth. Now they were Horrace and Ethel Cooper, grown up - quite respectable really - and living with their adopted parents, Jim and Rebecc...

---

The Family At War

It was 1940, and many of the younger members of the Adams family were caught up in the war in France. Boots, now a Major and on the staff of General Sir Henry Simms, was one of the thousands of British troops trying to escape in the armada of little ...

---

Changing Times

It is 1953 - Coronation year - and like all of Cockney London the members of the Adams family are looking forward to the celebrations. Chinese Lady, now Lady Finch, worries that her friends will think she is too grand to mingle with them . But her hu...

---

Appointment at the Palace

Excitement is running high in the Adams family. Mr. Finch, after a long career in secret government work, is to be knighted. His grandson Paul, meanwhile, working for the Young Socialists, is worried at what his fiery colleague Lucy will say if she l...

---

Ups and Downs

As the 1950s progress, several unexpected happenings ruffle the usually calm atmosphere of Adams family life. Sammy and Boots are troubled by the first stirrings of industrial unrest, as the unions start to flex their muscles and old loyalties change...

---

Out of the Shadows

Times move on for the Adams family, and as business prospers, there are new worries to deal with. A young woman arrives who is intent on ruining Sammy Adam's winter fashion show. Boots has to find a solution when one of his female employees tells h...

---

A Sign of the Times

It's 1959, and Boots Adams and his wife Polly are at their favourite Camberwell pub when they witness with horror a sudden and vicious attack on the barman, Joe, by a knife-wielding thug.

Is this a sign of the times? Is contempt for old tradit...

---

The Soldier's Girl

The wonderful story of Chinese Lady and how she met Daniel Adams.

Pretty, young Maisie Gibbs is a conscientious young woman, though life is harder since both her parents passed away. She is relieved when she finds a position as a housemaid in ...

---

Escape to London

Austria, 1938. Anne watches in horror as Hitler's tanks roll through the streets of Vienna, amid crowds of cheering supporters. Her embittered ex-husband, now a fervent member of the Nazi cause, is among the cavalcade -- he is burning with hatred for...

---

The Price Of Freedom

South London in the 1930s ...and Mrs Hilda Jones is fed up with her dull husband. She thought marrying would liven him up, but after twenty-five years he's just as boring as the day she married him , and now she wants to lead her own life. Her newly-...

---

---

A Wartime Marriage

For fans of Katie Flynn & Fiona Valpy, this is an exhilarating romantic journey across war-torn Europe from the multi-million copy seller Mary Jane Staples.READERS ARE LOVING A WARTIME MARRIAGE!"Couldn't put it down." -- 5 STARS"Once again she ha...

---

Katerina's Secret

Charming, handsome Edward Somers has been recovering from his wartime injuries in a small hotel in the South of France where he is an extremely popular guest.One day, he happens upon a nearby villa, within which lives a mysterious and beautiful count...

---

The Summer Day is Done

When young British agent John Kirby comes to Russia in 1911 he is there to work and to explore a new and exciting country. He does not expect to fall in love, but an invitation to a ball from the Tsar changes all that and, after an evening of dancing...

---

The Longest Winter

When Baroness Sophie von Korvacs meets British painter, James Fraser, one hot summer's day in Vienna, the attraction is instant. A whirlwind romance follows, with Vienna bathed in the brilliance of the last days of the emperor. And when James propo...

---

The Lodger

Maggie Wilson was only thirty-three, but life in the teeming streets of Walworth was not that easy in 1908 - not if you were a widow with four young daughters. It was pretty much a hand-to-mouth existence and without the lodger Maggie really wouldn't...

---

The Pearly Queen

The Pearly Queen was really Aunt Edie. She was thirty-nine, had a good job in a factory, lived in a flat off Camberwell Green, and had never married. Her fianc had drowned in the Thames when she was a girl and since then she had been on her own, thou...

---

Rising Summer

Tim Parkes was three when his parents were killed in a train crash and he went to live with his Aunt May, first in New Cross, and then to Walworth where the living was cheaper. They managed splendidly - and then came the war. Tim Parkes became Gunner...

---

Fire over London

The war is only into its second year, but already it has claimed one victim from the Adams family. Emily, Boots's cherished wife, has died in an air-raid,and the whole family mourns her. But for Polly Simms the prospect of a new life dawns, while ...

---

On Mother Brown's Doorstep

The big event of the Walworth year was to be the wedding of Sammy Adams to Susie Brown. Susie was overjoyed when her soldier brother turned up for the festivities, but he was hiding an illness, and would soon be fighting his feelings when he meets yo...

---

Tomorrow Is Another Day

From autumn 1941 to the first months of 1942, the war continued to affect the lives of the Adams and Somers families. It was not so much the war, however, as a succession of tragic domestic events that brought a sad and lonely little girl called Ph...

---

---

The Way Ahead

It is 1944, and the Adams family, along with the rest of the people of the United Kingdom, are beginning to weary of the seemingly never-ending war against Hitler's Germany. Bobby Somers and Helene, living dangerously in the French countryside wit...

---

Year of Victory

The seemingly endless war was at last coming to a conclusion. But for the country and for the Adams family, there were still many tribulations to be overcome. Flying bombs - the deadly V1 buzzbombs - appeared over London, causing dreadful destruction...

---

Ghost Of Whitechapel

When fiery Bridget Cummings advertised for a lodger, she did not expect a policeman to apply for the room. She wasn't fond of the coppers, believing them to be traitors to the poor of Whitechapel, but her younger brother and sister moved P.C.Fred ...

---

Natasha's Dream

1925, a damp wintry night in Berlin. Englishman Philip Gibson, in Germany to seek the answers to a tantalising mystery surrounding the Grand Duchess Anastasia, witnesses an attack on Natasha, a young woman who has fled from Russia. When Philip take...

---

Nurse Anna's War

Perfect for fans of Katie Flynn, Kristin Hannah and Fiona Valpy, this is an emotional and uplifting romantic saga set in WW1 from multi-million copy seller Mary Jane Staples. READERS ARE LOVING NURSE ANNA'S WAR! "Wow I was riveted from start to finis...

---

Two For Three Farthings

/ General Fiction

Horace was ten, Ethel seven, when Jim Cooper, home from the trenches, minus an arm and just about managing on his own, found them huddled in a doorway on a wet night in Walworth. Slightly against his better judgement he took them in, fed them coco...

---

Churchill's People

In 1941, the United Kingdom was in desperate straits, standing alone with its troops against the colossal war machine of Nazi Germany. There was always Prime Minister Winston Churchill, however, who growled his defiance to Hitler and induced in hi...

---

Family Fortunes

The 1950s are in full swing, and the Adams family is blessed with many new additions. Chinese Lady now has so many grandchildren that even she can sometimes scarcely remember them all. Boots and Sammy are kept up-to-date by the Adams youngsters , ...

---

Spreading Wings

Sammy Adams is always on the look-out for a new business opportunity. When he hears from his son David about the new-fangled supermarkets that are becoming all the rage in America, he immediately starts looking for a suitable site in South London. M...

---

---

---

The Homecoming

It is 1946, and with the war at last at an end, members of the Adams family who had been serving with the forces begin to come home. Boots is reunited with Polly and their twins, his son Tim returns to the welcoming arms of Felicity, and with so m...

---

Love for a Soldier

Should she stay loyal to her country, or the man she loves?
 
France, 1918.
 
Sophia, the rebellious daughter of a distinguished German general, is on her way to the town of Douai to elope with the man of her dreams -- a young army o...

---

A Sister's Secret

/ General Fiction

Perfect for fans of Georgette Heyer and Netflix hit Bridgerton, a dashing Regency romance from multi-million copy seller Mary Jane Staples. READERS ARE LOVING A SISTER'S SECRET! "Mary Jane Staples is a genius! The storyline was amazing. I could not p...

---

Sergeant Joe

Everyone liked Sergeant Joe, and quite a few people wondered why he wasn't yet married. When he bumped into Dolly Smith, he finally met a girl who made an impression on him. Dolly was quick and lively, but also a little frightened -- running from a...

---

A Girl Next Door

Boots Adams celebrates his 60th birthday in style with an old-fashioned Cockney knees-up, even if Gemma, James and the rest of the younger people insist that the music has to be rock and roll. The new generation of the family are growing up quickly -...

---

The Last Summer

Job and Jemima Hardy weren't Londoners by birth. They had both lived in a Sussex village until lack of work had sent Job and the family to Walworth - to a house in Stead Street. They got it cheap because of the poltergiest but they were sensible folk...

---

Sons and Daughters

By the year 1949, life in Walworth has almost returned to normal. Sammy and Boots, now in a highly successful partnership, are rebuilding the old family firm. But an old enemy resurfaces -- Mr. Ben Ford, who seems determined to ruin the various branc...

---
Frequently Asked Questions (FAQ)
Mary Jane Staples has published 46 books.
Mary Jane Staples does not have a new book coming out soon. The latest book, A Sister's Secret, was published in September 2013.
The first book by Mary Jane Staples, Down Lambeth Way, was published in January 1988.
Yes. Mary Jane Staples has 1 series.