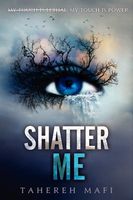 Length:

11 Books

First:

November 2011

Latest:

November 2021

Rating:
Series Description
Shatter Me is a young adult dystopian suspense series with paranormal and romance elements written by Tahereh Mafi. The series follows the story of Juliette Ferrars, a girl with a paralyzing and killing touch. Juliette also has the ability to take energy from other organisms.

First published in 2011, Shatter Me was originally going to be a trilogy, wrapping up with Ignite me in 2014. However, because of the series' popularity, additional titles were published starting in 2018.

Tahereh Mafi is an Iranian-American New York Times and USA Today bestselling author. She has also written the Furthermore series and standalone fiction titles. She is best known for young adult fiction.