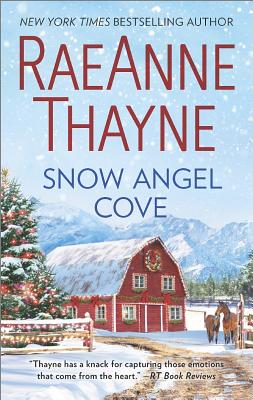 Length:

13 Books

First Book:

November 2014

Latest Book:

October 2020

Genres:

Contemporary Romance

Setting:

Haven Point, Idaho

Rating:
Haven Point Series in Order (13 Books)
Book Descriptions for series: Haven Point
A Haven Point Beginning

Book - 0.5


New York Times bestselling author RaeAnne Thayne brings readers a heartwarming snowed-in romance in this prequel novella!Gemma Summerhill wanted a fresh start in Haven Point, a place where no one knew about her accident and would treat her like a fra...

---

Snow Angel Cove

Book - 1


New York Times bestselling author RaeAnne Thayne welcomes you to Haven Point, a small town full of big surprises that are both merry and bright Nothing short of a miracle can restore Eliza Hayward's Christmas cheer. The job she pinned her dreams ...

---

Redemption Bay

Book - 2


New York Times bestselling author RaeAnne Thayne brings you back to Haven Point -- a place made for second chances… McKenzie Shaw would do anything for her hometown of Haven Point. It may be small, but it's never let her down…unlike gorgeous,...

---

Evergreen Springs

Book - 3


Celebrate the magic of Christmas in Haven Point with New York Times bestselling author RaeAnne Thayne, where hope, home and happily-ever-after are as close as your holiday stocking… Christmas is the last thing on Cole Barrett's mind this year. ...

---

Riverbend Road

Book - 4


Return to Haven Point, where New York Times bestselling author RaeAnne Thayne proves there's no sweeter place to fall in love… Protecting the streets of Haven Point isn't just a job for police officer Wyn Bailey, it's a family tradition. But la...

---

Snowfall on Haven Point

Book - 5


There's no place like Haven Point for the holidays, where the snow conspires to bring two wary hearts together for a Christmas to remember It's been two rough years since Andrea Montgomery lost her husband, and all she wants is for her children t...

---

Serenity Harbor

Book - 6


In the town of Haven Point, love can be just a wish -- and one magical kiss -- away… Computer-tech millionaire Bowie Callahan is about the last person that schoolteacher Katrina Bailey wants to work for. As far as she can see, he's arrogant, en...

---

Sugar Pine Trail

Book - 7


An unlikely attraction brings comfort, joy and unforgettable romance this holiday season! Librarian Julia Winston is ready to ditch the quiet existence she's been living. She's made a list of new things to experience, but falling for Jamie Caine,...

---

The Cottages on Silver Beach

Book - 8


Years after betraying her, he's back in Haven Point…and ready to learn the truth Megan Hamilton never really liked Elliot Bailey. He turned his back on her family when they needed him the most and it almost tore them all apart. So she's shoc...

---

---

Season of Wonder

Book - 9


It's a long way from New York to Idaho…but could they have found a home at last? Dani Capelli has never truly belonged anywhere. And from her earliest days as a foster child in Queens, she would have been lost if it weren't for her love of a...

---

Coming Home for Christmas

Book - 10


Hearts are lighter and wishes burn a little brighter at Christmas… Elizabeth Hamilton has been lost. Trapped in a tangle of postpartum depression and grief after the death of her beloved parents, she couldn't quite see the way back to her husb...

---

Summer at Lake Haven

Book - 11


Return to Haven Point for one last summer by the lake… Samantha Fremont may still be grappling with her mother's death, but this summer she's determined to build a new life for herself. Starting with making her friend's dream wedding dress...

---

Christmas at Holiday House

Book - 12


In the town of Silver Bells, there's always a feeling of Christmas in the air… Let love -- and RaeAnne Thayne -- melt your heart this holiday season! This New Year will bring widowed nurse Abigail Powell a fresh start in a different city. Exc...

---
Frequently Asked Questions (FAQ)
There are 13 books in the Haven Point series.
The Haven Point series does not have a new book coming out soon. The latest book, Christmas at Holiday House (Book 12), was published in October 2020.
The first book in the Haven Point series, Snow Angel Cove, was published in November 2014.
The Haven Point series primarily falls into the Contemporary Romance genre.