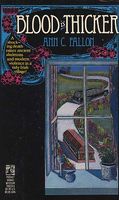 Length:

6 Books

First Book:

June 1990

Latest Book:

February 2000

Genres:

Law Enforcement

Rating:
The James Fleming Series in Order (6 Books)
Book Descriptions for series: A James Fleming Mystery
Blood Is Thicker

Book - 1


AFTER TWENTY-FIVE YEARS, JACK MOORE RETURNED TO THE OLD SOD. NOW HE'S UNDER IT... Kilmartin's cozy charm delighted James Fleming as he drove between shimmering early-spring fields up to the Moore's granite-faced manor house. The Dublin solicitor's...

---

Where Death Lies

Book - 2


HOME, SWEET HOME... Harry and Ariadne Conroy were happy to return from an African photo safari to their tastefully redone Georgian home in one of Dublin's most fashionable districts. Then, while unpacking. Ariadne discovered a dead, unclothed stra...

---

---

Potter's Field

Book - 4


POP ART Patrick Duggan's promising career as a potter came to an abrupt end with a blow to the back of his head. The murder weapon: a planter of his own design. Dublin police brand the case a robbery gone awry, but Duggan's friend Father Tom suspe...

---

Hour of Our Death

Book - 5


SEEING IS BELIEVING It was big news in the small town of Buncloda: a vision of the Blessed Virgin came to Mary Dowd as she and two companions prayed by a stone grotto in the wee hours of the morning. Now visitors flock to Buncloda from all over ...

---

Deadly Analysis

Book - 6


FATAL MIND GAMES Psychiatrist Thomas Darcy should have seen the signs of madness. Yet, when he finds his favorite horse, a magnificent animal, dead in a pool of blood outside his Dublin stable, Darcy refuses to believe that one of his patients is ...

---
Frequently Asked Questions (FAQ)
There are 6 books in The James Fleming series.
The James Fleming series does not have a new book coming out soon. The latest book, Deadly Analysis (Book 6), was published in February 2000.
The first book in The James Fleming series, Blood Is Thicker, was published in June 1990.
The James Fleming series primarily falls into the Law Enforcement genre.