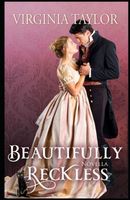 Newest Release
Bibliography:

10 Books - 2 Series

First Book:

December 2013

Latest Book:

August 2020

Rating:
Full Series List in Order
1 - Sets Appeal (Apr-2017)
2 - Perfect Scents (Oct-2017)
3 - Golden Opportunity (Jan-2018)
1 - Starling (Apr-2015)
2 - Ella (Oct-2015)
3 - Charlotte (Feb-2016)
4 - Wenna (Jan-2017)
Book List in Order:
10

titles
Dr. No Commitment

/ Romance

A mischievous romantic comedy, about a man who's always run from love and the girl who just might catch him.Ally was warned about Rohan Sinclair when she first moved to town - and she is determined she won't let this gorgeous, model-dating doctor dis...

---

Losing Patients

/ Romance

A delightful cozy mystery full of intrigue and a lot of flirtation. Can true love be found in the hunt for a killer? It's Bree Branson's first day at Pemberton Private Hospital and the last thing she needs is a patient dying in suspicious circumstanc...

---

Starling

An aspiring dressmaker, orphaned Starling Smith is accustomed to fighting for her own survival. But when she's offered a year's wages to temporarily pose as a wealthy man's bride, she suspects ulterior motives. She can't lose the chance to op...

---

Ella

Ella Beaufort knew better than to rely on a sexy stranger. But with two sisters to support on the modest earnings of the family sheep station, she accepts shearer Cal Lynton's help -- along with his intoxicating kiss. The most Ella can hope for is ...

---

Charlotte

A marriage most inconvenient… After losing his first love in childbirth, Nicholas Alden knows with a great certainty that he must never be a father. But to be a husband is a very different matter -- mandated by South Australian society, necessar...

---

Wenna

The lady's maid meets her match… Wenna Chenoweth's future is secure, until dashing Devon Courtney's illicit flirtation gets her dismissed from her job as a lady's maid. With nowhere to turn, Wenna is forced to accept Devon's bold prop...

---

Sets Appeal

In the cosmopolitan coastal city of Adelaide in South Australia, two theater lovers create a little drama of their own . . . Twenty-seven-year-old divorcée Vix Tremain finally has her first job -- as a theater-set painter -- and is ready to leave...

---

Perfect Scents

Two unsuspecting lovers stumble upon the blueprint for love . . . Calliope Allbrook takes a job in lovely, sunny Adelaide, Australia, hoping to lose herself in her work as a balm for her broken heart. And if it weren't for the handsome hunk ren...

---

Golden Opportunity

Some designs are timeless... They grew up together yet worlds apart. But a wealthy young man and a classy young woman find that some bonds can't be broken... The only thing Marigold Reynolds and billionaire Hagen Allbrook ever had in common...

---

---

Beautifully Reckless

A snow storm, a grumpy cat, a war hero, and a reckless beauty Nineteen year-old debutant, Rose Darnell, plans to compromise the man she loves, war hero Sir Ian Temple, when he escorts her back to the country for Christmas. Ten years her senior, Sir I...

---
Frequently Asked Questions (FAQ)
Virginia Taylor has published 10 books.
Virginia Taylor does not have a new book coming out soon. The latest book, Beautifully Reckless, was published in August 2020.
The first book by Virginia Taylor, Dr. No Commitment, was published in December 2013.
Yes. Virginia Taylor has 2 series.