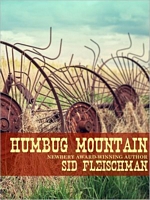 Newest Release
Bibliography:

34 Books - 1 Series

First Book:

November 1975

Latest Book:

July 2012

Rating:
Full Series List in Order
McBroom Tells a Lie (Nov-1975)
McBroom's Ghost (Oct-1981)
McBroom Tells the Truth (Sep-1998)
Book List in Order:
34

titles
---

---

---

---

---

---

---

---

---

---

The Ghost in the Noonday Sun

Pirates, and shipwrecks, and ghosts...oh no! Oliver Finch can't wait to go out to sea. He's turning twelve at midnight tonight and is looking forward to a whole lifetime of adventure on the high seas. Then he meets the villainous Captain Scratch, w...

---

The Whipping Boy

Prince Horace is so naughty that everyone calls him Prince Brat. But the prince is not allowed to be spanked. So an orphan boy named Jemmy is taken from the streets to be the prince's whipping boy. When Prince Brat decides to run away, he takes Je...

---

By the Great Horn Spoon!

"We intend to come sailing back to Boston in a year. We will be rich as can be." If your money has run out, why not mine some gold in California? It seemed obvious to twelve-year-old Jack and his seafaring companion and butler, Praiseworthy. Join th...

---

---

Chancy and the Grand Rascal

Orphaned and barefoot, Chancy Dundee sets out to track down his brother and sisters -- and quickly finds himself followed by a mysterious stranger with a hawk's feather in his hat. The big man proves to be the grandest rascal on either side of the Mi...

---

---

Jingo Django

Orphan Jingo Hawks is out of luck when Mrs. Daggatt hires him out as a chimney sweep to the awful General Dirty-Face Scurlock. But it's gypsy luck that day in 1854 puts Jingo into the right chimney and then into the care of the mysterious Mr. Peacoc...

---

The Midnight Horse

On a coach bound for Cricklewood, the orphan boy Touch caught his first glimpse of the haunt named The Great Chaffalo. According to rumor, he was once a famous magician who could turn a pile of straw into a horse. Now, Touch needs the ghost's help...

---

The 13th Floor

There's never a dull moment in the lives of twelve-year-old, newly orphaned Buddy and his lawyer sister, Liz. Their wild adventures begin when they receive a message on an answering machine from an ancestor named Abigail who has been dead three hundr...

---

The Ghost on Saturday Night

A madcap tale of fog and phantoms

Opie and Aunt Etta think there's something funny going on when Professor Pepper announces that he's going to raise the ghost of a dead outlaw--live on stage. Can Opie cut through all t he fo...

---

---

Mr. Mysterious & Company

A magic show is in town!

See Jane float through the air. Watch the head in the box move its lips and talk (that's Paul behind the whiskers). See tall, light-hearted Mr. Mysterious--Pa himself--make a cow la...

---

McBroom's Wonderful One-Acre Farm

When Josh McBroom learns that the eighty acres of Iowa farmland he's purchased are all stacked up on top of each other at the bottom of a muddy little pond, he thinks he's been bamboozled. But McBroom knows he's got the better of the bargain when ...

---

---

Here Comes McBroom!

In the further adventures of Josh McBroom, the crops grow so fast, you'd better step out of the way when you plant corn, red barns turn blue in the cold, and words freeze still in mid-air. "As fresh as ever."--Booklist....

---

McBroom Tells the Truth

"There's been so much tomfool nonsense told about McBroom's wonderful one-acre farm?." It's a good thing Farmer Josh McBroom is back, setting matters straight in this pair of hilarious, homespun, illustrated chapter books, issued in an easy-to-read p...

---

---

---

Bo and Mzzz Mad

Enemies at first sight

Orphaned Bo Gamage has nowhere to go. So he ends up in the old Queen of Sheba Hotel in a ghost town in the middle of the desert. It's dry and bare and -- worst of all -- the only other kid there is h...

---

Disappearing Act

An unseen man they call the Toad is stalking twelve-year-old Kevin and his older sister, Holly. They flee town in Holly's beat-up old car, driving west until they reach the Pacific Ocean. They change their names and attempt to hide in plain sight ...

---

The Giant Rat of Sumatra, or Pirates Galore

A swashbuckling pirate ship cuts through the early morning fog. Crouching like a tiger about to spring, her figurehead is a huge and ferocious rat with crooked teeth and gouged-out eyes.

When the daring Giant Rat of Sumatra drops anchor in S...

---

---

The Entertainer and the Dybbuk

One night The Great Freddie, a young ventriloquist, is possessed by a dybbuk. A what? A Jewish spirit. A scrappy demon who glows as if spray-painted by moonlight. The dybbuk is revealed to be the ghost of a twelve-year-old boy named Avrom...

---

Bandit's Moon

Annyrose Smith is a true child of calamity, but she is determined to overcome it. So what if she's an orphan? So what if she's stuck with the vilest landlady in California, while her brother's off trying to strike gold? So what if Joaquín Murieta...

---

The Dream Stealer

What would you do to rescue your most precious dream?

Susana's best friend moved away, and now the only time Susana can see her is in her dreams. Until one night when the dream suddenly ends. The Dream Stealer has come, her grandmother say...

---

The White Elephant

How can a beautiful white elephant be a terrible curse? Run-Run, a young elephant trainer, discovers the answer when he incurs the fury of the prince. The boy's punishment? The gift of an elephant, white as a cloud. From that moment forward, the cur...

---

Humbug Mountain

Welcome to Humbug Mountain! Little did Wiley, the son of a traveling newspaperman, imagine that the search for his grandfather would lead him into the hands of those nasty villains of the West--Shagnasty John and the Fool Killer. Using their newspape...

---
Award-Winning Books by Sid Fleischman
The 13th Floor
1997 Black-Eyed Susan Award -- Grades 4-6
The Entertainer and the Dybbuk
2008 Sydney Taylor Book Award -- Older Readers
The Ghost on Saturday Night
1979 Young Hoosier Book Award -- Children's
The Whipping Boy
1987 Newbery Medal -- Children's
1992 Nene Award -- Children's Fiction
Frequently Asked Questions (FAQ)
Sid Fleischman has published 34 books.
Sid Fleischman does not have a new book coming out soon. The latest book, Humbug Mountain, was published in July 2012.
The first book by Sid Fleischman, McBroom Tells a Lie, was published in November 1975.
Yes. Sid Fleischman has 1 series.