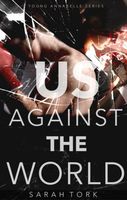 Newest Release
Bibliography:

19 Books - 2 Series

First Book:

June 2013

Latest Book:

November 2021
Full Series List in Order
1 - Always Wanted (Jun-2013)
2 - Wanted Always (Oct-2013)
3 - Calling Forever (Jan-2014)
3.5 - Calling Ms. Kensington (Oct-2014)
4 - Forever Calling You (Nov-2014)
5 - Reporting For Duty (Sep-2021)
1 - Young Annabelle (Oct-2013)
2 - The Truth About James (Jan-2014)
3 - What My Heart Wants (May-2014)
4 - You're What I Want (Sep-2014)
5 - Don't Stop Holding Me (Jan-2016)
6 - It's Me And You (Jul-2019)
7 - Me and My Boyfriend (Oct-2020)
8 - Us Against The World (Nov-2021)
Book List in Order:
19

titles
Always Wanted

/ Contemporary Romance

If someone were to have told me a year ago, that by the end of this year I was going to break up with Ben my boyfriend of five years and leave my family home to move to a different city to start a new life, I'd have told them they were crazy. There...

---

---

Young Annabelle

/ Romance

What do I see when I look in the mirror?I see a girl who just wants to be loved by her family, her best friend and…a guy she thought she'd never go for. Someone should have told me sooner…that falling for a guy like that…was not a good idea.A...

---

---

The Truth About James

/ Romance

For James Lawson, being a popular 'King' at school was a way of life.Annabelle should have steered clear of him from the beginning, but when the star Baseball player kissed her right before their senior year started, she did something she never s...

---

What My Heart Wants

/ Romance

Did I miss a class growing up? You know the kind that teaches you how to deal with teenage heartache and maybe how to avoid it all together? I could have used the advice. Desperately. Senior year wasn't supposed to be like this for Annabelle Si...

---

You're What I Want

/ Romance

One thing I've learned from my best friend Annabelle's crazy love life is…that I never want one…no matter what.Seventeen year old, Swim team member for life, Jenna Sabini has only one thing on her mind and it's swimming. There was no time f...

---

---

Forever Calling You

/ General Fiction

Did I really… just agree to become a permanent part of Xander Barns' life?For one year?Wow… I did.DAMN IT… now I've really done it!I've sold my soul to the devil!Marisa Gellys should have counted her lucky stars sh...

---

---

---

Breaking Me

/ Romance

If living life to the fullest was a test… I'd get an 'F'. The summer before senior year was supposed to be fun, but my mom had other plans. What she failed to realize was that I wasn't a little girl anymore, and just because she said so, d...

---

Don't Stop Holding Me

/ Romance

Here's the part where the world rocked one side while I held on for dear life, hoping not to fall to my finish. Because at the end of the day, my anxiety ruled my life…. and I wish it didn't. Whether it had to do with her family life.Her weight...

---

---

It's Me And You

/ General Fiction

The drama between James and Annabelle continues....Everyone always wants to fight me.But I've been suspended for two weeks and this time, I don't think I'll go back.Now I have an opportunity, a real chance at money, fame and glory.A...

---

---

Me and My Boyfriend

/ General Fiction

The Drama Continues….I ask myself a few questions every day.Does time heal all wounds?Can a broken heart heal… eventually?Is love really worth it in the end?And the most important question of all… is forgiveness possible?For Becky S...

---

---

Us Against The World

/ Contemporary Romance

The final book in the Young Annabelle Series...What do I see when I look in the mirror?I see a financially stable woman who loves being a flight attendant, lives in Boston in her dream condo, and she did it… all on her own.But… no matter ...

---

---

---
Frequently Asked Questions (FAQ)
Sarah Tork has published 19 books.
Sarah Tork does not have a new book coming out soon. The latest book, Us Against The World, was published in November 2021.
The first book by Sarah Tork, Always Wanted, was published in June 2013.
Yes. Sarah Tork has 2 series.