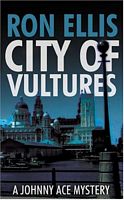 Newest Release
Bibliography:

12 Books - 1 Series

First Book:

September 1999

Latest Book:

June 2012

Rating:
Full Series List in Order
Grave Mistake ()
Mean Streets ()
The Snort of Kings ()
Single Shot (Apr-2003)
City of Vultures (Mar-2005)
The Singing Dead (Jun-2012)
Book List in Order:
12

titles
---

Framed: A Liverpool Cracker

It's an ordinary Thursday evening when Shelly Lunt is found hanging from a light fitting in a flat off Liverpool's Sefton Park. Unfortunately for Johnny Ace, local DJ turned PI, the flat happens to belong to him. Shelley's sister Linda is convinced i...

---

---

Single Shot

Selina Stark, budding star and celebrity on the Liverpool media circuit is found dead, murdered by a single gunshot wound to the head. Although a man is convicted and sentenced to twenty-five years in what looks like an open-and-shut case, not all of...

---

City of Vultures

It is 2003. Liverpool has just been named as European City of Culture for 2008 and property sharks are descending in droves in the hope of making a killing. . . Johnny Ace is back from Spain and running Ace Investigations with his new assistant, the ...

---

Journal of a Coffin Dodger

Walter Sherlock is 84 years old and tired of living with his boring son, Neville, pillar of the Conservative Club, and Neville's obese wife, Marge, maker of eternal Spotted Dicks. He wants to play loud music and live the life of a bachelor playboy ...

---

The Singing Dead

Liverpool private investigator, Johnny Ace, buys an old cassette player at an auction and realised he has stumbled on a potential goldmine when he finds inside it a tape featuring previously unheard songs performed by a young John Lennon. But the pre...

---

Grave Mistake

Heiress, Joanna Smithson, is kidnapped outside Tescos in Formby. Her father turns to Liverpool private investigator, Johnny Ace, for help but things go wrong when Joanna kills one of her captors in self defence and finds herself in court on a charge...

---

Mean Streets

This is the second in the Liverpool crime series featuring Johnny Ace. Johnny starts investigating the murder of Bert's son, Bradley, an aging singing star. Strangely, Bert is adamant that he will be killed next. But what did Bradley have to hide? An...

---

---

Murder First Glass

The Executioner is a new type of criminal. In a letter to 'The Times' he announces his intention of personally restoring the death penalty in England and, within a week, his first victim is swinging at the end of a rope. Meanwhile, Detective Chief In...

---

---

The Snort of Kings

DCI Glass is investigating a series of 'accidents' to jockeys at racecourses around the country. DCI Knox is undercover as a record promoter on tour with a U.S. pop star as he tries to uncover an international drugs ring. The two trails converge at C...

---
Frequently Asked Questions (FAQ)
Ron Ellis has published 12 books.
Ron Ellis does not have a new book coming out soon. The latest book, The Singing Dead, was published in June 2012.
The first book by Ron Ellis, Ears of the City, was published in September 1999.
Yes. Ron Ellis has 1 series.