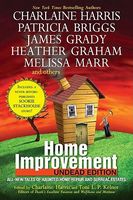 Newest Release
Bibliography:

16 Books - 4 Series

First Book:

June 1990

Latest Book:

August 2011

Rating:
Full Series List in Order
1 - Speak No Evil (Feb-1996)
1 - Fertile Ground (Feb-1998)
1 - Fair Game (Sep-1993)
2 - Angel of Death (Oct-1994)
3 - Blood Money (Feb-1999)
4 - Dead Air (Mar-2000)
5 - Shadows of Sin (Sep-2001)
1 - Blues in the Night (Oct-2002)
2 - Dream House (Sep-2003)
3 - Grave Endings (Sep-2004)
4 - Now You See Me... (Oct-2005)
Book List in Order:
16

titles
Where's Mommy Now?

Kate Bauers was proud of being able to manage both her job at the gift shop and her luxurious household, even though Dr. Mark Bauers was a demanding husband and her two small children were a. handful. But as her job took more and more of her time, Ka...

---

Till Death Do Us Part

A KADDISH FOR THE DEAD Beautiful Deena Vogler's devout adherence to the tenets of Orthodox Judaism has consigned her to a living hell. Her sadistic husband Jake refuses to grant Deena a get--the religious divorce that will set her free. But provid...

---

Fair Game

A PLAYFULLY DANGEROUS KILLER, A DANGEROUSLY PLAYFUL GAME. Bodies with bank deposit slips and money attached to them. A new corpse with, of all things, a parking ticket. The city of Los Angeles has enough troubles without this new, insane rash of k...

---

Nowhere to Run

"I KNOW WHAT YOU DID..." Someone knows Alexandra Prescott's secrets and the nightmare that preceded her idyllic existence as the loving wife of a wealthy and successful L.A. attorney. "I KNOW WHAT YOU ARE..." Someone is using Alex's past like a ...

---

Angel of Death

"The Angel of Death spared your forefathers--Will he spare you?" To L.A. lawyer Barry Lewis, the note on his front door spells danger. To LAPD Detective Jessie Drake, it is as ominous as the Star of David scrawled across Lewis's paint-smeared door...

---

---

Speak No Evil

THE DEFENSE RESTS -- PERMANENTLY The practice of law is a cutthroat profession. When a glamorous, aggressive, and widely disliked L.A. lawyer is found with her tongue cut out, it's a gruesome, but apt, demise. The leading suspect is Debra Laslow, ...

---

Fertile Ground

Scandal has shaken the career of Dr. Lisa Brockman, a physician at a prestigious Los Angeles fertility clinic. First there's the murder of a young donor, then the allegations of egg switching, and finally the disappearance of Dr. Matthew Gordon, the ...

---

Blood Money

Caring and compassionate, LAPD homicide detective Jessica Drake isn't about to write off the death of an elderly man found dead in a secluded area of Rancho Park as simply a heart attack. The nonresident guest at an old age home was in vigorous healt...

---

---

Dead Air

The tough talk and no-nonsense advice that Dr. Renee Altman dispenses on air has won the controversial radio personality many admirers but few friends. Once LAPD Homicide Detective Jessie Drake could count herself among the latter, but that was back ...

---

Shadows of Sin

At first glance it appears to be a random multiple murder -- a prominent plastic surgeon, his nurse, and his receptionist shot dead in their plush Century City office. But to LAPD Homicide Detective Jessie Drake, the savage nature of Dr. Ronald Bushn...

---

Blues in the Night

An unidentified young woman in a nightgown is the seriously injured victim of a hit-and-run accident on Mulholland Drive. The image of her stumbling along a dark, winding road is one that Molly Blume, a freelance true-crime writer, cannot shake. It d...

---

Dream House

While developing a story about vandalized homes in one of L.A.'s ritziest enclaves, Crime Sheet columnist Molly Blume discovers a seething conflict brewing between residents who want to remodel their houses and those who wish to restore the integrity...

---

Grave Endings

For almost six years crime writer Molly Blume has obsessed over the unsolved murder of her best friend, Aggie Lasher. But when Molly's LAPD pal Detective Andy Connors shows her a locket found on the body of a dead man, the case at last seems to have ...

---

Now You See Me...

For feisty Los Angeles crime reporter Molly Blume, life is good. She is newly married (to the adoring and adorable Rabbi Zack), and her latest true-crime book is a hot seller. However, when an overardent fan's attentions arouse Molly's suspicion, her...

---

Squatter's Rights

in Home Improvement: Undead Edition

There's nothing like home renovation for finding skeletons in the closet or otherwordly portals in the attic. Now, for any homeowner who's ever wondered, "What's that creaking sound?" or fans of "how to" television who'd like a little unreality mixed...

---
Award-Winning Books by Rochelle Majer Krich
Grave Endings
2005 Edgar Allan Poe Award -- Mary Higgins Clark Award
Where's Mommy Now?
1991 Anthony Award -- Paperback Original
Frequently Asked Questions (FAQ)
Rochelle Majer Krich has published 16 books.
Rochelle Majer Krich does not have a new book coming out soon. The latest book, Squatter's Rights, was published in August 2011.
The first book by Rochelle Majer Krich, Where's Mommy Now?, was published in June 1990.
Yes. Rochelle Majer Krich has 4 series.