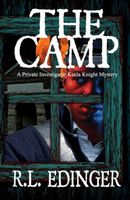 Newest Release
Bibliography:

12 Books - 1 Series

First Book:

February 2009

Latest Book:

March 2021
Full Series List in Order
1 - Journey Into the Knight (Oct-2009)
2 - The Forgotten King (Feb-2009)
3 - Into the Fire Storm (Sep-2011)
4 - Night Kill (Sep-2011)
5 - Snow Angel (Jun-2012)
6 - The Blood War (Jul-2013)
7 - Lost City of Steam (Jun-2014)
8 - The Cracksman Door (Aug-2015)
9 - Shadows of Nikola Tesla (May-2016)
10 - City of Lunara... Rise from the Ashes (Aug-2017)
11 - The Manor (Sep-2018)
Book List in Order:
12

titles
The Forgotten King

Robert LaRue is dead! That much is certain. A security guard is the one who found him while on his rounds. There are no wounds or marks of any kind on the body of the late curator of the Bayport Historical Museum. To preserve the authenticity of the ...

---

---

Into the Fire Storm

Members of Company A, 5th Wisconsin are being killed. It all starts at the Bayport Historical museum when the first reenactor is shot during a scripted skirmish. The police are called to investigate the shooting. At first it appears that the shooting...

---

Night Kill

What if a Gothic tale of vampires were married to a classic murder mystery thriller?"Night Kill" puts forth a fantastically thrilling effort with such a story. In the snowy, quaint countryside, a loving family gathers in their home to celebrate t...

---

---

The Blood War

The Blood War Begins…Three Families Dead…Innocent Blood Spilled…A Hero Must Arise…Private Investigator Andrew Knight is once more thrust into the world of vampires. This time the enemy is more cunning, devious, and fearsome than ever before. ...

---

Lost City of Steam

On the eve of Queen Victoria's death, Rory Breckenridge and twenty other families disappeared in a great storm on the Irish Sea. One hundred years later eight college students vanished while exploring the Breckenridge estate. A young woman, Leara, se...

---

The Cracksman Door

The Cracksman Door is the eighth book in my Private Investigator Andrew Knight Mystery series. This is the second book that has a steampunk inspired storyline. The Cracksmen faithfully served the citizens of Lunara since the underground city was buil...

---

---

---

City of Lunara... Rise from the Ashes

City of Lunara... Rises From The Ashes is the tenth novel in my Private Investigator Andrew Knight Mystery series. This book is about despair, torment, justice and revenge! City of Lunara is by far the best novel in the series thus far!...

---

The Manor

Located on the shores of West Bay Lake, in the far northeast regions of Wisconsin, are the ruins of a once grand mansion that was called Summerwind. The house is long gone now, but the memories remain ... as do the stories and legends of the inexplic...

---

---
Frequently Asked Questions (FAQ)
R.L. Edinger has published 12 books.
R.L. Edinger does not have a new book coming out soon. The latest book, The Camp, was published in March 2021.
The first book by R.L. Edinger, The Forgotten King, was published in February 2009.
Yes. R.L. Edinger has 1 series.