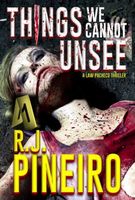 Newest Release
Bibliography:

20 Books - 1 Series

First Book:

April 1993

Latest Book:

March 2021

Rating:
Full Series List in Order
1 - Highest Law (Feb-2020)
2 - Things We Cannot Unsee (Mar-2021)
Book List in Order:
20

titles
Siege Of Lightning

After the tragedy of the space shuttle Challenger, the technicians of NASA hope to create a fail safe shuttle, incapable of malfunctioning. With the space shuttle Lightning, all systems were go... Then lightning struck twice. America's greatest t...

---

---

Retribution

A year ago, in the sky over Iraq, a hero was forged in the heat of battle. Navy Lieutenant Kevin Dalton destroyed Saddam Hussein's secret arsenal of nuclear missiles. Now, in R.J. Pineiro's much-anticipated sequel to ULTIMATUM, Dalton works for the C...

---

---

Breakthrough

Jake Thomas Fischer, founder and CEO of Fischer Technologies, Inc., and his team have made an astounding breakthrough: bio-chips. These computer chips, based on bio-technology, use proteins to process information and provide enough processing power t...

---

---

---

Conspiracy.Com

Hunted by the top companies in America, Michael Patrick Ryan was offered the world: high starting salaries, stock options, and signing bonuses. Ryan set his sights on SoftCorp, Inc., a company with only one client--the Internal Revenue Service. Bu...

---

---

---

Cyberterror

Computers increase the flow of natural gas to the San Antonio, Texas, distribution center increasing the pressure, triggering multiple leaks which result in massive explosions. The death toll is in the thousands, ten times the number of injured and h...

---

---

---

The Eagle and the Cross

The Bloodiest Battle in World History At Stalingrad 3.2 million men and women will die. Those fighting include: Captain Jack Towers of the US Army Air Corps--who will learn duty, courage and . . . love. Lieutenant Erich Steinhoff, the Luftwaffe ac...

---

---

Beyond the Crooked Mile

Technothriller writer R.J. Pineiro breaks away with a novel of domestic suspense in the tradition of Harlan Coben and James Patterson. David Wallace runs a shelter for battered women in Austin, Texas as his way to make amends for a tragic mistake he ...

---

---

Avenue of Regrets

What would you do if you discovered that the violent death of your family seven years ago was not as it had seemed?  How far would you go to uncover the truth?   "An engrossing novel of domestic suspense . . . a fast-paced tale of murder and horri...

---

Chilling Effect

A RUTHLESS ECO-TERRORIST.A WOMAN DETERMINED TO STOP HIM.Chilling Effect explores a world in the not-too-distant future where terrorism is taken to a new level, one with world-ending consequences. "Fiction of the first order!" --Clive Cussle...

---

Highest Law

It is said that the hardest battles for our veterans are fought within, but what would you do if you discovered that a widely-available PTSD medication designed to help our military heroes cope with the horrors of war had a very uncommon but quite vi...

---

---

Things We Cannot Unsee

/ Thriller

A heinous crime.A terrifying discovery.A detective on the edge.NCIS Agent Lawson Pacheco is scarred to his soul from the violence he has witnessed while serving his country in the War on Terror.There are things that Law has seen that fuel his nightma...

---
Frequently Asked Questions (FAQ)
R.J. Pineiro has published 20 books.
R.J. Pineiro does not have a new book coming out soon. The latest book, Things We Cannot Unsee, was published in March 2021.
The first book by R.J. Pineiro, Siege Of Lightning, was published in April 1993.
Yes. R.J. Pineiro has 1 series.