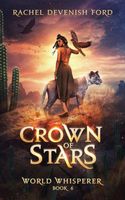 Newest Release
Bibliography:

10 Books - 1 Series

First Book:

November 2013

Latest Book:

July 2022

Rating:
Full Series List in Order
1 - World Whisperer (Apr-2016)
2 - Path of Springs (Dec-2016)
3 - Shaper's Daughter (Nov-2017)
4 - Demon's Arrow (Oct-2018)
4.5 - Azariyah (Jul-2020)
5 - Beloved Night (Nov-2020)
Book List in Order:
10

titles
The Eve Tree

/ Literary

When Molly's ranch is threatened by a nearby forest fire, she realizes she will do whatever she can to save it, even at the cost of her fragile mental stability. Jack, Molly's husband, will do whatever he can to save Molly. He alone knows the true co...

---

A Traveler's Guide to Belonging

"A beautiful, beautiful book." ~ Sara J. Henry, award-winning author of Learning to Swim.From the author of The Eve Tree comes a travel story unlike any other, a tale of fathers and sons, love, longing and the search for home.Timothy keeps getting ri...

---

World Whisperer

Rich with adventure and magic, Rachel Devenish Ford's debut fantasy is the tale of a fearful girl stepping into her true destiny and an identity that is more powerful than she could have imagined.As a fifteen-year-old outsider girl in the Worker vill...

---

Path of Springs

A new life. A cry for help. A journey into the heart of the Great Waste. Isika is settling into life with her new family in Azariyah, away from the toil of the Workers, but it doesnt take long before a desperate message pulls her back to a world of d...

---

Guardian of Dawn

A new life. A cry for help. A journey into the heart of the Great Waste.Though Isika now lives happily with the Maweel, her problems seem to be following her.Apprenticing for the master potter and enjoying life with a real family occupy Isika's days,...

---

Shaper's Daughter

In the third book of the World Whisperer series, Isika must face her deepest fears and emerge with her true identity intact.Isika is growing into her life in the Royal city of Azariyah. Her pottery apprenticeship is going well and her friendship with...

---

Demon's Arrow

A poison arrow. A prophecy of two sisters. A journey into the heart of the resistance. While Isika is preparing for her future role with the Maweel, members of the Karee tribe come to ask for help with the problem of masses of disappearing people. M...

---

Azariyah

/ Fantasy

She is the stolen queen. Azariyah, Queen of the Maweel, wakes up to find herself a captive, separated from her magic and away from everyone she loves—until she realizes her captors have taken her young daughter, Amani, too. Alone...

---

Beloved Night

Haunting dreams. The power of the resistance. A battle for freedom. Betrayal magic from the past is still hindering Isika's powers, and the rains haven't come to the lands of the Maweel, causing drought. Growing desperate, the elders decide to crown ...

---

---

Crown of Stars

/ Fantasy

The elders are missing. A strange power hovers. The resistance continues. After a great battle with the Desert King, Isika has returned to the Royal City of Maween to find that the elders have vanished without a trace. Ben is the only one with any se...

---
Frequently Asked Questions (FAQ)
Rachel Devenish Ford has published 10 books.
Rachel Devenish Ford does not have a new book coming out soon. The latest book, Crown of Stars, was published in July 2022.
The first book by Rachel Devenish Ford, The Eve Tree, was published in November 2013.
Yes. Rachel Devenish Ford has 1 series.