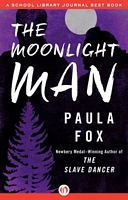 Newest Release
Bibliography:

28 Books

First Book:

January 1967

Latest Book:

June 2016

Rating:
Book List in Order:
28

titles
How Many Miles to Babylon?

One November morning, 10-year-old James Douglas runs away from school. Maybe he can find his mother. Maybe she can find him. But first James goes to his secret place in a deserted house. There he discovers Gino, Stick, and Blue -- tough kids who figu...

---

Portrait of Ivan

"The painter, who was sitting on a stool, stared at Ivan so steadily that Ivan felt a faint touch of fear, as though he were being asked a question he could never answer." Thus begins the compelling story of an unusual relationship between a sensitiv...

---

Slave Dancer

"Take up the pipe, Claudius," a voice growled near Jessie's bound head. "He's worth nothing without his pipe!" Snatched from the docks of New Orleans, thirteen-year-old Jessie is thrown aboard a slave ship where he must play his fife so that captu...

---

The Widow's Children

A classic American novel from the author of Borrowed Finery -- 'Chekhovian...Every line of Fox's story, every gesture of her characters, is alive and surprising.' New York Times On the eve of their trip to Africa, Laura Maldonada Clapper and her husb...

---

The Little Swineherd

Six short stories include: The Duck and the Goose, The Little Swineherd, The Rooster Who Could Not See Enough of Himself, Circles and Straight Lines, The Alligator Who Told The Truth, The Raccoon's Song....

---

A Place Apart

National Book Award Winner: A grieving teenager wonders if she'll ever understand anything—especially the big things—in life.  Time passed, and all the minutes hurt . . .   After her father's death, Victoria Finch's life...

---

One-Eyed Cat

Ned Wallis knows he's forbidden to touch the rifle in the attic. But he can't resist sneaking it out of the house, just once. Before he realizes it, Ned takes a shot at a dark shadow. When Ned returns home, he's sure he sees a face looking down at...

---

---

The Village by the Sea

When Emma's father goes to the hospital for surgery, she is sent to stay with Aunt Bea the "terror" and kindly Uncle Crispin. Emma wonders how she will survive two weeks with the always hostile Aunt Bea. Luckily, Emma makes a friend, Bertie, and t...

---

---

The God of Nightmares

In 1941, twenty-three-year-old Helen Bynum leaves home for the first time and sets out from rural New York to find her Aunt Lulu, an aging actress in New Orleans. There she finds a life of passion and adventure, possibilities and choices. Falling in ...

---

---

Monkey Island

Eleven-year-old Clay Garrity is on his own. His father lost his job and left the family. Now Clay's mother has disappeared from their welfare hotel. Clay is homeless and out on the streets of New York City. In the park he meets two homeless men, B...

---

Western Wind

Twelve-year-old Elizabeth is angry about spending the summer with her grandmother in Maine. She's sure her parents want to be alone with her new baby brother. Elizabeth loves Gran, but she feels stuck on Pring Island in a primitive cottage with no ho...

---

The Rider from Yonder

After inheriting a cattle ranch from Chance Corday, Melody Malone learns that he is the first man who has had the nerve to stand up to Quirt Hardin, who is trying to put a stranglehold on the ranch. Original....

---

Amzat and His Brothers

Five delightful Italian tales include the stories of clever Amzat and his wife outwitting his greedy brothers, five animals who join forces against a wolf, and a poor mother and son who end up living in luxury. Reprint....

---

Desperate Characters

"A towering landmark of postwar Realism. . . . A sustained work of prose so lucid and fine it seems less written than carved." ― David Foster Wallace Otto and Sophie Bentwood live childless in a renovated Brooklyn brownstone. The complete works of ...

---

Radiance Descending

Angry that his younger brother Jacob is clumsy and odd looking due to his Down's syndrome and jealous because of all the attention he receives, Paul can't see his goodness until a series of special happenings make him appreciate Jacob for who he is. ...

---

Poor George

"The best first novel I've read in quite a long time…A merciless uncovering of the exurban wastelands of the spirit." ―New York Review of BooksPoor George gives us George Mecklin, a restless, soft-spoken teacher at a private school in Manhattan. ...

---

A Servant's Tale

"A rare and wondrous thing....[Fox] knows how to create a character."―Vogue Luisa de la Cueva was born on the Caribbean island of Malagita, of a plantation owner's son and a native woman, a servant in the kitchen. Her years on Malagita were sweet w...

---

---

The Western Coast

America and the catastrophic world of twentieth-century war, mass murder, and horror are the backdrop of this story of Annie Gianfala, a young woman who finds herself cast adrift in Hollywood with World War II looming. Defending herself with despairi...

---

The Stone-Faced Boy

There he was, Gus Oliver, searching for a stray dog in a snowstorm at four o'clock in the morning. If it hadn't been for his sister, Serena, who could get Gus to do anything, he'd be at home and warm under the army blanket in the blue room...But whic...

---

---

Maurice's Room

Eight-year-old Maurice's struggle to protect his bedroom full of treasured "junk" from unsympathetic parents undergoes a transformation when the family moves to the country. ...

---

A Likely Place

A little boy who can't spell or ever seem to please his parents spends a week with a kooky babysitter and makes a special friend. ...

---

News from the World

A collection that traces the celebrated career of a grande dame of contemporary literature. This complete gathering of Paula Fox's short works spans forty-five illustrious years of her career, from 1965 to 2010. There are perfectly turned stories (t...

---

The Moonlight Man

Newbery Medal-winning author Paula Fox's gripping and sensitive portrayal of a teenage girl who discovers her father is not the man she thought he was.   Catherine Ames's father, Harry, has always been a mystery. Her parents divorced when she...

---

---

Lily and the Lost Boy

Eleven-year-old Lily has grown closer to her thirteen-year-old brother Paul during the spring their family has spent on the Greek island Thasos, until the unpredictable behavior of another American boy disrupts their lives....

---
Award-Winning Books by Paula Fox
A Place Apart
1983 National Book Award -- Children's Book: Fiction (paperback)
Slave Dancer
1974 Newbery Medal -- Children's
The Village by the Sea
1989 Boston Globe-Horn Book Award -- Fiction & Poetry
Frequently Asked Questions (FAQ)
Paula Fox has published 28 books.
Paula Fox does not have a new book coming out soon. The latest book, The Moonlight Man, was published in June 2016.
The first book by Paula Fox, How Many Miles to Babylon?, was published in January 1967.
No. Paula Fox does not write books in series.