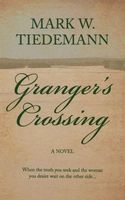 Newest Release
Bibliography:

13 Books - 2 Series

First Book:

January 1999

Latest Book:

May 2023

Rating:
Full Series List in Order
Mirage (Sep-2000)
Chimera (Mar-2001)
Aurora (Apr-2002)
Hour of The Wolf (Jul-2004)
Book List in Order:
13

titles
---

Mirage

Senator Clar Eliton of Earth and Ambassador Galiel Humadros of Aurora hope to alter the strained and explosive relationships between Earth and the Spacer and Settler Worlds. But as the Spacers arrive on Earth to begin the conference that will reco...

---

Chimera

Coren Lanra, head of security for DyNan Manual Industries, investigates the murder of the daughter of DyNan's president Rega Looms during an ill-fated smuggling operation, and uncovers links to the past....

---

Compass Reach

Fargo owes nothing to the Pan Humana. He turned his back on them long ago, when he was stripped of his identity, his class, his position, and all the other ties to human civilization enjoyed by its billions upon billions of citizens. Fargo joined the...

---

---

Metal of Night

When Cira Kalinge signed on with the Armada, she thought her staid, provincial family disowning her was the worst thing that could happen. Then the Secession happened and she found herself on a carrier heading for the Distal colonies to carry out a s...

---

Aurora

After the diplomatic failures of the Spacer mission on Earth-which began with the assassinations of key diplomats and politicians, and culminated with the uncovering of a vast plot to create cyborgs from terminally handicapped infants-Ambassador Arie...

---

Peace and Memory

Decades after the Secession, humanity is still split. The isolationist Pan Humana and the expansionist Commonwealth Republic live on either side of their mutual boundary, the Secant. Crossing the Secant is illegal, no matter which side you start from...

---

Hour of The Wolf

When a new threat arrives from the future, Sarah and John Connor take on a cyborg killing machine out to destroy a man who is unaware of the key role he will play in the time before Judgment Day. Reprint....

---

---

---

Gravity Box and Other Spaces

Human connection is the Gravity Box that keeps readers spinning through the past, future, and fantasy worlds in this thought provoking short story collection.  Each story takes the reader on a journey down strange roads to unexpected places.  Th...

---

Granger's Crossing

Ulysses Granger, Continental soldier assigned to assist Colonel Clark in the West, is present for the Battle of St. Louis in 1780. In the aftermath, his best friend goes missing. Granger tracks him to a homestead some distance from the village where ...

---

---
Frequently Asked Questions (FAQ)
Mark W. Tiedemann has published 13 books.
The next book by Mark W. Tiedemann, Granger's Crossing, will be published in May 2023.
The first book by Mark W. Tiedemann, Extensions, was published in January 1999.
Yes. Mark W. Tiedemann has 2 series.