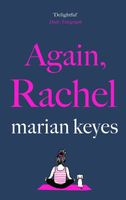 Newest Release
Bibliography:

23 Books - 2 Series

First Book:

January 1995

Latest Book:

January 2022

Rating:
About the Author
Marian Keyes is the international bestselling author of seven previous novels, including most recently, the Australian number one bestseller, The Other Side of the Story. Two collections of her journalism, Under the Duvet and Further Under the Duvet, are also published by Penguin. Marian lives in Dublin with her husband
Full Series List in Order
1 - Watermelon (Jan-1995)
2 - Rachel's Holiday (Jan-2000)
3 - Angels (Jan-2002)
7 - Again, Rachel (Jan-2022)
0.5 - Mammy Walsh's A-Z of the Walsh Family (Mar-2013)
1 - Watermelon (Jan-1995)
1 - The Mystery of Mercy Close (Jan-2013)
2 - Rachel's Holiday (Jan-2000)
3 - Angels (Jan-2002)
4 - Anybody Out There? (Jan-2006)
7 - Again, Rachel (Jan-2022)
Book List in Order:
23

titles
Watermelon

At twenty-nine, fun-loving, good-natured Claire has everything she ever wanted: a husband she adores, a great apartment, a good job. Then, on the day she gives birth to her first baby, James visits her in the recovery room to inform her that he's lea...

---

Lucy Sullivan Is Getting Married

Lucy Sullivan is getting married...or is she? Lucy doesn't even have a boyfriend. (To be honest, she isn't that lucky in love.) But Mrs. Nolan-a local psychic-has read her tarot cards and predicted that Lucy will be walking down the aisle within ...

---

Rachel's Holiday

The fast lane is much too slow for twenty-seven-year-old Rachel Walsh, who is always the last one still standing whenever there's a party. And New York City is the perfect place for a young female to over-do ... everything! But her love of a good tim...

---

Sushi for Beginners

Hard-nosed, bitch-goddess London fashion editor Lisa Edwards was certain her "fabulous"-promotion would mean more A-list parties, society page photos, and jet-setting jaunts to the fall collections. Instead, she's being deported, Prada wardrobe and a...

---

Last Chance Saloon

Best friends since the days when legwarmers were cool, Tara, Katherine, and Fintan have survived small-town ennui, big-city heartbreak, and endless giddy nights out on the town. But now that they've graduated to their slightly more serious thirties, ...

---

Angels

The only one of her siblings not burdened with the "diva gene," Maggie Walsh always prided herself on her normalcy -- until she caught her irreproachable husband having an affair and was sacked from her dependable job. Suddenly her perfectly organize...

---

Soulmates

in Irish Girls About Town

An enchanting, heartwarming anthology of sixteen short stories about family, friendship, and love features contributions from such popular Irish women authors as Maeve Binchy, Marian Keyes, Cathy Kelly, Colette Caddle, Morag Prunty, Julie Parsons, Jo...

---

Under the Duvet

From the acclaimed bestselling author of Sushi for Beginners and Angels comes a collection of personal essays on shopping, writing, moviemaking, motherhood and all the assorted calamities involved in being a savvy woman in the new millennium. He...

---

The Other Side of the Story

Life is a circle, and what goes around, comes around. Just ask a trio of unforgettable women in Marian Keyes's enchanting new novel ... Energetic, ambitious, and sexy, literary agent Jojo Harvey combines Jessica Rabbit's body with a mind like a st...

---

---

The Truth Is Out There

in Girls Night In

21 tales from today's hottest young female writers. Featuring bestselling authors: Jennifer Weiner, Sophie Kinsella, Meg Cabot, Carole Matthews, Isabel Wolff, Lynda Curnyn, Jill A. Davis, Marian Keyes, Alisa Valdes-Rodriguez, Lisa Jewell, Stella Duff...

---

Further Under the Duvet

Lift up the covers, get yourself comfortable and let Marian take you places you've never been before. Places like the Irish air-guitar championships, a shopping trip to Bloomingdales with a difference and Cannes with a chronic case of Villa-itis. Alo...

---

Cracks in My Foundation

Go further under the covers and stay in bed a little longer with Marian Keyes in this winning follow-up to her smash essay collection, Under the Duvet. Written in the witty, forthright style that has earned her legions of devoted readers, Cracks in M...

---

Anybody Out There?

Bestselling author Marian Keyes has delighted readers with the lives, loves, and foibles of the irrepressible Walsh sisters and their eccentric mammy. In this funny, heartbreaking, and triumphant new tale, it's Anna Walsh's turn to shine! Life in ...

---

Wishing Carefully

in Girls' Night Out

Too tired to doll up and head out for a night on the town? (It happens to the best of us.) Just dip into this year's must-read collection for a Girls' Night Out to remember and indulge in tales of reunions and weddings, sisters and friends, endings a...

---

This Charming Man

With This Charming Man, Marian Keyes hits her stride as a novelist with her best novel yet, telling the stories of four women who are shaped by one man Paddy de Courcy is Ireland's debonair politician, the "John F. Kennedy Jr. of Dublin." His cha...

---

The Brightest Star in the Sky

A wry and life-affirming novel from the internationally bestselling author Marian Keyes's inimitable blend of rollicking humor, effervescent prose, and stories that deal with real-life issues have captivated readers around the globe. She is one of...

---

No Dress Rehearsal

Lizzie is dead - she just doesnt know it. Why does everyone ignore her when she needs a little sympathy? She has been in an accident, after all. The next day, Lizzie goes to work as usual and meets two unusual people, spirits who have been sent to br...

---

The Mystery of Mercy Close

As the youngest of the five Walsh girls, Helen has had a tough time finding her way in the world -- at thirty-three, she has her job as a private investigator that has proven less than fruitful and after losing her flat, she's moved back in with Ma...

---

Mammy Walsh's A-Z of the Walsh Family

/ General Fiction

For all fans eagerly awaiting Marian Keyes's new novel, The Mystery of Mercy Close, featuring Helen Walsh, here is a laugh-out-loud ebook-only short guide to everyone's favorite dysfunctional Irish family. Mammy Walsh's A-Z of the Walsh Family is the...

---

---

The Woman Who Stole My Life

A funny new novel from international bestselling author Marian Keyes about Irish beautician Stella Sweeney who falls ill, falls in love, then falls into a glamorous new life in New York City. When her dream life is threatened, will she rally to recla...

---

---

---

Again, Rachel

From internationally bestselling author Marian Keyes comes the eagerly awaited sequel to Rachel's Holiday.Back in the long ago nineties, Rachel Walsh was a mess.But a spell in rehab transformed everything. Life became very good, very quickly. These d...

---
Frequently Asked Questions (FAQ)
Marian Keyes has published 23 books.
Marian Keyes does not have a new book coming out soon. The latest book, Again, Rachel, was published in January 2022.
The first book by Marian Keyes, Watermelon, was published in January 1995.
Yes. Marian Keyes has 2 series.