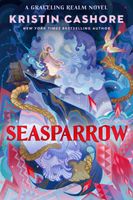 Newest Release
About the Author
Kristin Cashore grew up in a rural area of the northeast Pennsylvania, as the second of four daughters. During her childhood she read constantly. She received a bachelor's degree from Williams College and a master's from the Center for the Study of Children's Literature at Simmons College, where she worked with Liza Ketchum and was named a Virginia Haviland Scholar. She has worked as a dog runner, a packer in a candy factory, an editorial assistant, and a legal assistant. She is a freelance educational writer who writes content for textbooks and teacher editions, as well as book reviews for The Horn Book Guide and other publications. Since 2008 she also wrote fantasy novels for Young Adults.

She has lived in Pennsylvania, Florida, Sydney, Boston, Cambridge, Austin, Italy and even London before settling, for the moment, in Massachusetts.
Full Series List in Order
1 - Graceling (Oct-2008)
2 - Fire (Oct-2009)
3 - Bitterblue (May-2012)
4 - Winterkeep (Jan-2021)
Book List in Order:
6

titles
Award-Winning Books by Kristin Cashore
Bitterblue
2012 New Atlantic Independent Booksellers Association Award -- Young Adult
Fire
2009 Cybils -- Fantasy/Sci-Fi/YA
2012 Garden State Teen Book Award -- Fiction (Grades 9-12)
Graceling
2009 Pat Conroy Southern Book Prize -- Young Adult
2009 SIBA Book Award -- Young Adult
2010 Florida Teens Read -- Grades 9-12
2011 Green Mountain Book Award -- Grades 9-12
2011 Rhode Island Teen Book Award -- Ages 12 & Up
2012 California Young Reader Medal -- Young Adult
Frequently Asked Questions (FAQ)
Kristin Cashore has published 6 books.
Kristin Cashore does not have a new book coming out soon. The latest book, Seasparrow, was published in November 2022.
The first book by Kristin Cashore, Graceling, was published in October 2008.
Yes. Kristin Cashore has 1 series.