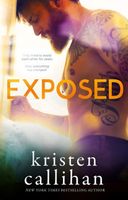 Newest Release
About the Author
Kristen Callihan is a child of the 80's, which means she's worn neon skirts, black-lace gloves, and combat boots (although never all at once) and can quote John Hughes movies with the best of them. A life long daydreamer, she finally realized that the characters in her head needed a proper home and thus hit the keyboard. She believes that falling in love is one of the headiest experiences a person can have, so naturally she writes romance.

Her love of superheroes, action movies, and history led her to write historical paranormals. She lives in the Washington D.C. area and, when not writing, looks after two children, one husband, and a dog.
Full Series List in Order
0.5 - Ember (Feb-2012)
1 - Firelight (Feb-2012)
2 - Moonglow (Aug-2012)
3 - Winterblaze (Mar-2013)
3.5 - Entwined (Nov-2013)
4 - Shadowdance (Dec-2013)
5 - Evernight (Sep-2014)
6 - Soulbound (Feb-2015)
7 - Forevermore (Jul-2016)
1 - The Hook Up (Sep-2014)
2 - The Friend Zone (May-2015)
3 - The Game Plan (Nov-2015)
4 - The Hot Shot (Apr-2017)
1 - Idol (Jun-2016)
2 - Managed (Nov-2016)
3 - Fall (Oct-2018)
4 - Exposed (Jul-2021)
Book List in Order:
20

titles
---

Ember

/ Urban Fantasy

Callihan has a great talent for sexual tension and jaw-dropping plots that weave together brilliantly in the end." --- Diana Gabaldon, New York Times bestselling author After a fire consumes the Ellis family fortune, the beautiful and resourceful ...

---

Firelight

London, 1881 Once the flames are ignited . . . Miranda Ellis is a woman tormented. Plagued since birth by a strange and powerful gift, she has spent her entire life struggling to control her exceptional abilities. Yet one innocent but irreversible ...

---

Moonglow

Once the seeds of desire are sown . . . Finally free of her suffocating marriage, widow Daisy Ellis Craigmore is ready to embrace the pleasures of life that have long been denied her. Yet her new-found freedom is short lived. A string of unexplai...

---

Winterblaze

Once blissfully in love . . . Poppy Lane is keeping secrets. Her powerful gift has earned her membership in the Society for the Suppression of Supernaturals, but she must keep both her ability and her alliance with the Society from her husband, Win...

---

Entwined

/ Urban Fantasy

Eamon Evernight has always lived in his older brother's shadow. While his brother is fair of hair and lithe in body, Eamon sparks fear with his fiery locks and massive frame-and rumors of a mysterious power. But when his brother has the good fortune ...

---

Shadowdance

Once a heart is lost in shadow . . . Life has been anything but kind to Mary Chase. But the Society for the Suppression of Supernaturals has given her purpose. Now she's been tasked with catching a vicious murderer dubbed the Bishop of Charing Cross...

---

Evernight

Once the night comes . . . Will Thorne is living a nightmare, his sanity slowly being drained away by a force he can't control. His talents have made him the perfect assassin for hire. But as he loses his grip on reality, there is no calming him-un...

---

The Hook Up

The rules: no kissing on the mouth, no staying the night, no telling anyone, and above all… No falling in love Anna Jones just wants to finish college and figure out her life. Falling for star quarterback Drew Baylor is certainly not on her to ...

---

Soulbound

Once two souls are joined . . . When Adam's soul mate rejected him, there was more at stake than his heart. After seven hundred years of searching, his true match would have ended the curse that keeps his spirit in chains. But beautiful, stubborn E...

---

---

The Friend Zone

Gray doesn't make friends with women. He has sex with them. Until Ivy. The last thing star tight-end Gray Grayson wants to do is drive his agent's daughter's bubblegum pink car. But he needs the wheels and she's studying abroad. Something...

---

The Game Plan

A beard-related dare and one hot-as-hell kiss changes everything. NFL center Ethan Dexter's focus has always been on playing football and little else. Except when it comes to one particular woman. The lovely Fiona Mackenzie might not care about hi...

---

---

Forevermore

Isolated and alone, Sin Evernight is one of the most powerful supernatural creatures in heaven and on earth. As an angel of vengeance, he hunts down the darkest evil, but when his long-lost friend, Layla Starling, needs him, he vows to become her pro...

---

---

The Hot Shot

First we were friends. Then we were roommates. Now I want more…

What can I say about Chess Copper? The woman is capable of bringing me to my knees. I know this about five minutes after getting naked for her.

No one is more surprised t...

---

---

Outmatched

Now a USA Today Bestseller. What happens when a boxer finds chemistry with a geek?Parker Brown can't believe she needs to hire a fake boyfriend. When she landed her dream job in renewable energy, she thought she'd be entering a world...

---

Dear Enemy

From New York Times bestselling author Kristen Callihan comes a smart, emotional contemporary romance about finding love with the most unlikely of people. As kids, they hated each other. Macon Saint was beautiful, but despite his name, Delilah kne...

---

Make It Sweet

Life for Emma isn't good. The world knows her as Princess Anya on Dark Castle, but then her character gets the axe -- literally. The cherry on top is finding her boyfriend in bed with another woman. She needs a break, and sanctuary comes in the for...

---

---

---
Award-Winning Books by Kristen Callihan
Evernight
2015 Rita Award -- Paranormal Romance
Firelight
2012 RT Reviewers Choice Award -- Historical Paranormal
The Hook Up
2014 All About Romance Reader Award -- Best New Adult
Shadowdance
2013 RT Reviewers Choice Award -- Historical Paranormal
Frequently Asked Questions (FAQ)
Kristen Callihan has published 20 books.
Kristen Callihan does not have a new book coming out soon. The latest book, Exposed, was published in July 2021.
The first book by Kristen Callihan, Firelight, was published in February 2012.
Yes. Kristen Callihan has 3 series.