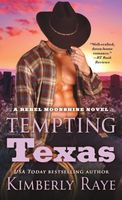 Newest Release
Bibliography:

59 Books - 9 Series

First Book:

January 1996

Latest Book:

November 2016

Rating:
Full Series List in Order
1 - Cody (Oct-2009)
2 - Brent (Jul-2010)
3 - Travis (Aug-2011)
4 - Colton (Jun-2012)
1 - Dead End Dating (Sep-2006)
2 - Dead and Dateless (Feb-2007)
3 - Your Coffin or Mine? (Sep-2007)
4 - Just One Bite (Aug-2008)
5 - Sucker for Love (Jun-2009)
6 - Here Comes the Vampire (Jul-2010)
1 - Kiss Me Once, Kiss Me Twice (Feb-2004)
2 - Sometimes Naughty, Sometimes Nice (Oct-2004)
3 - Sweet as Sugar, Hot as Spice (Aug-2005)
1 - Dead Sexy (Nov-2007)
2 - Drop Dead Gorgeous (Apr-2008)
3 - A Body To Die For (Nov-2008)
4 - Cody (Oct-2009)
5 - Brent (Jul-2010)
1 - Texas Fever (Jul-2005)
2 - Texas Fire (Aug-2005)
3 - Tall, Tanned & Texan (Feb-2006)
1 - Texas Thunder (Sep-2015)
2 - Red-Hot Texas Nights (Mar-2016)
3 - Tempting Texas (Nov-2016)
1 - Breathless (Apr-1999)
2 - Shameless (Jul-2000)
3 - Restless (Nov-2000)
1 - The Sex Solution (Mar-2004)
2 - The Fantasy Factor (Apr-2004)
1 - Jesse (Jan-2014)
2 - Billy (Feb-2014)
3 - Cole (Mar-2014)
Multi-Author Series List
Tall, Tanned & Texan
(Feb-2006)
Breathless
(Apr-1999)
Shameless
(Jul-2000)
Restless
(Nov-2000)
Show and Tell
(Jul-2001)
12 -
Colton
(Jun-2012)
5 -
Ladies, Start Your Engines
(Nov-2006)
16 -
Dylan's Destiny
(Jul-2002)
Book List in Order:
59

titles
'Til We Meet Again

Someone to Watch Over Me Her dreams had warned Mishella Kirkland of his coming, and those same dreams had driven her far from home. But the handsome man who claimed she needed protection was hardly the terrifying creature Mishella had conjured up ...

---

Now and Forever

Arranged Marriage They were betrothed as children to be husband and wife. But Jase Terrell refused his legacy and ran off, defying "the family." Now his promised bride was in danger. And though Kayla Darland was the one woman who could spell his d...

---

Only In My Dreams

"Death came too early, salvation too late..." He started as a dream. Night after night he called to her. Each night she felt his touch, relished his kiss, then watched him burn to his death. Each night she tried unsuccessfully to save him. Then su...

---

Gettin' Lucky

She was really unlucky in love. So, when Lucky Myers came across a gorgeous cowboy swimming in the buff, she didn't know what to do--run or enjoy the show. And when he asked her to spend time on his ranch, she was floored! That is, until the sexy ...

---

Something Wild

Tara Martin liked to be on top of things. Dependent only upon twentieth-century conveniences, the thoroughly civilized beauty sought to make a name for herself as a top-notch photojournalist--and she certainly had no time for trekking through the wil...

---

Faithless Angel

Disillusioned by the death of her young ward, Faith Jansen retreated from the world and vowed never to love again. Then a handsome stranger with a dark secret showed up on her doorstep. She found herself reaching out, drawn by his brooding intensity ...

---

Breathless

HER FIRST LOVE Ten years ago, Tack Brandon hightailed it out of Inspiration, Texas, leaving behind his family, his friends... and Annie, the girl he'd made a woman. But now he's come home. And Annie has grown into the most breathtaking creature he's...

---

Love, Texas Style

EVEN COWGIRLS GET THE BLUES... New York lawyer Suzanne Hillsbury is looking for love in all the wrong places. So, inspired by a commercial for a Wild West getaway, she decides what she needs is an honest to goodness cowboy, one who believes in hard...

---

How Sweet It Is

He was more tempting than chocolate.... Although caterer Delilah James didn't like reckless, macho, delicious Zach Tannner, oh, how she wanted him! So when Delilah discovered she needed a fake fiancé -- fast -- Zach was the only man she'd conside...

---

---

A Little Bit of Magic

in New Year's Babies

Abracadabra, three winks and a kiss is all it takes to transform a baby doll into a real life bundle of joy. But as the infant tests out her lungs, Samantha Skye realizes it won't be so easy to placate the newborn. Luckily her handsome neighbor knows...

---

Christmas, Texas Style

All ex-rodeo cowboy Trace Honeycutt wanted for Christmas was to be left alone. He'd fallen off the wedding wagon once and had no intention of getting hitched again. All Winnie Becker wanted for Christmas was a chance to start over - without a man to ...

---

Midnight Kisses

MAKING MR. RIGHT...Smooth, sensual, fantastic skin that begged to be tasted -- Josephine Farrington had just re-invented it. The plastic was great for making lifelike toys, but she had a better idea: making a man. Tired of pushy jerks that courted he...

---

Shameless

She's hot and bothered... Deb Strickland has her hands full - keeping her small newspaper in the black and her hands off hunky Jimmy Mission. The seriously sexy rancher has come home to settle down - and that's definitely not in Deb's plans. But ...

---

Midnight Fantasies

YOUR WILDEST DREAMS... Elizabeth Carlton was in the business of making them come true. From candlelight dinners to more exotic fare, the Texas beauty's catering service meant that no couple's secret desires need remain untasted. But the entrepre...

---

Restless

SHE HAD A LOT TO LEARN... Paige Cassidy is on a major self-improvement kick. Divorced from a man who swore she could do nothing right, Paige is making it her business to learn how to be a woman ...in every sense. And sexy, restless Jack Mission is...

---

Show and Tell

in Midnight Fantasies

A naughty lingerie party. A forbidden fantasy. When Texas bad boy Dallas Jericho finds a slip of paper left over from the party, he is surprised--and aroused-- to discover that he is good girl Laney Merriweather's wildest fantasy. So what can he do ...

---

---

A Stranger's Kiss

HIS KISS WAS THE STUFF OF DREAMS ... HIS TOUCH MEANT UNENDING ECSTASY ... AND, TO ONE, HIS LOVE MEANT SALVATION, IF ONLY SHE COULD WIN THE HEART OF ... THE INCUBUS The incarnation of desire, the embodiment of lust, the soul of carnality; all these...

---

Dylan's Destiny

Isabella Trueblood made history reuniting people torn apart by war and an epidemic. Now, generations later, Lily and Dylan Garrett carry on her work with their agency, Finders Keepers. Circumstances may have changed, but the goal remains the same. L...

---

---

A Stranger's Desire

SWEET OBLIVION In life, Cain had been a destroyer. In death, he still was. Only now lust was his weapon. Slain long before in a moment of despair, the one-time Viking had been collected by the Evil One and forced into servitude. He'd become an i...

---

Burn Inc.

in Burning Up

As the producer of erotic films for women, Gerry Baxter knows the business of sex---even though she hasn't had a date in five years! But all that changes when a case of mistaken identity leads to astonishing pleasure . . . an unexpected encounter tha...

---

Kiss Me Once, Kiss Me Twice

KISS ME ONCE, KISS ME TWICE For Skye Farrel sex is a business, and business is good. Her Girl Talk seminars are the talk of the town, with professional women jumping at the chance to learn the art of sexual fulfillment. But while she teaches her s...

---

---

---

Sometimes Naughty, Sometimes Nice

SOMETIMES NAUGHTY To Xandra Farrel, men are only good for procreation and pleasure-and sometimes they even need help with that. As proprietor of erotic aid manufacturer Wild Women, Inc., she's ready to launch her best product just as soon as she t...

---

---

Sweet as Sugar, Hot as Spice

SWEET AS SUGAR As owner and operator of Sugar & Spice Sinema, Eve Farrel creates red-hot how-to videos that help couples go from mild to wild. But Eve herself is single-and her famous feminist mother is determined to keep her that way. The only wa...

---

---

---

---

---

Dead End Dating

BITING IS SO LAST SEASON. A vivacious vampire with a flair for accessorizing, Lil Marchette is unlike most of her kind. She prefers lively shades of pink to dismal black (soo not her color), plus she's a hopeless romantic. In need of a steady payc...

---

Ladies, Start Your Engines

in NASCAR Holiday

All Savannah Calloway wants for Christmas is a chance to prove her talents with an engine -- and hot young NASCAR driver Mackenzie Briggs is ready to play Santa. But they soon find that winning the race isn't nearly as important as winning each other...

---

Dead and Dateless

SHE'D LIKE HER BLOOD BOTTLED, PLEASE! The sassiest vampire in all of Manhattan, Lil Marchette, is the owner of Dead End Dating--a matchmaking service for hip, intelligent singles like herself. After only three months, business is booming, and she ...

---

Your Coffin or Mine?

BEING DEAD CAN KILL A SOCIAL LIFE! For Lil Marchette, the owner of Manhattan's premier dating service for vampires (and a dazzling denizen of the dark herself), death is all in a night's work. Unfortunately, it's going to take more than matching u...

---

---

---

---

Just One Bite

THE STAKES HAVE NEVER BEEN HIGHER. Lil Marchette, vampire extraordinaire and owner of Manhattan's hottest hook-up service, is an expert at matching up the lonely and desperate (and sometimes dead). And thanks to the popular local reality dating sh...

---

Love Bites

in The Mammoth Book of Vampire Romances

LOVE IS A WEAPON IN THE FACE OF EVIL From the biggest names in paranormal romance, here are over 25 tales of a hunger like no other. In the world of the Undead there are strange codes of conduct, dark rituals, and dating games, as they seduce the ...

---

---

---

Slippery When Wet

Jaycee Anderson is the first female to take the NASCAR Sprint Cup circuit by storm, and after finishing fourth overall last season, she has her eyes on the prize: knocking Rory Canyon out of the number three spot. She'll do anything to see the job do...

---

---

Sucker for Love

Divalicious darling of the undead Lil Marchette is this close to finding her own happily-ever-after with hunky live-in bounty hunter Ty Bonner. Unfortunately, reality is biting back in a big way. Lil's got mounting bills to pay and clients to keep ha...

---

In the Midnight Hour

It was a bed made for passion, a bed made for sin. And even if its extravagance was widely out of character, even if as a student she could barely afford its cost, the moment practical Veronica Parrish laid eyes on the antique four-poster, possession...

---

---

---

---

---

---

---

---

---

The Devil's in the Details

Jess Damon's life is…complicated. Not only is she a man-eating succubus (albeit recently reformed), but she has the mother from hell -- literally. Yep, Houston's hottest wedding planner is the daughter of the devil. Though as far as her mother ...

---

---

---

---

The Quick and the Undead

Welcome to Tombstone, Texas, where anything is possible, even your wildest fantasy. Once a haven to outlaws, Tombstone is now a tourist town that gives travelers a taste of the old West. What visitors don't realize, however, is that the super-hot c...

---

Texas Thunder

Set deep in the heart of Texas, bestselling author Kimberly Raye's sizzling new series proves that men, women, and moonshine make one dangerous combination… RECIPE FOR DISASTER The most infamous moonshiners in Lone Star history, the Tuckers and...

---

Red-Hot Texas Nights

Get ready for squabbling kin, steamy nights, and mouth-watering romance... LOVE IS ALWAYS INTOXICATING When it comes to feuds, the Tuckers and the Sawyers do it Texas-style! The legendary moonshiners have been doing battle for more than a century...

---

Tempting Texas

Jenna Tucker has had enough: She wants out of her family's moonshine business--for good. With her share of the proceeds from a recently revealed recipe, Jenna intends to renovate her grandfather's old spread and focus on her true passion: breeding ho...

---
Frequently Asked Questions (FAQ)
Kimberly Raye has published 59 books.
Kimberly Raye does not have a new book coming out soon. The latest book, Tempting Texas, was published in November 2016.
The first book by Kimberly Raye, 'Til We Meet Again, was published in January 1996.
Yes. Kimberly Raye has 9 series.