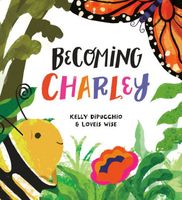 Newest Release
Bibliography:

37 Books - 3 Series

First Book:

May 2004

Latest Book:

July 2023

Rating:
Full Series List in Order
1 - Crafty Chloe (Feb-2012)
2 - Dress-Up Mess-Up (Aug-2013)
1 - Grace for President (Mar-2012)
2 - Grace Goes to Washington (Sep-2019)
1 - Super Manny! (Jul-2017)
2 - Super Manny Cleans Up! (Jul-2018)
Book List in Order:
37

titles
---

Liberty's Journey

Lady Liberty has welcomed immigrants to New York for more than one hundred years-but she's never traveled beyond her island. She's curious to see the country that has become home to the millions who have passed beneath her torch. She wants to go on a...

---

What's the Magic Word?

No matter where Little Bird goes, everyone wants to know the magic word. Is it "Peep-peep?" "Moo-moo?" "Oink-oink?"

How will Little Bird ever find out? Not until Little Bird returns home does he hear the magic word from his very own Mama Bir...

---

Dinosnores

Such are the trembling sounds of the gigantic dinosnores. Not everyone knows that the earth used to be made up of one huge supercontinent â€"â€" until the loud snores of the dinosaurs caused the land to quake and split!

Kelly DiPucchio's f...

---

Mrs. McBloom, Clean up Your Room!

They say that a little mess is a sign of genius, and if this is the case, kids in Room Five are being led by a teacher with the intellectual caliber of Einstein. Her accumulation of instructional materials have inspired twenty two janitors to grumble...

---

Sipping Spiders through a Straw

A delightfully chilling musical romp through the gross and gory world of campfire songs!

In this howlishly fun collection of campfire songs, little monsters everywhere will love singing along to their favorite campfire tunes which have been al...

---

How to Potty Train Your Monster

Congratulations! Your monster is growing up……and up,             …and UP!Now it's time to potty train him!Potty training is not always the easiest task to navigate -- especially for growing monsters. Thankfully, with the help of ...

---

Alfred Zector, Book Collector

In his warm, weathered house, stuffed in crannies and nooks, were heaps, rows, and stacks of beloved bound books. The only thing that brings Alfred Zector joy is collecting books. And so he sets out on a mission to collect every last one, until hi...

---

The Sandwich Swap

Lily and Salma are best friends. They like doing all the same things, and they always eat lunch together. Lily eats peanut butter and Salma eats hummus-but what's that between friends? It turns out, a lot. Before they know it, a food fight breaks out...

---

---

---

Gilbert Goldfish Wants a Pet

Gilbert has almost everything his fishy heart could desire: a castle, a chest filled with treasure, and food that falls from the sky. But there's one BIG thing missing from his life: a pet. And so begins Gilbert's harrowing search for the perfect fis...

---

Zombie in Love

Mortimer is looking for love. And he's looking everywhere! He's worked out at the gym (if only his arm wouldn't keep falling off). He's tried ballroom dancing lessons (but the ladies found him to be a bit stiff). He's even been on stalemate.com. How'...

---

Crafty Chloe

Fancy Nancy meets Martha Stewart in Crafty Chloe, the adorable DIY star of a new picture book series! When another girl has already purchased the most perfect birthday gift for Chloe's friend Emma, Chloe decides she'll make a present -- something ...

---

Grace for President

"Where are the girls?" When Grace's teacher reveals that the United States has never had a female president, Grace decides to be the first. And she immediately starts off her political career as a candidate the school's mock election! Author Kelly ...

---

Dress-Up Mess-Up

Get out your craft supplies, because the queen of DIY is back! It's up to Chloe to create the perfect costume -- and save the day -- in this delightful follow-up to Crafty Chloe. The Parade of Books has arrived, and it's Chloe's chance to sh...

---

Dog Days of School

Charlie thinks his dog, Norman, has got it good: he gets to spend his days lounging on the couch or playing fetch, and he never has to do any homework. But when Charlie makes a wish to be a dog instead of a boy, things get a little topsy-turvy! N...

---

---

Zombie in Love 2 + 1

Mommy, Daddy, and a new baby makes three! A heartwarming -- and hair-raising -- tale of undead parenting from the bestselling author and illustrator of Zombie in Love, which Kirkus Reviews called "clever and delightfully gross." Happily marrie...

---

Everyone Loves Bacon

Egg loves Bacon. Lettuce loves Bacon. Waffle loves Bacon. Bacon is sizzling with popularity. And pretty much everyone thinks he is the best. That is-until Bacon's fame goes to his head. He's so busy soaking up the attention, that he soon forge...

---

---

One Little Two Little Three Little Children

From bestselling author Kelly DiPucchio, with illustrations by Mary Lundquist, comes a charming new picture book in the vein of Liz Garton Scanlon's "All the World" and Susan Meyers's "Everywhere Babies." "One Little Two Little Three Little Ch...

---

Dragon Was Terrible

We all know dragons are terrible, but this one is especially terrible. He scribbles in books. He steals candy from baby unicorns. He even burps in church. Seriously, who does that? Dragon, that's who. The king, the knights, and the villagers are desp...

---

Everyone Loves Cupcake

Cupcake dresses to impress. Her smile is brilliant. Her wave is flawless. She even wears a tiara. Everyone loves a tiara. And Cupcake wants everyone to love her. But when she tries too hard to make everyone happy, she crumbles under the pressure and ...

---

Antoinette

Antoinette -- a very special poodle -- learns to follow her heart and be herself in this charming companion to Kelly DiPucchio and Christian Robinson's beloved Gaston. Antoinette's three burly brothers each have a special talent. Rocky is clev...

---

Gaston + Antoinette

Woof! Woof! Follow your heart -- and your nose -- and fall in love with two adorable puppies in one sweet boxed set! Gaston works the hardest at his lessons on how to be a proper pooch. He sips -- never slobbers! He yips -- never yaps! And he walk...

---

Littles: And How They Grow

In this unforgettable, squeal-filled, tear-inducing love song to babies and how quickly they grow up, author Kelly DiPucchio's heart-tugging rhyme meets the gorgeous, dimple-cheeked, multicultural babies of illustrator AG Ford. With adorable scenes...

---

Super Manny!

New York Times bestselling author Kelly DiPucchio and illustrator Stephanie Graegin bring a lionhearted new hero to life in this tender, sparkling story about standing up for what's right and finding your inner superpowers. Every day after school...

---

Super Manny Cleans Up!

Manny and his pal Gertie stand up for the environment -- because every superhero needs a planet worth saving -- in this companion to Super Manny Stands Up! from New York Times bestselling author Kelly DiPucchio and illustrator Stephanie Graegin. E...

---

Poe Won't Go

When an elephant plants himself in the road and refuses to move, the people of Prickly Valley try all sorts of methods to get him to go-but one thoughtful little girl works up the courage to do what no one else has done: ask him. Balancing both hi...

---

We're Going on a Treasure Hunt

Ahoy there! Join this crew of pirates on a high-seas quest for treasure. These salty dogs are off to fetch some gold, and no whale, skeleton, or thunderstorm can stand in their way. But our brave buccaneers best beware―there may be even more troubl...

---

---

Grace Goes to Washington

"Who's in charge here?" When Grace learns about the three branches of the United States government, she and the rest of the student council put the lesson into practice as they debate how to spend the money from a school fund-raiser. S...

---

---

---

Forty Winks

A rollicking bedtime read-aloud about a family of mice, from bestselling author Kelly DiPucchio and award-winning illustrator Lita Judge"It's time for bed!" the Wink parents said.Their routine was the same every night.Mama and Papa lined up the...

---

Oona and the Shark

The big sea's littlest mischief-maker, Oona, is back in another delightful tale from New York Times bestselling author Kelly DiPucchio and illustrator Raissa Figueroa. Oona loves to share her inventions with her friends. They're big and bold a...

---

Oona in the Arctic

New York Times bestselling author Kelly DiPucchio and Coretta Scott King Illustrator Award winner Raissa Figueroa are back with another gorgeous and grand tale from the big sea's littlest mischief-maker, Oona!Oona is on a mission! A baby beluga wha...

---

Becoming Charley

A New York Times bestselling author and an award-winning illustrator team up for a striking, modern-day take on The Very Hungry Caterpillar that celebrates staying true to oneself.Everyone is trying to teach Charley the right way to become a butterfl...

---

Mouse & Giraffe

New York Times bestselling author Kelly DiPucchio presents how two friends with very different perspectives learn how to see eye to eye.Mouse and Giraffe don't agree on anything.They live on the same street, but their experiences couldn't be more dif...

---
Award-Winning Books by Kelly DiPucchio
Crafty Chloe
2012 NAPPA Gold Award -- Preschoolers & Up
Frequently Asked Questions (FAQ)
Kelly DiPucchio has published 37 books.
The next book by Kelly DiPucchio, Mouse & Giraffe, will be published in July 2023.
The first book by Kelly DiPucchio, Bed Hogs, was published in May 2004.
Yes. Kelly DiPucchio has 3 series.