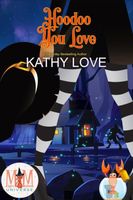 Newest Release
Bibliography:

28 Books - 7 Series

First Book:

May 2004

Latest Book:

October 2022

Rating:
Full Series List in Order
1 - Who Let the Dogs Out (Apr-2022)
1 - Devilishly Hot (Oct-2011)
2 - Devilishly Sexy (Jun-2012)
3 - Devilishly Wicked (Nov-2013)
1 - Fangs for the Memories (Sep-2005)
2 - Fangs But No Fangs (Feb-2006)
3 - I Only Have Fangs for You (Dec-2006)
4 - My Sister is a Werewolf (Jul-2007)
1 - Hoodoo You Want (Jun-2021)
2 - Hoodoo You Need (Oct-2021)
3 - Hoodoo You Love (Jun-2022)
4 - I'll Stand Bayou (Oct-2022)
1 - Perfect Match (Apr-2017)
1 - Any Way You Want It (Jan-2008)
2 - I Want You To Want Me (Sep-2008)
3 - Demon Can't Help It (May-2009)
4 - What A Demon Wants (Feb-2010)
5 - Truth or Demon (Feb-2011)
1 - Getting What You Want (May-2004)
2 - Wanting What You Get (Nov-2004)
3 - Wanting Something More (Jul-2005)
Multi-Author Series List
Hoodoo You Want
(Jun-2021)
Hoodoo You Need
(Oct-2021)
Hoodoo You Love
(Jun-2022)
I'll Stand Bayou
(Oct-2022)
Book List in Order:
28

titles
Getting What You Want

In this delightful, heartwarming novel, Kathy Love introduces the Stepp sisters, three women whose lives are about to take a turn for the wild, the unpredictable, and the absolutely enchanting... Meet Abby. NOTE TO SELF: Remind me to have my head e...

---

Wanting What You Get

In her delightful novel, Getting What You Want, Kathy Love introduced the Stepp sisters, three unique women with wildly different ideas about love and life. Now, meet Ellie, the romantic middle sister who's about to take a chance on having what she's...

---

Wanting Something More

Wanting What You Get. Now, meet baby sister Marty, a savvy city girl with a score to settle who's about to get more than she bargained for... Fate, You Are On My Bad Side You have got to be kidding me! On a night like this, when most sane people...

---

Fangs for the Memories

OH, BROTHER! There are Christmas mornings and then there are Christmas mornings like this one: watching my brother, Rhys, swagger through our New York City apartment...smiling. We are talking about Rhys, the detached, surly and annoying; the man wh...

---

---

Fangs But No Fangs

There's Nothing Uglier Than A Vampire Singing "Feelings" If I hadn't seen it for myself, I'd swear it couldn't be true: my brother, Christian, living in a trailer park in some backwater town, working at a karaoke bar. We're talking about Christian,...

---

I Only Have Fangs for You

Bite Me One thing you have to know about my brother Sebastian: he loves being a vampire. After all, what's not to love? He's eternally twenty-five. He's single, and frankly, he's a chick magnet. Yeah, undeath is good. The only thing he's serious abo...

---

---

Any Way You Want It

Is That A Treble Clef In Your Pocket-- Or Are You Just Glad To See Me? Maggie Gallagher spends her nights with lots of men. Of course, they're all dead composers, but why nitpick? Her love life is just like the musical compositions she researches--...

---

---

I Want You To Want Me

Destiny May Not Be Set In Stone, But At Least He's As Hard As A Rock Erika Todd moved to New Orleans because she needed a change--and, well, yes, because that's what the fortune teller said she would do. Not that she'd admit that to many people. But...

---

Demon Can't Help It

A Demon...Not Just In Bed Practical Josephine "Jo" Burke has no patience for the paranormal--even if she's been having some strange visions lately. But if she is losing her mind, at least it would explain her new attraction to her co-worker, the lea...

---

What A Demon Wants

SHE'S NO ANGEL A bodyguard? Why in the world would a demon need a bodyguard? Yes, it's true Ellina Kostova is only half demon. . .and an author with a cult following, but that just means strange stuff happens. She isn't in real danger. Heck, she's i...

---

Truth or Demon

Hot? Hell, Yeah. If you ask Killian O'Brien, Hell gets a bad rap. True, he's a demon, so he's bound to be a little biased. But he's got great job security, all the women he can handle, a body to die for -- literally -- and free reign to do as he l...

---

Life in the Past Lane

in The Promise of Love

Edited by New York Times bestselling author Lori Foster-a deeply moving anthology of all-new stories! These six stories by beloved and bestselling authors are a bounty of riches for those who enjoy reading about love and the potential it has to ch...

---

Hot!

in So I Married a Demon Slayer

At Hot! Magazine, the devil really does wear Prada. When the CEO is an actual demon and the mail room guys are undercover demon slayers, it's not beyond the realm of possibility for an up-and-coming photographer and a model possessed by much more tha...

---

Devilishly Hot

And you thought your job was hell... Annie Lou Riddle had a plan: Move to New York City. Break into the fashion industry. Work her way to the top. Nowhere in that scenario did she expect to accidentally sell her soul in exchange for a job at Hot! ...

---

Devilishly Sexy

Every office has one… Demon slayer Michael Archer longs for the old days when his work required a lot less strategizing and a lot more ass-kicking. Unfortunately, his current boss at Hot! magazine, a.k.a. Central Demon Intelligence, is more conc...

---

The Fangover

in The Fangover

When rock-god vampire Johnny Malone commits suicide, the rest of The Impalers gather for an Irish wake and jam session to send their bandmate off in style. But alcohol-laced blood and grief make for one hell of a combination... When her brother, John...

---

Fangs for Nothing

in Thanks for the Fangover

When one of their own ties the knot with a dominatrix (no pun intended), The Impalers--a vampire rock band--are ready to party down. But trouble awaits them once again when they wake up... Attending their bandmate Saxon's wedding seemed simple en...

---

---

Devilishly Wicked

A demon's work is never done… Tristan McIntryre is finally moving up the ladder of demon success. The Prince of Darkness himself has put Tristan in charge of total demonic takeover--by way of HOT! magazine, where Tristan has to bite the proverbi...

---

---

Perfect Match

The Matchmaker knows you can't find the perfect fit if you don't try on the right size… Nothing extraordinary ever happens in Fiddlehead Bay, Maine until an enigmatic woman moves into the small seaside town and opens her shop of eclectic odds a...

---

---

Hoodoo You Want

/ Paranormal Romance

Mally Jourdain is a terrible witch. So bad, she might as well be human. Until she discovers a mortally wounded rougarou, one of the wolfmen of the bayous, in a New Orleans alleyway--and she heals him. With magic. Fun fact: witches cannot heal rougaro...

---

Hoodoo You Need

/ Cozy Mystery

Mally Jourdain has gone from being the worst witch ever to a princess--literally overnight. Sabotage wedding, anyone? Now she's hitched to the crowned prince of the rougarous, who also happens to be the sexiest man/wolf in existence. Sounds ...

---

Who Let the Dogs Out

/ Literary

What happens when light witches and shadow witches have to work together to save their town, and possibly the world? Some serious magic. Lindy Hollis is the newly appointed head witch of her coven. Her first official task: recruit shadow witches...

---

Hoodoo You Love

/ Literary

Something strange is in the air... For the past few month, Mally Jourdain--wait, it's Princess Mally Dubois now--feels as if things are going pretty well in her witchy world. She has managed to save the day for the rougarou pack that she now...

---

I'll Stand Bayou

/ Horror

Note to self: Never warm a Cup-a-Soup using magic when it's just as easy to use a microwave. Violet Jourdain is in trouble. She made a bad choice when preparing her lunch, and now she is in hot water with Baba Yaga herself. Her p...

---
Frequently Asked Questions (FAQ)
Kathy Love has published 28 books.
Kathy Love does not have a new book coming out soon. The latest book, I'll Stand Bayou, was published in October 2022.
The first book by Kathy Love, Getting What You Want, was published in May 2004.
Yes. Kathy Love has 7 series.