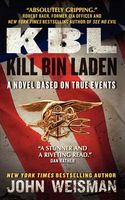 Newest Release
Bibliography:

7 Books - 3 Series

First Book:

April 1980

Latest Book:

November 2011

Rating:
Full Series List in Order
Soar (Aug-2003)
Direct Action (Jun-2005)
Jack In The Box (Jun-2004)
Book List in Order:
7

titles
---

---

Blood Cries

After witnessing a shocking execution, Jared Paul Gordon, Jerusalem bureau chief for "Worldweek" magazine, begins a desperate search for the truth about the Israeli government's relationship to terrorism...

---

Soar

BLACK OPS: The shadow wars; the down-and-dirty work of CIA/Special Operations... On the eve of a groundbreaking U.S. -- China summit, a coy CIA black ops team assigned to bug a Chinese nuclear test site is captured by Islamic terrorists. An explos...

---

Jack In The Box

From a bestselling author with intimate knowledge of CIA tradecraft comes an electrifying novel of terrifying possibilities -- a story of betrayal and secrets that could implode America's war on terrorism ... and a nightmarish conspiracy firmly roote...

---

Direct Action

In the era of the Cold War, America had a ruthless and efficient intelligence gathering network entrusted with guarding the nation from outside threats. That was then . . . Tom Stafford is an independent contractor -- a former CIA case offic...

---

KBL: Kill Bin Laden

The acclaimed #1 New York Times bestselling military thriller writer and coauthor of the bestselling Rogue Warrior series goes beyond the headlines and worldwide speculation in this pulse-pounding fictional account of the breathtaking hunt for the wo...

---
Frequently Asked Questions (FAQ)
John Weisman has published 7 books.
John Weisman does not have a new book coming out soon. The latest book, KBL: Kill Bin Laden, was published in November 2011.
The first book by John Weisman, Evidence, was published in April 1980.
Yes. John Weisman has 3 series.