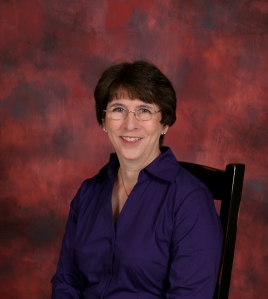 Bibliography:

115 Books - 21 Series

First Book:

October 1987

Latest Book:

February 2018

Rating:
About the Author
Gina Ferris Wilkins (nee Vaughn) was born in Little Rock, Arkansas in 1954. She continued her education and earned a journalism degree from Arkansas State University. She also worked in advertising and human resources. When she began writing, her husband took the money he had saved for a table saw and bought her a typewriter instead. She sold her first book to Harlequin in 1987. She has gone on to write more than 85 novels for Harlequin and Silhouette gaining many accolades and awards along the way.
She is married to John Wilkins and the couple has three children together.

Full Series List in Order
1 - The Right Twin (Mar-2013)
2 - The Texan's Surprise Baby (May-2013)
3 - A Match for the Single Dad (Jul-2013)
1 - The Date Next Door (Dec-2006)
2 - The Bridesmaid's Gifts (Feb-2007)
3 - Finding Family (Apr-2008)
1 - Matched by Moonlight (Jan-2014)
2 - A Proposal at the Wedding (Mar-2014)
3 - Healed with a Kiss (May-2014)
1 - Diagnosis: Daddy (Aug-2009)
2 - Private Partners (Feb-2010)
3 - The Doctor's Undoing (Jul-2010)
4 - Prognosis: Romance (Sep-2010)
1 - The M.D. Next Door (Jan-2011)
2 - A Home for the M.D. (Jun-2011)
3 - Doctors in the Wedding (Jan-2012)
1 - Full of Grace (Feb-1993)
2 - Hardworking Man (Apr-1993)
3 - Fair and Wise (Jun-1993)
4 - Far to Go (Jan-1994)
5 - Loving and Giving (Apr-1994)
6 - Her Very Own Family (May-1999)
7 - That First Special Kiss (Sep-1999)
8 - Adding To The Family (Oct-2005)
9 - The Borrowed Ring (Nov-2005)
10 - The Road To Reunion (Feb-2006)
11 - The Texan's Tennessee Romance (Jan-2009)
1 - A Man for Mom (May-1995)
2 - A Match for Celia (Jul-1995)
3 - A Home for Adam (Sep-1995)
4 - Cody's Fiancee (Jan-1996)
1 - The Stranger in Room 205 (Jun-2001)
2 - Bachelor Cop Finally Caught? (Aug-2001)
3 - Dateline Matrimony (Oct-2001)
1 - Cause for Celebration (Jul-1988)
2 - A Bright Idea (Apr-1989)
3 - A Rebel at Heart (Mar-1991)
1 - Partner for Life (Oct-1988)
2 - Healing Sympathy (Dec-1988)
3 - In from the Rain (Jun-1991)
4 - Prodigal Father (Dec-1991)
5 - Love Lessons (Oct-2006)
6 - The Man Next Door (Jun-2008)
1 - The Family Plan (Mar-2003)
2 - Conflict of Interest (Apr-2003)
3 - Faith, Hope and Family (May-2003)
1 - A Reunion and a Ring (Aug-2015)
2 - The Boss's Marriage Plan (Oct-2015)
3 - The Bachelor's Little Bonus (May-2016)
1 - Hero in Disguise (Oct-1987)
2 - Hero for the Asking (Apr-1988)
3 - Hero by Nature (May-1988)
4 - Hotline (Nov-1991)
1 - It Could Happen to You (Aug-1997)
2 - Valentine Baby (Feb-1998)
1 - A Valentine Wish (Feb-1996)
2 - A Wish for Love (Jun-1996)
1 - As Luck Would Have It (Dec-1993)
2 - Just Her Luck (Apr-1994)
1 - As Luck Would Have It (Dec-1993)
2 - Just Her Luck (Apr-1994)
3 - A Valentine Wish (Feb-1996)
4 - A Wish for Love (Jun-1996)
5 - It Could Happen to You (Aug-1997)
6 - Valentine Baby (Feb-1998)
1 - The Soldier's Forever Family (Apr-2017)
2 - The Way to a Soldier's Heart (Oct-2017)
3 - The Soldier's Legacy (Feb-2018)
1 - Seducing Savannah (Jan-1998)
2 - Tempting Tara (Mar-1998)
3 - Enticing Emily (May-1998)
4 - The Rebel's Return (Dec-1998)
1 - Taking a Chance on Love (Apr-1992)
2 - Designs on Love (Jun-1992)
3 - At Long Last Love (Aug-1992)
1 - Seductively Yours (Jul-2000)
2 - Secretly Yours (Aug-2000)
3 - Yesterday's Scandal (Sep-2000)
Multi-Author Series List
It Takes a Hero
(May-1999)
The Littlest Stowaway
(Oct-1999)
The Getaway Bride
(May-1997)
2 -
It Could Happen to You
(Aug-1997)
I Won't!
(May-1995)
9 -
Hearts Under Caution
(Feb-2007)
17 -
In High Gear
(Jul-2007)
21 -
Almost Famous
(Aug-2007)
27 -
Season of Dreams
(Nov-2007)
32 -
Risky Moves
(Dec-2007)
66 -
Secret Santa
(Nov-2009)
9 -
The Secret Heir
(Feb-2005)
Gold and Glitter
(Aug-1994)
When It's Right
(Jun-1993)
Countdown To Baby
(Feb-2004)
The Homecoming
(Dec-2004)
1 -
In High Gear
(Jul-2007)
Her Very Own Family
(May-1999)
22 -
Babies on Board
(Oct-1994)
29 -
A Man for Mom
(May-1995)
31 -
A Match for Celia
(Jul-1995)
13 -
Valentine Baby
(Feb-1998)
Book List in Order:
115

titles
Hero in Disguise

She was holding out for a hero Settling down was not for Summer Reed. Party by night, work by day and let tomorrow take care of itself--that was her motto. But when Derek Anderson, her roommate's globe-trotting brother, crashed into her life, Summ...

---

Hero for the Asking

They had eyes only for each other Spring Reed's sister urged her to have a no-strings-attached vacation fling. "Crazy Clay" McEntire had already offered his services! But conservative optometrist that she was, Spring decided that twelve days with ...

---

Hero by Nature

He had his wires crossed Fiery Autumn Reed was about to blow a fuse. She'd expected to do some simple electrical work for Jeff Bradford. But the devastating doctor was creating sparks that had nothing to do with wiring! By the time she finished...

---

Cause for Celebration

He was looking for a permanent position Overwhelmed by work, Merry James was in no mood for a party. But since theme parties were her livelihood, she was destined to make merry. Especially after the appearance of the man she assumed was her tempor...

---

Partner for Life

NOBODY'S FOOL With huge green eyes, dimpled cheeks, and a smile that could melt granite, Joey Curtis was every guy's best pal -- the kind of girl men thought of as a kid sister. But the buddy system broke down the day that Chase Ellison came along....

---

Healing Sympathy

Violent reality had taught ex-cop Quinn Gallagher the folly of caring. Therefore, moving into gentle Laura Sutherland's guest cottage was a dangerous mistake. Laura's kindness shed light on the darkness of Quinn's soul--but there were shadows within...

---

A Bright Idea

He was interested in a takeover Florist Brooke Matheny knew exactly what she wanted from marriage--a "friendly merger." She wasn't at all interested in squandering her energy on something as nebulous as love. When she approached a friend with her ...

---

A Stroke of Genius

He wasn't in her job description Mallory Littlefield's gorgeous new boss, Elliott Fraser, was a certified genius--a member of an elite group of "brains" who were paid top dollar just to think. But the poor man was a complete incompetent when it ca...

---

Lady Beware

Dan Westbrook had learned a bitter lesson about trusting women. No Strings Attached was now his credo; a casual affair with beautiful Brynna Haskell was all the up-front disc jockey wanted. But as he played his game of skilled seduction, his cherishe...

---

---

Could It Be Magic

She could teach him a thing or two... Schoolteacher Gwen DeClerk was stable and reliable - and furious that those were the qualities her new neighbor, international showman Jeremy Kane, found most attractive. She didn't want to be admired for her...

---

Changing the Rules

It wasn't in the rules Elise Webber had it all. Looks, a glamorous job as a TV anchorwoman, a beautiful Atlanta apartment-and the charismatic lawyer, Dustin Chandler. Well, she didn't exactly have Dustin. Dating was all she could expect from a man...

---

After Hours

They were two of a kind Executive assistant Angie St. Clair knew the office gossips said she and her boss, Rhys Wakefield, were made for each other; they were both cold, intimidating workaholics. But Angie's impersonal facade was her only protecti...

---

A Rebel at Heart

He was merciless on the stand -- and in the bedroom Testifying in court for one of her patients was routine work for psychologist Melinda James. Being confronted by ex-lover Griff Taylor was the real challenge. An up-and-coming attorney, Griff--...

---

In from the Rain

Immovable object... Tending her widowed brother-in-law and his children took all of Jill's time, and a small Arkansas town presented few social opportunities. But a driving rain blew a sexy stranger named Rio into her root-bound routine. The drift...

---

A Perfect Stranger

She'd never had to turn down a hunk Sabrina Marsh didn't talk to strangers on the elevator. Except Rob Davis wasn't a total stranger. He knew her favorite food, her favorite color, her nickname--and he was sexier than a man ever had a right to be!...

---

Hotline

The right ... wrong number Feeling down and lonely since her divorce, Erin Spencer daydreamed about meeting her fantasy lover. Then late one evening, the telephone rang. Assuming that the deep, melodious voice belonged to her father, Erin chatted ...

---

Prodigal Father

Kelsey Campbell's business was granting wishes. This hospital children's ward rejoiced in her successes: a little girl who'd gone to Disneyland; a boy who'd met his baseball hero... Even so, when it came to the man she loved, this persistent mira...

---

Denim and Diamonds

in My Valentine 1992

Executive Alison Tindall was all silk - power company lineman Beau Harmon only wore denim. None of Alison's sexual fantasies included a man like him. Then Beau appeared on her doorstep on February 14, dressed to kill......

---

Taking a Chance on Love

A man with a mission Chance Cassidy was hell-bent on saving his impulsive younger brother, Phillip; from making the biggest mistake of his life--marriage. So Chance went to Atlanta to confront Phillip. Confrontation was the fast thing on his mind ...

---

---

Designs on Love

Always the seamstress, never the bride... Bridal-gown designer Devon Fleming yearned for more. She was especially tired of being a "good girl" and dating respectable, boring men. Then daring, sexy foreign correspondent Tristan Parrish stormed into...

---

At Long Last Love

LOVE IN SIGHT... Admittedly, Neal Archer would miss his newlywed daughter. But all in all he was looking forward to leading the life of carefree bachelor. And to getting to know wedding photographer Holly Baldwin . . . much, much better. She was u...

---

Full of Grace

Michelle Trent was desperate to learn the truth of her shattered childhood, desperate to understand the half-remembered dreams that haunted her night after night. But the past was a dangerous place - especially for a woman alone, a woman for whom wea...

---

Hardworking Man

Ranch hand Jared Walker was a man who worked hard and looked after his own. He damn sure didn't need any help from anybody--not even his long-scattered brothers and sisters. The way he saw it, he and his son were doing just fine, all by themselves......

---

When It's Right

Live the Fantasy... Once upon a time, a handsome prince wanted a wife--a beautiful princess he could live with happily ever after. But there were so marry princesses to choose from that he devised a test.... Author Alexandra Bennett was having a b...

---

Fair and Wise

Lindsay Hillman's adoptive parents were all the family she had ever known. So when she suddenly learned that she had another family - brothers and sisters she had never dreamed existed - she was torn between loving loyalty and her need to understand ...

---

Rafe's Island

LIKE A MATCH TO A FUSE... Rafe Dancer--He'd left his dark, violent past as an intelligence operative behind. But a chance meeting put all of his skills back on the job--protecting T. J. Harris. T. J. Harris--Somebody wanted the impulsive, outs...

---

As Luck Would Have It

JUST HIS LUCK Doing a little favor for his mother always got Jonathan Luck into trouble. That's how he found himself trapped in a stately Southern home with the very proper Hightower family, protecting Aubrey, their child genius, from kidnappers. ...

---

Far to Go

Joe was a solitary man--always had been, always would be. A dangerous profession, and a lifetime's worth of hard lessons, had taught him not to get tangled up with other people--and that definitely included the brothers and sisters he'd never really ...

---

Just Her Luck

JUST HIS LUCK To be hired to find a runaway who'd joined the circus. Investigator Ben Luck had to wonder what the hell he was getting into when he met his quarry, Andie McBride. She was twenty-five and gorgeous. And he was lying to the most fascin...

---

---

Loving and Giving

Outrunning danger and a gut-wrenching past, Ryan Kent switched identities so often, sometimes he lost track of who he really was. Still, certain things no man should forget. Like the long-lost family now searching for him. Like a woman he'd loved mor...

---

Gold and Glitter

WHAT IF... When cowboy Michael Spencer came to work for Libby Carter, she tried to quell her unwanted attraction to his rugged, sexy looks. His deep love for the young daughter he was raising alone make him even more appealing. But he was a man w...

---

Babies on Board

IT TAKES A VERY SPECIAL MAN TO WIN THAT SPECIAL WOMAN! Kate Hennessy could imagine only one scenario worse than being stranded in the jungle with three infants: being stranded with three infants and Matt Sullivan. If his infuriating know-it-all a...

---

Undercover Baby

UNDERCOVER DADDY Detective Dallas Sanders had taken part in some unusual undercover operations, but cracking the baby-smuggling ring was the toughest. Especially since it meant playing the part of an unwed, pregnant woman -- complete with baby ha...

---

Beginnings

in Three Mothers and a Cradle

Take one very special baby cradle, carved long ago with love and care... And you get three romantic stories celebrating the joys of motherhood in one treasured collection. Gina Ferris Wilkins, bestselling author, brings the three stories full c...

---

I Won't!

I DO Maddie Carmichael had always been levelheaded. But while on vacation, she'd been swept off her feet by sexy Case Brannigan. Before she knew it, she was standing at the altar, waiting. And waiting.... I DON'T Case Brannigan, ex-DEA offic...

---

A Man for Mom

It takes a very special man to win that special woman! Single mother Rachel Carson had devoted herself to her two beautiful children...and to the business that had been her late husband's dream. She'd learned to hard way that life was serious and...

---

A Match for Celia

This vacation was supposed to bring a little excitement into Celia Carson's life, for heaven's sake! So why couldn't she shake her attraction to a staid, reserved accountant--or the suspicion that there was more to him than met the eye? Detective ...

---

A Home for Adam

Dr. Adam Stone had fled to a secluded cabin in the woods for a bit of rest and solitude. But when an unseasonably harsh snowstorm broke, and a very pregnant woman appeared on his doorstep, Adam couldn't find it in his heart to turn her away - even if...

---

All I Want for Christmas

ALL SHE WANTS FOR CHRISTMAS Doll shop owner Ryan Clark wants one thing--a family. She's ready for a lifetime pledge. Babies. Deep, soul-warming contentment. But first she has to find a reliable man--not an irresistible rogue with wanderlust. AL...

---

---

Cody's Fiancee

TEMPORARY BRIDE Dana Preston was wary when Cody Carson proposed a temporary engagement - even if it was just a prank on his meddling, matchmaking family. But although he never could have guessed why, a fake fiance was just what she needed right no...

---

A Valentine Wish

HE DIDN'T BELIEVE IN LOVE Dean Gates was burned out. His high-powered job and his ex-wife's demands were driving him crazy. On top of it all, he was fast approaching Black Wednesday--Valentine's Day. He needed to escape! When he first set eyes on ...

---

A Wish for Love

A Match Made In...Heaven? Ian: Tall, dark and absolutely gorgeous. An enigmatic loner, carrying an awful secret. Bailey: Proud, independent and resourceful. A true Good Samaritan. She can't stand to see people unhappy - to her own detriment. ...

---

A Night To Remember

Opposites attract Andrew Colton Tyler III needed a life. He had a stuffy job, an overbearing family and more social obligations than any sane person would commit to. What's worse, it looked as if the New Year was going to be the same. Then at the ...

---

Gift of the Heart

in Valentine Delights

Matchmaking shop owner Papa Valentine dispenses sinful desserts, mouth-watering chocolates...and advice for the lovelorn... It was perfect Valentine's Day for Jessica Patterson. Flowers, perfume, diamonds...and chocolates from her favorite shop. Too ...

---

The Father Next Door

FALLING IN LOVE SEEMED LIKE THE NEIGHBORLY THING TO DO... Tucker Hollis was the last thing cautious Margaret McAllister needed. Her perfectly organized, perfectly predictable life was just fine without the handsome single dad and his rambunctious ...

---

The Getaway Bride

HERE TODAY... Gabe Conroy couldn't be any happier. The woman of his dreams, gorgeous Page soon-to-be Conroy, had consented to be his wife. She vowed to love him forever--so why did she make a quick getaway right after the wedding? ...GONE TOM...

---

It Could Happen to You

SHE WAS SCARED OF HER OWN SHADOW! Kim Berry kept her head down, her guard up and always drove under the speed limit -- until Zach McCain came roaring into her life. Suddenly Kim's well-ordered world was turned topsy-turvy. The excitement she f...

---

Seducing Savannah

Bestselling author Gina Williams has created an unforgettable trilogy about three Southern women--and the secrets they're hiding.... In the small town of Honoria, Georgia, nobody could cause a scandal quicker than the wild McBrides. And when Savan...

---

Valentine Baby

SUDDENLY DADDY On Valentine's Day, fallen hero Tom Lowery grimly wrote off romance. Retired his shining armor. And grumpily retreated to his lonely lair. Only to find an orphaned infant cooing on his coffee table--and willowy Leslie Harden, his fo...

---

---

Tempting Tara

Straitlaced Tara McBride had always done things by the book, unlike the rest of her scandalous family. She was the smart one, the one most likely to succeed ...until Blake, a sexy-as-sin, thrill-seeking P .I., showed up on her doorstep. Suddenly Tara...

---

Enticing Emily

Emily McBride, the youngest of the McBride cousins, was fed up with always being the "good girl." All her life she'd lived in the shadow of her family's scandalous past, never drawing attention to herself, never rocking the boat. Well, those days wer...

---

The Rebel's Return

SOUTHERN SCANDALS: A small town in Georgia. A family with a past: A miniseries packed with sensual secrets and private scandals! Lucas McBride, the man rumored to have gotten away with murder, has come home for Christmas. Fifteen years ago, he'd ...

---

Doctor in Disquise

TALL. DARK. DEVASTATING. One walloping bump to his head threatened to cut short Alex Keating's country vacation. But he didn't dare confess his top-notch physician's credentials to his lovely down-home doctor. Carly Fletcher might retract her stri...

---

Born to Wed

in Marriage for Keeps

Sasha and Alan have known each other their entire lives. Their parents are best friends, and even own a vacation cabin together. Neither the anxious bride nor the jittery groom realize that the other has beat a hasty retreat to the cabin to figure ou...

---

It Takes a Hero

BACHELOR AUCTION And you're invited... Fifty fabulous heroes are up for sale--Including Bachelor #41 Perry Goodman This sexy-as-sin bachelor can handle just about anything--until romance author Kristin Cole buys him for "research:' She's fac...

---

Her Very Own Family

Family Found: Sons and Daughters -- A new generation finds its way home and discovers the unbreakable bonds of family and love. For Brynn Larkin, marriage and babies seemed like a wish upon a star. Until fate landed her in the strong arms of...

---

That First Special Kiss

WITH ONE KISS... Kelly Morrison went from being Shane Walker's best friend to his most desired woman! Now she longed for Shane in ways she hadn't realized -- and that scared her. For Shane and his family were the closest to kin the orphaned beau...

---

The Littlest Stowaway

A baby on board? Pilot Steve Lockhart thrived on challenges, but now he's in over his head. He'd just achieved his dream of starting up his own charger service, when he'd gone and fallen hopelessly in love with Casey Jansen, the woman of his dreams -...

---

It Takes a Cowboy

Every Man Has His Price! Lost Springs Ranch was famous for turning young mavericks into good men. So word that the ranch was in financial trouble sent a herd of loyal bachelors stampeding back to Wyoming to put themselves on the auction block! ...

---

Surprise Partners

COURTSHIP OF CONVENIENCE They were neighbors. Friends. Acquaintances, actually. And about all shy, intense Lydia McKinley and smooth, ambitious Scott Pearson had in common was zero tolerance for romance -- and two matchmaking sisters bombardin...

---

Seductively Yours

Tempting Trevor Dear Trevor, You don't stand a chance... Seductively yours, Jamie Jamie Flaherty has been in love with sexy Trevor McBride all her life. Only no matter what she did, Trevor had never noticed the adoring girl from the wrong si...

---

Secretly Yours

Dear Trent, I need you... Secretly yours, Annie Once a hero... Pilot Trent McBride had always been a little too brash, too cocky for his own good. But that was before his recklessness almost cost him his life. After a plane crash leaves him ...

---

Yesterday's Scandal

A mysterious stranger has come to town... Former cop, Mac Cordero, was going undercover one last time to find and exact revenge on the man who fathered, then abandoned him. All he knew was that the man's name was McBride -- a name, he discovered, ...

---

The Stranger in Room 205

EXTRA! EXTRA! HOT OFF THE PRESS The Evening Star's Local Chatter... EDSTOWN, Ark. -- Yesterday evening, Serena Schaffer, owner of our town newspaper, found an injured man in a ditch near her home in Edstown. He'd been beaten, robbed, and left...

---

Bachelor Cop Finally Caught?

The Evening Star's Police Blotter: WANTED! Small-town reporter Lindsey Gray is being charged with stealing police chief Dan Meadows's heart. Ten years her senior, Chief ...

---

Dateline Matrimony

THERE WASN'T A WOMAN ALIVE WHO HAD EVER REJECTED RILEY O'NEAL. All he had to do was smile and flash those dimples. But there was a first time for everything. Riley's first came in the form of waitress Teresa Scott, and what a lovely form she had. ...

---

Star Crossed

in Written in the Stars

"An unexpected opportunity will pass you by if you don't act on it." Keely Parker was tired of waiting for Michael Gordon, her housemate, to notice her, so being stranded with him during a freak ice storm presented surprisingly pleasant possibilitie...

---

The Groom's Stand-In

All gruff, rugged Donovan Chance had to do was briefly watch over Chloe Pennington, his billionaire boss's prospective fiancee. Hardly hazardous duty -- no matter how much Donovan disapproved of the calculated marriage of convenience. Then again, he ...

---

The Best Man's Plan

Dating Bryan Falcon was only supposed to be a decoy, something for the tabloids to latch on to and run with. Still, Grace Pennington never expected to actually have feelings for the hard-core businessman. And although she'd simply promised her twin s...

---

The Family Plan

From the moment Caitlin Briley stepped into his law office with her smoky eyes and burning ambition, Nathan McCloud wanted her. As a bachelor he would have had time to charm his way into her bed -- and into her heart. But now he was a single dad, tra...

---

Conflict of Interest

A CONTRACT...BETWEEN LOVERS Literary agent Adrienne Corley liked Gideon McCloud's books, but that didn't mean she liked him. Meeting her temperamental client face-to-face had everything to do with his career and nothing to do with how she found the ...

---

Faith, Hope and Family

HOPELESSLY IN LOVE Youthful, soul-shattering mistakes? Deborah McCloud had made more than her share. She'd believed in her father, only to discover her trust had been cruelly misplaced. And her heart? She'd misplaced that, too, by falling hopelessly...

---

Make-Believe Mistletoe

When an ice storm left professor Lucy Guerin stranded in rural Arkansas, she was forced to accept shelter in the secluded home of woodworker Richard Banner. Handsome as sin and twice as grumpy, Banner was not quite what Lucy had envisioned when she'd...

---

Countdown To Baby

TALL, DARK, HANDSOME...AND THE PERFECT FATHER? Unexpected sparks flew when midwife Cecilia Mendoza met young Geoff Bingham, Merlyn County's most eligible bachelor. But she was even more surprised when their dinner date exploded into a night of pas...

---

The Homecoming

Beautiful Jessica Parks spent years under the watchful eye of her hard-hearted father, Walter, never able to trust anyone. But he was about to go on trial, leaving her free to rescue her mother from the Swiss asylum she'd been banished to long ago. ...

---

The Secret Heir

With the onset of his son's illness, Jackson Reiss learned the truth behind his family legacy. Now, though, he had to put the past aside and emotionally reconnect with his wife. After all, if their little boy was to get through this hardship, he need...

---

Adding To The Family

Beautiful and popular, Miranda Martin had the type of exciting, whirlwind existence that any single woman would envy. But when her two young nephews were unceremoniously deposited on her doorstep, her life took a turn toward the domestic -- and fast!...

---

The Borrowed Ring

B. J. Samples believed tracking down her uncle's most enigmatic -- and devastatingly handsome -- foster son would be the most difficult part of her P.I. assignment. But it was nothing compared to her job after she found him: pretending to be his blus...

---

Wealth Beyond Riches

Brenda Prentiss lives paycheck to paycheck -- until she inherits over a million dollars from a woman she never knew. But Brenda can't just take the money. She needs to know why. Years ago, Ethan Blacklock walked away from his wealthy and demanding...

---

The Road To Reunion

Never take no for an answer. That had always been Molly Walker's motto. So when Kyle Reeves refused to come to the Walker Ranch for a celebration, Molly set out to bring Kyle back one way or another.... Bruised and battered, the last thing Kyle ne...

---

Love Lessons

LESSON PLAN FOR LOVE by Professor Catherine Travis 1. Stop spending every waking moment at my lab. 2. Quit finding excuses for my maintenance man to come fix things. (Mike Clancy is young, gorgeous and way out of my league.) 3. Splurge on a new wa...

---

The Date Next Door

WHAT ARE FRIENDS FOR? Attending her neighbor's high school reunion wasn't exactly Nicole Sawyer's idea of a good time. But widower Joel Brannon had asked her along to help fend off his classmates' prying questions, and she couldn't seem to refuse ...

---

Hearts Under Caution

One minute Lisa Woodrow is a big city prosecutor, and the next she's back home, deep in the fumes of North Carolina racing culture and trying to keep a low profile. She has no choice. A criminal she helped convict is on the prowl for her, and Wade...

---

The Bridesmaid's Gifts

Handsome but cynical Ethan was hardly a believer in Aislinn Flaherty's special "gifts." And despite her attraction to him, the full-time cake maker/part-time psychic vowed to ignore Ethan. Really. Until she started having "feelings" about his lon...

---

In High Gear

Some secrets aren't ever forgotten... Since the early days of NASCAR, the Murphy and Grosso families haven't been exactly friends. In fact, "bitter enemies" might be more accurate, with tales of deception, cheating and even suspected murder. But d...

---

Almost Famous

All Stacy Carter thought she wanted was a quiet, traditional life. One man, one woman, two-point-five kids and a dog. Maybe a minivan. She never envisioned a stock car thrown into the mix! That was before she met Jake Hinson, recovering from a boatin...

---

Season of Dreams

in A NASCAR Holiday 2

Tom Wyatt's racing year has taken a toll on his romance with Melissa Hampton. But it turns out that love is the real driving force in his life....

---

Risky Moves

As the new crew chief for Maximus Racing, Tobey Harris is under a mountain of pressure. He's sacrificed nearly everything for this opportunity. But when he finds himself working with attractive publicist Amy Barber, Tobey's pressure gauge starts hitt...

---

Finding Family

Her family drove her nuts. As the only sane one in a group of crazy relatives and friends, Rachel Madison was calm, comforting...and desperatley needed someone to care for her. Her interior-design work was her refuge, and her latest client, Dr. Mark ...

---

The Man Next Door

JUST WHEN SHE'D SWORN OFF EXCITING MEN... Dani Madison was determined to make a fresh start. To cast off her princess persona forever. To be independent from any man. Too bad Teague McCauley lived down the hall. Enigmatic FBI agent Teague's ...

---

Valentine Delights

/ General Fiction

Charlotte Keats and her childhood crush Sam Harper have a newspaper to run together, but that doesn''t mean they have to like it. In fact, they seem to argue about everything! But when Charlotte sends Sam an anonymous Valentine to prove a poi...

---

The Texan's Tennessee Romance

HER LIST OF DOS... After being falsely accused of breaking her sacred lawyer-client vow, Natalie Lofton's main priority was clearing her name and getting her life back. That didn't include taking in an irresistible mutt. Or falling for the sexy hand...

---

Always the Groomsmen

in From This Day Forward

For richer, for poorer Claire Winters was a society girl. Jack Murphy was born a roughneck. But at a time when women were expected to play by the rules, Claire was determined to break all of them.... For better Rebecca Murphy was planning her gr...

---

Diagnosis: Daddy

FROM DOCTOR-IN-TRAINING TO ON-THE-JOB DADDY Finding out he had a six-year-old daughter was the shock of Connor Hayes's life. And the about-to-be medical student needed help--stat! So he turned to his cherished buddy--his best, platonic friend--Mia D...

---

Secret Santa

in A Very NASCAR Holiday

Shhh... Don't tell Under Santa's beard it's famous NASCAR driver R. J. Sanger All he wants this year is to spread holiday cheer, away from the crowds. Until he meets Mrs. Claus. She says she's an average single mom. But to R.J., she might be all he n...

---

Private Partners

FROM SECRET WEDDING VOWS TO HAPPILY EVER AFTER? No one knew about the secret vows Anne Easton had exchanged with Liam McCright one blissfully romantic weekend. Their hectic careers as a second-year med student and world-traveling journalist had forc...

---

The Doctor's Undoing

AN INCURABLE ATTRACTION When the going gets tough, third-year medical student Ron Gibson walks away. He's learned the hard way to sidestep commitment to avoid heartache. Yet the footloose bachelor seems to forget his cut-and-run philosophy when it c...

---

Prognosis: Romance

HER HEALING TOUCH? Fourth-year medical student James Stillman knew firsthand that life was lonely at the top. His privileged, isolated upbringing left him unable to build lasting relationships -- professional or personal. Until he met a sexy, indepe...

---

The M.D. Next Door

WHAT THE DOCTOR ORDERED It started with a big yellow puppy scampering into Dr. Meagan Baker's backyard...followed by her adorable new neighbor, a chatty thirteen-year-old full of information about her very attractive divorced dad, Seth Llewellyn. Oh...

---

A Home for the M.D.

RX FOR A LONELY HEART -- THE DOCTOR NEXT DOOR! Top surgeon Mitch Baker is a catch. Just not for a woman like Jacqui Handy, who wants a real home, a place to belong. Sexy workaholics like Mitch have never been her type. Then she and Mitch become temp...

---

Doctors in the Wedding

DIAGNOSIS: LOVESICK! Out-of-town bridesmaid Madison Baker was looking forward to a fun wedding of one of her oldest friends. She never thought she'd meet a groomsman that made even her measured mind-of-a-psychiatrist spin. Of course, he was the one...

---

Husband for a Weekend

When it comes to marriage, Tate Price is all business. Sure, he'll play along with the charade for a few days, especially for a friend like Kim Banks. How can he say no to her girl-next-door beauty and those attractive whiskey-colored eyes? After all...

---

His Best Friend's Wife

THE OTHER MAN IN HER LIFE... He was her late husband's best friend, the man she'd been warned to avoid -- the man she'd always found irresistible. Now he was back, unavoidable and attractive as ever. Renae Sanchez, after years of grieving what ...

---

The Right Twin

DOUBLE TROUBLE! It's a beautiful Texas summer, and Shelby Bell's idyllic lakeside resort is tailor-made for romance. So when Shelby suggests that Aaron Walker be her pretend boyfriend to help her catch a resort thief, she is sure it's the perfect...

---

The Texan's Surprise Baby

THE PITTER-PATTER OF LITTLE TEXAS FEET? One night of passion with P.I. Andrew Walker and what does Hannah Bell have to show for it? A baby bump that's about six months along! No longer willing to trust her instincts when it comes to romance, Hann...

---

A Match for the Single Dad

Two Little Matchmakers Suddenly single dad Garrett McHale is out of his depth! With a busy job as a pilot, he's also raising two daughters by himself. Finding love is beyond his control -- until his girls decide their daddy needs a wife! And they ...

---

Matched by Moonlight

A workaholic wedding planner meets a travel writer, and soon love is in the air at Bride Mountain, Virginia's most exciting venue for destination weddings, in the first book in Gina Wilkins's new miniseries! Kinley Carmichael is on her way to tra...

---

A Proposal at the Wedding

You are cordially invited…as the bachelor father of the bride falls for the sweet and single wedding planner! Don't miss the latest installment of Gina Wilkins's new Special Edition miniseries, Bride Mountain! It's the perfect place for a weddi...

---

Healed with a Kiss

Meeting the right person changes everything… Handsome. Intense. Arrogant. There are many words people use to describe Logan Carmichael, but romantic is not one of them. Even he can see the irony that he has become co-owner of the Bride Mountain...

---

A Reunion and a Ring

Someone's sleeping in my bed Needing to ponder a marriage proposal, play-it-safe Jenny Baer escapes to an Ozarks cabin -- right into bed with a naked man! What's a recuperating Officer Gavin Locke doing in her rental amid a raging storm? He's the...

---

The Boss's Marriage Plan

To: My assistant From: Scott Prince Re: Will you marry me? Bachelor Scott Prince knows he wants a family -- so it's time to find a wife. But for a workaholic construction company owner with no time for romance, the perfect woman may just be h...

---

The Bachelor's Little Bonus

A baby and a bride! You're cordially invited to celebrate the wedding of Stephanie McLane and Cole McKellar… and the impending birth of their child! Free spirit Stephanie -- aka Stevie -- never expected to wed her good friend and neig...

---

The Soldier's Forever Family

A weekend to remember…leads to the surprise of his life Adam Scott never thought he was missing out. Since leaving the military, he's been working at a luxurious resort: no commitments, no complications. Just the way he likes it. That is, until...

---

The Way to a Soldier's Heart

A family for her daughter? Elle O'Meara's happy being a single mom to her adopted two-year-old, Charlotte. Even so, when Shane Scanlon starts coming in to her bakeshop, he becomes a bright spot in her days. The handsome former army medic even str...

---

The Soldier's Legacy

He's an ex-marine with so much to prove... Ex-marine Trevor Farrell is a classic workaholic. Which means he has a successful chain of resorts...and an empty house. So having Jade Evans, the widow of a war hero, and her three kids stay with him w...

---
Award-Winning Books by Gina Wilkins / Gina Ferris / Gina Ferris Wilkins
Make-Believe Mistletoe
2003 RT Reviewers Choice Award -- Silhouette Special Edition
Rafe's Island
1994 RT Reviewers Choice Award -- Harlequin Temptation
Frequently Asked Questions (FAQ)
Gina Wilkins / Gina Ferris / Gina Ferris Wilkins has published 115 books.
Gina Wilkins / Gina Ferris / Gina Ferris Wilkins does not have a new book coming out soon. The latest book, The Soldier's Legacy, was published in February 2018.
The first book by Gina Wilkins / Gina Ferris / Gina Ferris Wilkins, Hero in Disguise, was published in October 1987.
Yes. Gina Wilkins / Gina Ferris / Gina Ferris Wilkins has 21 series.