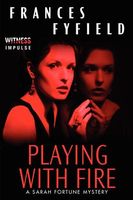 Newest Release
About the Author
Francis Fyfield is a criminal lawyer, living and sometimes practising in London, where many of her books are set. Her previous novels include: A Question of Guilt, Shadows on the Mirror, Trial by Fire, Deep Sleep (winner of the Silver Dagger Award), Shadow Play, Perfectly Pure and Good, A Clear conscience and Without Consent
Full Series List in Order
1 - Blind Date (Sep-1998)
1 - A Question of Guilt (Jul-1989)
2 - Trial by Fire // Not That Kind of Place (1990)
3 - Deep Sleep (1991)
4 - Shadow Play (May-1993)
5 - A Clear Conscience (Mar-1995)
6 - Without Consent (1996)
1 - Shadows on the Mirror (1989)
2 - Perfectly Pure and Good (Apr-1994)
3 - Staring at the Light (Dec-1999)
4 - Looking Down (Oct-2012)
5 - Safer Than Houses (Jan-2005)
6 - Cold to the Touch (Dec-2013)
7 - Playing with Fire (Aug-2014)
Book List in Order:
23

titles
---

Shadows on the Mirror

In her third critically acclaimed crime novel, Edgar Award nominee Frances Fyfield has created a wonderfully complex and fascinating new heroine, Sarah Fortune. A lawyer in a prestigious Mayfair firm, she loathes her dry profession and leads a most u...

---

A Question of Guilt

Cunning and evil, poisoned by a lifetime of love withheld, Eileen Cartwright has an unrivalled passion for revenge. When the rich, middle-aged widow falls in love with her solicitor, she cold-bloodedly arranges for the murder of his wife. It is a c...

---

Trial by Fire // Not That Kind of Place

The quiet English village of Branston seemed an ideal place for Crown Prosecutor Helen West and Detective Chief Inspector Geoffrey Bailey to nurture their new relationship. It was certainly an unlikely spot for a crime of passion--but what else could...

---

Deep Sleep

When Margaret Carlton, wife of the "Caring Chemist" Pip, dies in her sleep, Helen ignores Bailey's caution to stay out of police investigations. Margaret's apparent good health and relative youth, together with an incomplete police report, arouse Hel...

---

Shadow Play

Crown Prosecutor Helen West is doubly frustrated. Her lover, Geoffrey Bailey, is off to a police education course, with weekend visits only a slight possibility. And she has just failed for the fifth time to convict a menacing little man called Logo....

---

Perfectly Pure and Good

Sarah Fortune's name belies her recent life. A beautiful red-haired attorney, she's still recovering from the macabre attack of a now-deceased client, Charles Tysall, who became obsessed with her. The scars on her creamy skin have healed but will nev...

---

A Clear Conscience

Helen West, Crown Prosecutor in domestic violence court, is working up a good case of burnout: Justice-by-the-book doesn't seem to be working for the women she represents and her love affair with Police Superintendent Geoffrey Baily is losing its fir...

---

Without Consent

No-nonsense attorney Helen West possesses a rare combination of jaded pragmatism and well-guarded vulnerability that makes her perhaps the perfect prosecutor for a rape case. Here, the evidence all points to a police officer, D. S. Ryan; and in a see...

---

Nothing to Lose

Crime and detection are women's work for twenty-six great writers in this second brilliant collection of mystery fiction edited by Sara Paretsky. From wicked irony and white-collar crime in Amanda Cross's "The Baroness," to the chilling "Only a Woman...

---

---

Cold And Deep

Crime in all its devious incarnations is presented in this treat of murderous morsels dished out by old ppros and promising newcomers. Artfully crafted and impossible to put down, each story bountifully demooonstrates why these authors are la creme d...

---

Blind Date

Elisabeth Kennedy is a complicated, prickly ex-police detective, haunted by the memory of her younger sister's murder, and recovering from a senseless, brutal attack that leaves her with physical scars and a fractured spirit. Deter-mined to fight bac...

---

Staring at the Light

London lawyer Sarah Fortune masks a numbed heart with a string of lame-dog clients and a retinue of eccentric lovers. Now she finds herself protecting Cannon Smith, a man whose worst enemy turns out to be his own beloved twin brother, Johnny. Long ag...

---

Undercurrents

For twenty years, Henry Evans has been haunted by a blurred but shining memory of his lost love, Francesca Chisholm. Now this shy American has come looking for her, in her hometown on the English coast. What he discovers is not what he expects. Fr...

---

The Nature of the Beast

AMY PETTY IS DEAD. BUT AMY PETTY IS ALIVE .. . When an Intercity service travelling from Kent to London joins Paddington, Hatfield and Selby in a deadly list of notoriety, it isn't only fate that decides who is killed; one passenger uses the oppor...

---

Safer Than Houses

Sarah Fortune inherited her flat from one of her many lovers. Now a son has appeared claiming it is his, morally if not strictly legally, and he is using illegal means to persuade Sarah to give it up: abusive letters threatening her personal harm. ...

---

Looking Down

Richard Beaumont hoped to see the elusive crow on the Dover cliffs. Instead he sees a young woman falling to her death. No one recognizes her, and no one has reported her missing. Richard returns, shaken, to his wife, but instead of seeking comfort i...

---

The Art of Drowning

/ Suspense

A loner. A liar. A secret. Let the games begin. Accountant Rachel Doe leads a sheltered, beige-colored life... Until she meets Ivy, who is everything Rachel isn't. Ivy is a wild child. She is charismatic and seductive, a charmer with tragedy in...

---

Blood from Stone

/ Mystery

When the body of a successful criminal lawyer is found outside a chic London hotel, it looks like a suicide. For those who knew her, the woman's death is a shock -- Marianne Shearer was at the pinnacle of her career, wealthy and stylish -- but for th...

---

Cold to the Touch

Short of work, rejected by the man she craves, spurned by her mother, Jess Hurly is a wreck when Sarah Fortune comes across her in the semi-darkness of a cold London morning. Sarah -- lawyer, professional mistress and stalwart friend -- recognises he...

---

---

The Playroom

Katherine and David have the perfect life: they are beautiful, rich, debonair, and gifted. But cracks begin to form beneath the smooth exterior when David suspects that one of their two children is not his. There is no other reason why chubby, petula...

---

Gold Digger

A relentlessly twisty thriller of greed, mystery, and betrayal, in which a young widow must outwit her husband's dangerous family, from bestselling British novelist Frances Fyfield. In a rambling old mansion by the sea, Thomas Porteous lies dyin...

---

Playing with Fire

There's no place like home. When Sarah Fortune inherits an apartment from one of her many lovers, she moves in and begins to receive letters from someone claiming the apartment belongs to him instead. At first she believes the letters to be harmle...

---

Seeking Sanctuary

Betrayal is in their blood . . .When Anna and Therese's father walked out on their mother, the Calvert family was shattered. Now that he's deceased, his carefully crafted plans are set to unravel their lives all over again.After their mother died, th...

---
Frequently Asked Questions (FAQ)
Frances Fyfield has published 23 books.
Frances Fyfield does not have a new book coming out soon. The latest book, Playing with Fire, was published in August 2014.
The first book by Frances Fyfield, Shadows on the Mirror, was published in January 1989.
Yes. Frances Fyfield has 3 series.