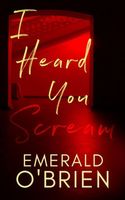 Newest Release
Bibliography:

18 Books - 4 Series

First Book:

July 2014

Latest Book:

March 2023
Full Series List in Order
1 - Midnight Motel (Jun-2017)
1 - Lies Come True (Apr-2015)
2 - Bare Your Bones (Jul-2015)
3 - Every Last Mark (Oct-2015)
1 - Darkness Follows (Jul-2014)
2 - Shadows Remain (Sep-2014)
1 - The Girls Across the Bay (Nov-2017)
2 - The Secrets They Keep (May-2018)
3 - The Lies You Told (Jun-2019)
4 - The One Who Watches (Nov-2019)
Book List in Order:
18

titles
Darkness Follows

What if the hiding spot you escape to becomes more dangerous than the place you ran from? Aurina Patrick is an ambitious young woman, whose only mistake was letting someone get too close. The day she is brought into the police department for question...

---

Shadows Remain

/ Police Procedural

This time, she has a choice. Leave the past behind, or face it head on.Ryanne Patrick survived her summer in Dersten, but not without scars. When she is pulled back to the place that haunts her dreams, she is greeted by familiar faces, and unresolved...

---

Lies Come True

/ Amateur Sleuth

The killer is cunning and ruthless, but even the best killers make mistakes. Emerald O'Brien, author of unpredictable mysteries packed with suspense, brings you the first thrilling novel in the Avery Hart trilogy that keeps readers guessing until t...

---

Bare Your Bones

/ Law Enforcement

Avery Hart watched as the lies she believed about her past came true... The man who is hunting her enjoys the chase as much as the kill, and Avery fears not only for her life, but the lives of those she loves. Charla Kent has a deadly connection to ...

---

Every Last Mark

Avery Hart knows a serial killer is coming for her.Surrounded by death since his hunt began, the brutal murder of a loved one has pushed Avery past her breaking point.Desperate to end the suffering of those in his path and stop looking over her shoul...

---

---

Midnight Motel

"You have a choice to make, Anna. If you run we can protect you, but should you choose to stay, there's no turning back." After years of estrangement, Anna Kelleher returns to the motel her family runs to make good on a promise to her dying grandma. ...

---

The Girls Across the Bay

A bond stronger than blood. A connection that could end it all. Madigan Knox and Grace Sheppard became sisters the day they entered their foster home. After living through a childhood nightmare, one brave act set them free, but split them apart into...

---

The Secrets They Keep

They vowed to love each other forever… When a dead body is discovered outside the Tall Pines reception hall, Detective Grace Sheppard is called to the scene. Searching for the truth among deceitful suspects and within herself, Grace struggles when ...

---

---

The Lies You Told

/ Mystery

A debt owed. A woman missing. During their traumatic childhood, Madigan Knox and Detective Grace Sheppard were rescued from their abusive foster home by Officer Tina Morelli. When Morelli goes missing, Madigan and Grace connect with her daughter, ea...

---

The One Who Watches

/ Law Enforcement

An accident or a homicide? Detective Grace Sheppard arrives at the scene of a car wreck in Tall Pines that appears to be an accident, but could it have been more than that?After looking into the victim of the crash, Grace discovers another mysteriou...

---

What She Found

It was supposed to be the perfect getaway, but a knock at the door could ruin their lives.After her recent separation, Tabitha Weaver is holding her life together by a thread. Luckily, her six closest friends have the perfect cure for heartbreak: a w...

---

Follow Her Home

She's desperate to leave the past behind her. But fear has a way of following. Lynda McGowan knows all about stalkers. Her father, a jaded musician with local acclaim, was brutally killed by his.When a friend begs her to play a few shows with hi...

---

The Waking Place

From the author of Follow Her Home and What She Found comes a heart-clenching and atmospheric psychological suspense novel that will keep readers guessing until the final page. Givers must set limits, for takers have none.&nb...

---

We Don't Leave

Who can you believe when you can't trust your own eyes?Hayden is excited to begin a new life with her husband, Sid, after he accepts a job offer back in his hometown. She doesn't love the idea of being so far from her family, but she understands why ...

---

The Sisters of Tall Pines

/ Cozy Mystery

Two sisters with a troubled past.A murderer with a kill list. How long until he gets to them?Grace was seven years old when her sister told her she saw a dead body in their childhood foster home. Between that and the drug trafficking her foster fathe...

---

I Heard You Scream

Five can keep a secret if four are dead. On a cold fall night in a small Canadian town, four of Chelsea's friends are found dead, victims of a brutal stabbing—a selfish act of revenge.The only witness, Chelsea spends the next five years st...

---

Knock Three Times

From the bestselling author of We Don't Leave, comes a fast-paced, chilling psychological thriller in the vein of Jennifer Hillier, Riley Sager, and Kiersten Modglin.Remey Owens is desperate to move on with her life after the brutal murder of he...

---
Frequently Asked Questions (FAQ)
Emerald O'Brien has published 18 books.
Emerald O'Brien does not have a new book coming out soon. The latest book, Knock Three Times, was published in March 2023.
The first book by Emerald O'Brien, Darkness Follows, was published in July 2014.
Yes. Emerald O'Brien has 4 series.