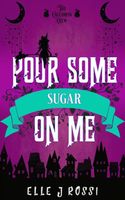 Newest Release
Bibliography:

21 Books - 2 Series

First Book:

January 1903

Latest Book:

October 2022

Rating:
Full Series List in Order
1 - The Luminary (Dec-2012)
2 - The Soother (Mar-2013)
1 - Alabaster Nights (Jan-2014)
2 - Indigo Dawn (Mar-2014)
3 - Midnight Masque (Nov-2014)
Book List in Order:
21

titles
---

Chasing Fate

/ Paranormal Romance

She is forced to kill . . . When a much-needed vacation turns into work for the third Fate, Atropos vows to sever the mortal's lifeline quickly and get back to the sea and sand. Having her mysterious quarry offer a deal in exchange for more time is...

---

The Luminary

When Meera Brennan learns she's a Luminary, one of the most powerful witches in existence, it rocks her already fragile world. To save herself and keep peace within the veiled community, Meera will have to hone her powers and brave an ancient realm t...

---

Broken Flight

/ Paranormal Romance

Anna James never planned on dying at age nineteen or ending up somewhere other than heaven. Five years later, her heart is still on Earth with her soulmate Grey, while the rest of her struggles to survive in Beyond. Not quite heaven and a lot like he...

---

The Soother

A WITCH WITH THE GIFT OF LIGHT

Calliope the Soother is a witch devoting her life to easing the pain and misery of others, drawing out the darkness and replacing it with light.

A HALF-BREED WITH THE CURSE OF DARKNESS

A powerful wi...

---

---

---

Indigo Dawn

Vampire Lust and Pixie Dust. Josie Hawk is a Huntress. A killer devoted to protecting the humans of Nashville from the shadows that lurk in the night. But the shadows are gaining ground. When an infamous pixie tricks Josie into a drug-induced nightma...

---

Midnight Masque

/ Paranormal Romance

Nashville is the newest breeding ground for the darkest creatures of the occult. Huntress Josie Hawk will protect her streets -- whatever it takes. Bar owner and paranormal ass-kicker, Josie Hawk, is dealing with the stress of how to introduce her va...

---

---

---

---

---

---

---

---

---

Ebony Tide

Musicians aren't the only ones walking the streets of Nashville...Most humans have no idea that creatures of lore live side-by-side with them. Laws have been in place for millennia, protecting the unsuspecting and controlling the dark forces. But r...

---

---

Juniper's Curse

/ Contemporary Romance

Magic is life. Blood is power. With Nashville's protector/huntress out of town, the witches fall prey to a mysterious malevolence siphoning the city's magic. The witch… When a past never forgotten wreaks havoc on the present, Ca...

---

---

Grundy County

/ Contemporary Romance

Welcome to Starstruck, a showplace for talent, a playground for love. A collection of contemporary romance novellas that will leave you breathless and craving more.Grundy County: A Starstruck Duo featuring Jaded and Crushed.JADEDMARRY ME, BROOKLYN.Fo...

---

Pour Some Sugar On Me

/ Literary

What happens when light witches and shadow witches have to work together to save their town, and possibly the world? Some serious magic. Solonah Draven has dealt with her fair share of unappealing tasks before, but when the High Priestess demand...

---
Frequently Asked Questions (FAQ)
Elle J. Rossi has published 21 books.
Elle J. Rossi does not have a new book coming out soon. The latest book, Pour Some Sugar On Me, was published in October 2022.
The first book by Elle J. Rossi, Scribbles, was published in January 1903.
Yes. Elle J. Rossi has 2 series.