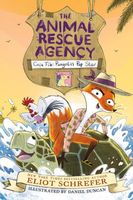 Newest Release
Bibliography:

21 Books - 3 Series

First Book:

May 2006

Latest Book:

October 2023

Author Rating:
Full Series List in Order
1 - Case File: Little Claws (Jan-2021)
2 - Case File: Pangolin Pop Star (Feb-2022)
1 - Endangered (Oct-2012)
2 - Threatened (Feb-2014)
3 - Rescued (May-2016)
4 - Orphaned (Jun-2020)
1 - Mez's Magic (Jan-2018)
2 - Gogi's Gambit (Feb-2019)
3 - Rumi's Riddle (Feb-2020)
Multi-Author Series List
6 -
Rise and Fall
(Jan-2015)
8 -
Immortal Guardians
(Aug-2015)
1 -
Immortal Guardians
(Aug-2015)
Book List in Order:
21

titles
Glamorous Disasters

Noah rose from humble beginnings and, through pure grit and resourcefulness, got himself through Princeton. Now staggering under the weight of massive student loans and dazzled by life in the big city, Noah enters the rarefied field of SAT tutoring i...

---

The New Kid

At fifteen years old, Humphrey has spent his life as the new kid, moving from town to town as his parents keep losing jobs. The latest move brings him to Haven, Florida, where his family rents a motel room for lack of money. Humphrey gradually makes ...

---

School For Dangerous Girls

Angela's parents think she's on the road to ruin because she's dating a "bad boy." After her behavior gets too much for them, they ship her off to Hidden Oak. Isolated and isolating, Hidden Oak promises to rehabilitate "dangerous girls." But as Angel...

---

The Deadly Sister

From the author of The School for Dangerous Girls, a suspenseful stunner about loyalty, sibling rivalry, and murder. Abby Goodwin is sure her sister Maya isn't a murderer. But her parents don't agree. Her friends don't agree. And the cops definite...

---

Endangered

CONGO IS A DANGEROUS PLACE, EVEN FOR PEOPLE WHO ARE TRYING TO DO GOOD. When Sophie has to visit her mother at her sanctuary for bonobos, she's not thrilled to be there. It's her mother's passion, and Sophie doesn't want to have anything to do with...

---

Threatened

When he was a boy, Luc's mother would warn him about the "mock men" living in the trees by their home -- chimpanzees whose cries would fill the night. Luc is older now, his mother gone. He lives in a house of mistreated orphans, barely getting...

---

Rise and Fall

Deep in the desert there sits a beautiful oasis, ruled by a monarch unlike any other in Erdas. His name is Cabaro, the Great Lion, and he reigns over a kingdom of animals, jealously guarding his golden talisman. No human has ever set foot in the Grea...

---

Immortal Guardians

In the world of Erdas, every child must discover if they will summon a spirit animal, a rare and incredible gift. Conor, Abeke, Meilin, and Rollan were rare even among those few. They summoned legendary animals -- brave guardians who were reborn to p...

---

Geek Fantasy Novel

Be careful what you wish for. Really. Wishes are bad. Very bad. They can get you trapped in a fantasy world full of killer bunny rabbits, evil aunts, and bothersome bacteria, for example. But you already knew that, didn't you? Ralph, alas...

---

---

Rescued

Raja has been raised in captivity. Not behind the bars of a zoo, but within the confines of an American home. He was stolen when he was young to be someone's pet. Now he's grown up ... and is about to be sent away again, to a place from which there w...

---

Mez's Magic

An action-packed and hilarious animal fantasy adventure Caldera has forever been divided into the animals who walk by night and those who walk by day. Nightwalker panthers, like young Mez and her sister, have always feared daywalkers as creatures ...

---

Orphaned

Before humans, and before human history, there were the apes. Snub is a young gorilla, living in the heart of what will eventually be known as Africa. She is jealous of her mother's new baby ... and restless in her need to explore. When a natural ...

---

Gogi's Gambit

The second book in New York Times bestselling author and National Book Award finalist Eliot Schrefer's Lost Rainforest series will thrill fans of Warriors and Spirit Animals with action and humor as the shadowwalkers battle to save their magical ra...

---

---

Rumi's Riddle

The action-packed conclusion to the Lost Rainforest series by award-winning and bestselling author Eliot Schrefer delivers one last thrilling adventure as the shadowwalkers are pushed to the limit to protect Caldera. Perfect for fans of Warriors and ...

---

The Popper Penguin Rescue

Inspired by the beloved classic Mr. Popper's Penguins comes a new penguin-tastic adventure written by two-time National Book Award finalist Eliot Schrefer—now in paperback!

It's been years and years since the Popper fa...

---

---

Case File: Little Claws

New York Times bestselling author Eliot Schrefer introduces a delightful and dynamic animal duo in a race against time to save a polar bear cub in the first book of this hilarious and heartwarming middle grade series about friendship and conservation...

---

The Darkness Outside Us

They Both Die at the End meets The Loneliest Girl in the Universe in this mind-bending sci-fi mystery and tender love story about two boys aboard a spaceship sent on a rescue mission, from two-time National Book Award finalist Eliot Schrefer. Two ...

---

---

Case File: Pangolin Pop Star

New York Times bestselling author Eliot Schrefer's second installment in the middle grade Animal Rescue Agency series sends your favorite fox and chicken duo on a tropical adventure to save the world's biggest pangolin pop star. After a frigid...

---

Charming Young Man

From New York Times bestselling author Eliot Schrefer comes an exuberant YA historical coming-of-age novel about a rising star French pianist, navigating his way into high society as he explores his sexuality. Perfect for fans of Last Night at the Te...

---
Frequently Asked Questions (FAQ)
Eliot Schrefer has published 21 books.
The next book by Eliot Schrefer, Charming Young Man, will be published in October 2023.
The first book by Eliot Schrefer, Glamorous Disasters, was published in May 2006.
Yes. Eliot Schrefer has 3 series.