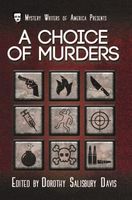 Newest Release
Bibliography:

32 Books - 2 Series

First Book:

January 1952

Latest Book:

May 2019

Rating:
Full Series List in Order
1 - Death of an Old Sinner (1957)
2 - A Gentleman Called (1958)
3 - Old Sinners Never Die (1959)
1 - A Death in the Life (1976)
2 - Scarlet Night (Apr-1980)
3 - Lullaby of Murder (Apr-1984)
4 - The Habit of Fear (Nov-1987)
Book List in Order:
32

titles
A Gentle Murderer

Before Father Duffy of St. Timothy's realizes that his soft-spoken, gentle confessioner has just admitted to the cardinal sin of murder, the man leaves the church -- still carrying the hammer he used in the crime. With only a half-muttered name to go...

---

Death of an Old Sinner

When Ransom Jarvis, a retired U.S. Army Major General, is killed, his son Jimmie, his housekeeper Mrs. Norris, and DA investigator Jasper Tully investigate and discover that the General's distinguished reputation hid many sordid dealings...

---

A Gentleman Called

In Grand Master of crime fiction Dorothy Salisbury Davis's second Mrs. Norris novel, which the New York Times hailed as "tensely perplexing" the crime-solving Scottish housekeeper helps crack the case of a serial lady-killer As housekeeper to James J...

---

Old Sinners Never Die

Grand Master of crime fiction Dorothy Salisbury Davis brings back the beguiling character Major General Ransom Jarvis in this third Mrs. Norris Mystery, a prequel, which immerses the redoubtable crime-solving Scottish housekeeper in a murder inves...

---

A Death in the Life

Aimless and drifting, Julie Haynes opens a "Reader-Advisor" shop on a dare. Instead of a mere lark, Julie discovers true compassion and concern for her 'congregation' -- actors, shop-keepers, impoverished residents of the Willoughby Hotel, the angry ...

---

Scarlet Night

Determined to rid her home of all vestiges of her husband's first wife, Julie Hayes begins hunting in the galleries of SoHo for a painting and becomes involved in a mystery involving the theft of a priceless painting...

---

Lullaby of Murder

Julie Hayes is just normally neurotic these days, working for Tony Alexander - the New York Daily's gossip columnist. But, when Tony's gunshot murder follows soon after the suicide of alcoholic press-agent Jay Phillips (whose wife went the same route...

---

Tales for a Stormy Night

Fifteen spine-tingling stories of murder, mayhem, and the macabre from one of America's finest crime authorsDorothy Salisbury Davis has become known as one of America's finest crime writers through such novels as A Gentle Murderer,...

---

Where the Dark Streets Go

Father McMahon is struggling to write a sermon when a boy runs into his office. A man in his tenement is dying, the boy says, and it is too late for a doctor or the police. In the basement of the apartment house, Father McMahon kneels beside the bloo...

---

---

---

The Pale Betrayer

Grand Master of crime fiction Dorothy Salisbury Davis delivers a thrilling tale of Cold War-era espionage and murder. One afternoon in Manhattan's Washington Square Park, Eric Mather is approached by two men, Tom and Jerry, with a business proposa...

---

The Habit of Fear

FAMILY TIES New York Daily reporter Julie Hayes could tell everybody's story -- except her own. But after a seemingly random act of violence shattered her life she knew it was time to put the pieces together. It began with an unknown name on her bir...

---

A Silver Thimble

in A Body Is Found

The authors comprising the Adams Round Table are New York City-based mystery writers whose previous offering was Murder in Manhattan . In a concept again ``created'' by Bill Adler, their tales are set in various New York neighborhoods, where corpses ...

---

Black Sheep, White Lamb

After a robbery goes wrong, a teenager finds he has a knack for murder in Grand Master of crime fiction Dorothy Salisbury Davis'' riveting psychological thriller that illuminates the dark corners of a killer''s mind.

The hamlet of Hillside ...

---

To Forget Maryellen

The Adams Round Table is today's counterpart of the legendary Algonquin Roundtable. Founded in 1982 by Mary Higgins Clark and Thomas Chastain, the members meet every month to discuss their craft and create some of the best-loved mysteries of our time...

---

Now Is Forever

in Justice in Manhattan

From the Adams Round Table, the same group of celebrated mystery authors that brought readers the national bestseller Missing in Manhattan comes this new collection of suspenseful tales set against the grimy streets and grand skyscrapers of New York ...

---

Miles to Go

in Women On the Case

Crime and detection are women's work for twenty-six great writers in this second brilliant collection of mystery fiction edited by Sara Paretsky. From wicked irony and white-collar crime in Amanda Cross's "The Baroness," to the chilling "Only a Woman...

---

---

---

---

In the Still of the Night

A collection of eight suspenseful tales from one of the century's finest crime authorsWith stories published when the author was in her seventies and eighties, this collection proves that after five decades writing crime fiction, Dorothy Salisb...

---

The Letter

A dozen of today's masters of mystery and suspense present an all-original anthology of compelling, provocative stories, revealing that the families that play together sometimes slay together. Featuring stories by: LAWRENCE BLOCK * MARY HIGGINS ...

---

The Purple Is Everything

in A Moment on the Edge

"

"An absolutely first-rate anthology. . . a thoughtful and intelligent paean to crime fiction." — New York Sun


#1 New York Times bestselling author Elizabeth George serves up a century''s worth of superb crim...

---

The Clay Hand

/ Mystery

A hard-boiled newsman and a sharp-witted sheriff team up to solve a murder mystery in Grand Master of crime fiction Dorothy Salisbury Davis's suspenseful and disturbing story of death and violence in a small coal-mining town Phil McGovern, the s...

---

Enemy and Brother

/ Mystery

Convicted of murdering a fellow journalist, a writer returns to Greece to find the truth in Dorothy Salisbury Davis's stunning, richly atmospheric novel of deadly political intrigue John Eakins returns to Greece, seemingly to pursue Byron schola...

---

The Evening of the Good Samaritan

/ Mystery

Before, during, and after World War II, three generations of men make their mark on the world in acclaimed author Dorothy Salisbury Davis's vibrant, thought-provoking novel that scrutinizes the conscience of men in a time of crisis As Europe sli...

---

God Speed the Night

/ Historical

Hailed by the New York Times as "a book you will not readily forget," this World War II adventure tale of a nun who risks her life to help a Jewish couple escape Nazi-occupied France is the collaborative creative effort of Grand Master of crime f...

---

The Judas Cat

/ Mystery

Anthony Boucher, New York Times mystery expert: "[The Judas Cat] is a "rewardingly perceptive novel." Craig Rice in the Los Angeles News: "…a wonderful small town setting, a good story, and some very, very top-flight writing. Don't miss it...

---

The Little Brothers

/ Thriller

An engrossing crime novel set in New York's Little Italy from Grand Master of crime fiction Dorothy Salisbury Davis They are a secret society in New York's Little Italy. The Little Brothers swear to a strict code. While they carry out good wor...

---

Men of No Property

/ Historical

Dorothy Salisbury Davis brings to life the joys, hardships, and challenges of the Irish in New York City, following the lives of five people from their voyage to America in 1848 through fifteen turbulent years When the Valiant weighs anchor, the I...

---

---

Shock Wave

/ Thriller

A tour de force of suspense, Shock Wave is the tense tale of a female reporter who, on assignment in a midwestern university town, finds she has stepped into an environment fused for violence After two decades of covering riots, assassinations, an...

---

A Town of Masks

/ Thriller

Grand Master of crime fiction Dorothy Salisbury Davis delivers a spine-tingling novel, hailed by the New York Times as "beautifully written," about an upstanding small-town spinster whose life is overturned by a shocking murder When other you...

---

A Choice of Murders

WHEN IT COMES TO MURDER, THERE'S ALWAYS A CHOICE…The only thing more varied than how people are killed is the many, many ways people try to get away with this terrible crime. Now masterful mystery writer Dorothy Salisbury Davis brings together 23 c...

---
Frequently Asked Questions (FAQ)
Dorothy Salisbury Davis has published 32 books.
Dorothy Salisbury Davis does not have a new book coming out soon. The latest book, A Choice of Murders, was published in May 2019.
The first book by Dorothy Salisbury Davis, A Gentle Murderer, was published in January 1952.
Yes. Dorothy Salisbury Davis has 2 series.