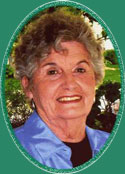 About the Author
Dorothy Garlock (June 22, 1919 – April 6, 2018), she was 98.

Dorothy Garlock is referred to as "The Voice of America's Heartland." She is the author of over 50 novels primarily set in the American West. Garlock was born in Texas but spent 25 years in Oklahoma City. After marriage, she and her husband moved to Clear Lake, Iowa. She worked for many years as a bookkeeper and columnist for the local paper. It was after her early retirement that she found she that writing was a wonderful way to fill her time. Her success as a novelist came as a complete surprise to her. She has received over 20 awards for her writing and has appeared in almost every major newspaper.
She still lives in Clear Lake, Iowa and is a proud mother and grandmother.

Full Series List in Order
1 - Restless Wind (Jun-1986)
2 - Wayward Wind (Sep-1986)
3 - Wind of Promise (Mar-1987)
1 - Ribbon in the Sky (Dec-1991)
2 - With Hope (Sep-1998)
3 - With Song (May-1999)
4 - With Heart (Nov-1999)
5 - After the Parade (Apr-2000)
1 - The Edge of Town (Apr-2001)
2 - High on a Hill (Jun-2002)
3 - A Place Called Rainwater (Jan-2003)
4 - River Rising (May-2005)
1 - Wild Sweet Wilderness (May-1985)
2 - Annie Lash (Nov-1985)
3 - Almost Eden (Oct-1995)
1 - Mother Road (Jun-2003)
2 - Hope's Highway (Jan-2004)
3 - Song of the Road (Jun-2004)
1 - Stay a Little Longer (May-2010)
2 - Keep a Little Secret (Apr-2011)
3 - Come a Little Closer (Nov-2011)
1 - Lonesome River (Aug-1987)
2 - Dream River (May-1988)
3 - River of Tomorrow (Dec-1988)
4 - Yesteryear (Jan-1995)
1 - Midnight Blue (1988)
2 - Nightrose (Apr-1990)
3 - Sins of Summer (Jun-1994)
4 - The Listening Sky (Apr-1996)
5 - Larkspur (Feb-1997)
6 - Sweetwater (Mar-1998)
Book List in Order:
54

titles
---

Love and Cherish

When beautiful, brazen Cherish Riley ran away from the horrible Burgess family, she was literally fleeing for her life. Alone now, and frightened, she was lost in the vast western wilderness until she came upon the quiet, handsome woodsman, Sloan. ...

---

This Loving Land

SWEET PROMISES... DARK THREATS! Violet-eyed Summer was only a child when she heard the sweet words of promise -- "get all growed up, summertime girl, and I'll come and fetch you home." Now she had grown into a proud beauty and was s...

---

The Searching Hearts

SHE FOUND ADVENTURE ON THE WINDSWEPT PRAIRIES -- AND A THRILLING, BOUNDLESS LOVE! Lovely, copper-tressed Tucker Houston, was a fiercely independent orphan, determined to become a schoolteacher and find a better life, in the rich new lands of the W...

---

Glorious Dawn

IN THE RUGGED LANDS OF NEW MEXICO WOMEN STRUGGLE TO SURVIVE AND MEN STRUGGLE TO DOMINATE THEM Brought to the home of the man who controlled Macklin Valley, Johanna Doan felt she had found a refuge for her sister. Ravished and left for dead, the yo...

---

A Love for All Time

Dan Murdock was impossibly virile, tormentingly gentle...and fiercely determined to have Casey Farrow. But a car crash had left its indelible marks on her breathtaking beauty and erased her future. What were Dan's motives for pursuing her? Guilt?...

---

Forever, Victoria

Beautiful Victoria McKenna ruled the Double M ranch as her private dynasty on the vast Wyoming high plains. If anyone dared touch her, a hundred guns stood ready to take revenge. But Mason Mahaffey defied the odds to lay his claim on the McKenna l...

---

The Planting Season

Iris Ouverson had poured her energies into the family farm she cultivated with her sister, and the appearance of John Lang was unexpected -- and infuriating. Suddenly the land was theirs to share, an idea she couldn't accept. But John was determined ...

---

Wild Sweet Wilderness

NO MAN'S SLAVE! Berry was only eighteen - and a fresh-mouthed kid - when she left the wagon trails to find her father's claim in Missouri. She was happy to be free from her father's tyranny. But now with only her gentle young step mother beside her,...

---

Annie Lash

STUBBORN, BEAUTIFUL, PASSIONATE... THAT WAS ANNIE LASH! When her parents died, lovely Annie Lash was left alone in old St. Louis -- a prize catch for the elderly suitors lined up at her door. But the willful lass would have none of them, for she y...

---

---

Restless Wind

A BOLD NEW BREED OF WOMAN... DEFIANT, PASSIONATE, BEAUTIFUL Tawny-haired Rosalee challenged the dangers of the rugged Colorado mountains with her courage, her rifle, and her heart. Daring to carve a home from the wilderness for her young sister a...

---

Wayward Wind

A Spitfire Woman... A Savage Land... And A Rough Riding Man Determined To Tame Them Both Lorna's violet eyes glittered with the joy of riding fast and free across Light's Mountain, the Colorado range that was her birthright and fiercest pa...

---

Wind of Promise

Fiery-haired Vanessa was determined to cross the prairies, ford the mighty rivers, and climb the Rockies to reach Colorado. Her hands held the reins of the mule team with wiry strength...but her resolve weakened when a tall stranger, lean of body, wi...

---

Lonesome River

A DEFIANT SPITFIRE OF A GIRL... A STRONG AND STUBBORN MAN! Her cornsilk hair loose in the wind. Liberty drove her Conestoga wagon as if the devil were after her. She had run away from New York when her Pa demanded she marry Stith Lenning, a domin...

---

Midnight Blue

WYOMING TERRITORY WAS NO PLACE FOR A LADY -- BUT MARA WAS ALL WOMAN Leaving her finishing school behind, Mara Shannon McCall returned to the lawless country of her birth, determined to reclaim the ranch that was her father's legacy. With a derrin...

---

Dream River

SHE FOUGHT AND RODE BETTER THAN ANY MAN... BUT WAS HELPLESS IN HIS ARMS Amy...I'll be back." For eight years Amy Deverall clung to the words Rain Tallman had whispered, as he kissed her and rode away. Smart as a whip, and as eager for life...

---

River of Tomorrow

ONLY HER DEFIANT PRIDE KEPT HER FROM BEGGING FOR HIS LOVE... Behind her proper schoolmarm ways, sunny blond Mercy was the same sassy spitfire she had been as a child. An orphan raised by the Quill family with her foster brother Danny, she had alwa...

---

Nightrose

ABANDONED! Katy suddenly knew that she, her sister, and her tiny niece were the only people left in a desolate Montana ghost town. Without a horse or a rifle, they hadn't a chance of crossing a wilderness crawling with outlaws, Indians, and griz...

---

---

Ribbon in the Sky

RIBBON IN THE SKY ...tells of a love that time could not diminish. Spritely, auburn-haired Letty Pringle had been forbidden by her hell-and-brimstone preacher pa to see Mike Dolan, but the young sweethearts had whispered their vow someday to be man ...

---

---

A Gentle Giving

She had narrowly escaped the lynch mob that unjustly hanged her foster father. Now lonely Willa Hammer had nothing left -- except her dog Buddy, her faith in herself, and the protection of a strange, secretive family. She joined their wagon train, he...

---

Tenderness

TENDERNESS . . . shows us a woman's strength when she fights for her man. Proudly wearing her nurse's uniform and feisty as could be, Jesse Forbes delivered babies and tended the sick in the rural hills of Harpersville, Tennessee. But her gentle cou...

---

Sins of Summer

Amid the lonesome pines of an Idaho logging camp, young Dory Callahan was like a burst of bright sunshine--even when she had to tolerate the scorn of her wealthy, mean-spirited half brothers each day of her life. Dory was proud, not ashamed of her to...

---

Yesteryear

Addie Hyde spent four years waiting to see if the high-spirited husband she had married in haste would come back after the South lost the war. Yet Kirby Hyde was never among the Confederates in rags and tatters straggling through Arkansas. Addie alwa...

---

Almost Eden

HE WAS THE SPARK; SHE WAS THE FLAME... Baptiste Lightbody had found the beautiful young girl named Maggie in Missouri Territory. From the moment they met, they became two parts of the same spirit, joined in flesh and soul with an undying fire shunne...

---

The Listening Sky

Jane Love's hopes soared when she set out for Timbertown, Wyoming Territory. There, she thought, she'd be safe from her enemy and find the work and respect she so needed. The big problem turned out to be mill owner T. C. Kilkenny. Sitting hig...

---

Larkspur

A FIGHT FOR HER LAND... AND HER MAN Miss Kristin Anderson had never left home before, but no one was going to stop her from going to Montana to take possession of Larkspur, the ranch she had inherited. She was 23, "a spinster," but she stood up ta...

---

Sweetwater

Jenny Gray wondered if she could survive a day in an isolated cabin near an Indian reservation -- and she needed to stay five years to make the land hers. She had never chopped wood or cooked a biscuit in her life before she ran away from Pennsylvani...

---

With Hope

Oklahoma, 1932: Trouble seemed to be rolling up like the dust on the dry yellow horizon beyond Henry Ann's farm. Her father was dead and her two rebellious half-siblings were now her responsibility. Then Tom Dolan, a new neighbor, came into her life ...

---

With Song

Seward County, Kansas, 1935. On a day when she was cheerfully singing a popular tune, Molly McKenzie barely noticed the dark sedan that pulled up in front of her family's store. Minutes later, a hail of bullets rained down on her parents and shattere...

---

---

With Heart

Tillison County, Oklahoma, 1938. Though scarcity and hardship have taken their toll on the spirit of the nation, one young woman still dares to dream. Kathleen Dolan has high hopes for her investment in the Rawlings, Oklahoma, Gazette. But the feisty...

---

After the Parade

Rawlings, Oklahoma, 1945. Johnny Henry is coming home from the Pacific, and his estranged wife, Kathleen, secretly watches him step off the train to a hero's welcome. Her heart races when she sees him; his breaks when he doesn't spot her. Misundersta...

---

More Than a Memory

Iowa, 1958, Nelda Hanson, a successful young designer in Chicago, has come home to sell the family farm. Here, just eight years ago, she was a pregnant teenage bride, torn from the arms of her new husband minutes after the ceremony. Nelda wouldn't se...

---

The Edge of Town

Julie Jones is a plainspoken girl working on her father's hardscrabble farm. She's not prepared for the Jazz Age roaring through America, sweeping a flapper named Birdie Stuart and war veteran Evan Johnson into her Missouri town. As the summer heats ...

---

High on a Hill

Annabel Lee Donovan may be a bootlegger's daughter, but she is also a lady. The slim, dark-haired young woman desperately wants her father to leave "the business" and settle down in one place. Instead, their latest move, done in the middle of the nig...

---

A Place Called Rainwater

The oilmen of Rainwater call Jill Jones a little wildcat. She doesn't take guff, and she'll use a broomstick on any roustabout who dares to spit on the porch of her Aunt Justine's hotel. The youngest of the Jones clan of Fertile, Missouri, Jill may f...

---

Mother Road

No one captures the indomitable American spirit better than bestselling author Dorothy Garlock. No time needed that spirit more than the Depression era. And no road fostered more dreams than U.S. Route 66, the path to golden California. Now Dorothy G...

---

Hope's Highway

In Depression-era America, U.S. Route 66 beckoned to those who yearned for a better life. Now beloved author Dorothy Garlock celebrates the dreamers who rode westward on... HOPE'S HIGHWAY Margie Kinnard is thrilled when the father she barely know...

---

Song of the Road

By 1935, countless vehicles had traversed Route 66, their hum creating a uniquely American song. Most were heading west-but roads go in two directions, and in Dorothy Garlock's riveting third novel featuring Route 66, the fabled highway is one that l...

---

River Rising

When nurse April Asbury arrives in Fertile, Missouri, she's looking forward to life in this picturesque town. But while Fertile might seem as pristine as April's starched white uniforms, it's anything but. Soon the spunky blonde is fighting her attra...

---

---

Train From Marietta

Born into a wealthy New York City family, Kate Tyler never fit in with high society...and became a nurse to tend to the desperate poor of the Depression. Offered the chance to work in a large California hospital, Kate departs for the West-and is kidn...

---

On Tall Pine Lake

Proudly presenting her 50th novel, New York Times bestselling author Dorothy Garlock proves once again why she has won readers' hearts with moving stories about ordinary Americans and their dreams. Here is her riveting tale of a young woman facing a ...

---

A Week From Sunday

Adrianna Moore has just had a double shock: the death of her father and the discovery that he has left his entire estate to his lawyer. The lawyer, a repulsive social climber, tells her that to regain her inheritance, she must marry him A WEEK FROM S...

---

Promisegivers

/ Romance

Available for the first time in over a decade, two classic Dorothy Garlock romances - AMBER-EYED MAN and THE PLANTING SEASON - are coming back into print in an irresistible two-in-one volume. AMBER-EYED MAN:When chance forces Meredith Moore to seek ...

---

Leaving Whiskey Bend

The Wild West has been the setting for some of Dorothy Garlock's most beloved novels. Now this New York Times bestselling author returns to this legendary time and place for a thrilling, heartfelt tale of a young woman tested by life... Schoolteac...

---

The Moon Looked Down

The new Americana romance from bestselling author Dorothy Garlock, this time set against the backdrop of WWII. Sophie Heller's family immigrated from Germany to Victory, a small town in Illinois, before WWII began. Now that the war has affected th...

---

Stay a Little Longer

America's heartland at the end of World War I: The flags have stopped waving, the soldiers are home, and the women who kept the home fires burning face unexpected new horizons. Now beloved New York Times bestselling author Dorothy Garlock writes a mo...

---

Keep a Little Secret

The new novel from the New York Times bestselling author follows Charlotte Tucker, the young girl from Garlock's most recent novel, Stay A Little Longer, into adulthood. As a child, Charlotte Tucker was raised in small town Minnesota where the only r...

---

Come a Little Closer

It's 1946, after the end of WWII, and Christina Tucker decides to take a nursing job in the small town of Longstock, Wisconsin and to pursue the life she had wanted before the war's outbreak. Dr. Samuel Barlow was born and raised in Longview and h...

---

By Starlight

Colton, Montana, 1931. Struggling through the Great Depression, Maddy Aldridge agrees to run an illegal speakeasy in order to save her family's mercantile store. Keeping her dangerous new business partner at arm's length is no easy task, but her brav...

---

---

Under a Texas Sky

Growing up poor and largely abandoned on the streets of 1920s Chicago, Anna Finnegan has struggled her entire life. Until a talent manager discovers her and brings her into the world of theater. Now years later she's about to start shooting her first...

---

Take Me Home

Miller's Creek, Wisconsin, 1945. As a war rages on, a new era of hope takes root ... and one young woman faces a difficult choice for the chance at a love of a lifetime. TAKE ME HOME Olivia Marsten never imagined she'd be a war bride. But when he...

---

Twice in a Lifetime

Sunset, Missouri, 1954. As hope flourishes in postwar America, a young widow dares to dream of a second chance at a forever love . . . TWICE IN A LIFETIME Clara Sinclair has learned to live one lonely day at a time. It was the only way she mana...

---

Sunday Kind of Love

Buckton, Indiana, 1956. As post-war America brims with new opportunities, a young woman discovers the courage to follow her dreams-and her heart . . . Gwendolyn Foster's life seems like a dream come true. A bright future in front of her, the succe...

---

The Nearness of You

Hooper's Crossing, New York, 1952. The post-war boom seems a million miles away . . . especially for a sheltered librarian who longs for the adventure and excitement of the big city. New York City. The hustle and bustle. The people and the excitem...

---
Award-Winning Books by Dorothy Garlock
Homeplace
1991 RT Reviewers Choice Award -- Americana Romance
Nightrose
1990 RT Reviewers Choice Award -- Romantic Western Saga
A Week From Sunday
2007 RT Reviewers Choice Award -- Historical Fiction
Frequently Asked Questions (FAQ)
Dorothy Garlock has published 54 books.
Dorothy Garlock does not have a new book coming out soon. The latest book, The Nearness of You, was published in July 2017.
The first book by Dorothy Garlock, Love and Cherish, was published in June 1980.
Yes. Dorothy Garlock has 8 series.