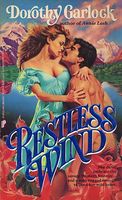 Length:

3 Books

First Book:

June 1986

Latest Book:

March 1987

Genres:

Historical Romance

Rating:
Colorado Wind Series in Order (3 Books)
Book Descriptions for series: Colorado Wind
Restless Wind

Book - 1


A BOLD NEW BREED OF WOMAN ... DEFIANT, PASSIONATE, BEAUTIFUL Tawny-haired Rosalee challenged the dangers of the rugged Colorado mountains with her courage, her rifle, and her heart. Daring to carve a home from the wilderness for her young sister ...

---

Wayward Wind

Book - 2


A Spitfire Woman...A Savage Land...And A Rough Riding Man Determined To Tame Them Both Lorna's violet eyes glittered with the joy of riding fast and free across Light's Mountain, the Colorado range that was her birthright and fiercest passion. She...

---

Wind of Promise

Book - 3


Fiery-haired Vanessa was determined to cross the prairies, ford the mighty rivers, and climb the Rockies to reach Colorado. Her hands held the reins of the mule team with wiry strength ... but her resolve weakened when a tall stranger, lean of body, ...

---
Frequently Asked Questions (FAQ)
There are 3 books in the Colorado Wind series.
The Colorado Wind series does not have a new book coming out soon. The latest book, Wind of Promise (Book 3), was published in March 1987.
The first book in the Colorado Wind series, Restless Wind, was published in June 1986.
The Colorado Wind series primarily falls into the Historical Romance genre.