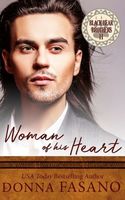 Newest Release
Bibliography:

28 Books - 4 Series

First Book:

March 2006

Latest Book:

October 2019

Rating:
About the Author
Donna Fasano was born in Elkton, Maryland, USA, growing up the third child of five—yes, smack dab in the middle and the only girl to boot— Her story-telling talents came to light when she conjured lively and elaborate tales of pure blarney (yes, she has a bit of Irish in her blood) for, first, her youngest brother, and years later, her children. She blames her entire writing career on her husband. "I was perfectly happy simply reading all those luscious Silhouette Romance novels," she says, with a grin. However, when her youngest son started school, she decided it was time for her to venture out into the world to find a job. "Not that motherhood isn't a job," she is quick to assure. "Being a parent -- raising self-confident, independent, secure, kind and caring kids -- is one of life's most important occupations. However, raising children these days takes more money than is contained in the National Mint!"

She sold her first manuscript in 1989, and since then has become a bestselling, award-winning author of over thirty novels and four audio books. She writes under her own name, Donna Fasano, as well as under the pen name Donna Clayton. Still happily married to her high school sweetheart, she is the mother of two grown sons who have flown the coop. Her spare time is spent reading, walking the countryside and beach, or trying out new recipes from one of the many cookbooks she has collected over the years. She also volunteers loads of hours to her small church.
Full Series List in Order
1 - An Honorable Man (Sep-2019)
2 - Woman of His Heart (Oct-2019)
3 - Healing Chay (Oct-2019)
1 - A Beautiful Stranger (Nov-2016)
2 - Made In Paradise (Mar-2017)
3 - A Reason To Believe (Jun-2017)
0.5 - An Almost Perfect Christmas (Sep-2014)
1 - Following His Heart (Dec-2014)
2 - Two Hearts in Winter (Apr-2016)
2.5 - Grown-Up Christmas List (Oct-2016)
3 - Wild Hearts of Summer (Feb-2017)
4 - The Wedding Planner's Son (Jul-2017)
5 - Second Chance Valentine (Mar-2018)
1 - Derrick (Dec-2012)
2 - Jason (Dec-2012)
3 - Reece (Dec-2012)
Book List in Order:
28

titles
Where's Stanley?

If her husband turned up alive -- she'd kill him! Explaining to the seriously sexy cop why she hadn't noticed her husband missing for three days was both embarrassing and sobering. But the day Fiona Rowland lifted her head above the churning chaos...

---

The Merry-Go-Round

**USA Today Bestselling Author**When Lauren divorces her husband, she has one thought on her mind...stepping off the merry-go-round. However, her life quickly turns into a three-ring circus: her hypochondriac father moves in, her ex is using her show...

---

Taking Love in Stride

Track coach Andrea O'Connor fumed at the audacity of Ian Powers, the very attractive father of one of her students. He had offered to buy school equipment only if Andrea agreed to train him for a half-marathon. Well, train him, she would. And not jus...

---

An Accidental Family

/ General Fiction

"I do," the bride and groom said… and without love they wed.Jonas Winslow knows nothing about fatherhood, yet he's determined to keep his orphaned nephew. But the toddler's aunt, Robin Hampstead, isn't about to let go of her only remaining family. ...

---

His Wife for a While

/ General Fiction

***USA Today Bestselling Author*** Desperate BachelorBen Danvers was about to lose everything―unless he found a woman willing to become his wife. The terms of his grandfather's will were outrageous, but they were ironclad. Just whe...

---

Her Fake Romance

/ General Fiction

USA TODAY BESTSELLING AUTHOR! "The author's style was pure delight, fun and funky. Modern and very entertaining. I never would have thought that a fake romance could be so funny and emotional at the same time. HJ Top Pick!"  ~Harleq...

---

Take Me, I'm Yours

/ General Fiction

"Readers who enjoy Debbie Macomber's writing will feel right at home in a Fasano novel." ~Fredlet, a reviewerSexy single dad Derek Mitchell had learned the hard way to never trust a beautiful woman. So although he would always be indebted to Lainey...

---

Derrick

/ Contemporary Romance

The Single Dad:Ex-military man Derrick Richmond. Solitary and satisfied…until little Timmy was dropped into his lap and Derrick had to learn to be somebody's daddy.The Single Woman:Schoolteacher Anna Maxwell. Fate might have denied her a family of ...

---

Jason

/ Contemporary Romance

Desperate Daddy:Widowed police officer Jason Devlin. Taking care of his baby girl was usually a piece of cake – until his housekeeper quit, leaving Jason desperate enough to hire the first qualified person who rang his doorbell.Damsel in Destress:R...

---

---

Reece

/ Contemporary Romance

The only remaining single guy in the Single Dad Club, Reece Newton. Marriage may be the answer for all his friends, but not for this contented father of one. Of course, the right woman could change his mind…Endangered BeautyWoman in hiding, Maggie ...

---

Reclaim My Heart

Sometimes the truth hurts. Sixteen years ago, Tyne Whitlock cut all ties to her past and left town under the shameful shadow of a teenage pregnancy. Now her fifteen-year-old son is in trouble with the law, and she is desperate for help. But reaching ...

---

Sweet Christmas Kisses

/ Contemporary Romance

Sweet Christmas Kisses takes you from small-town USA to England, Scotland, and even Ecuador; from the beach to snow-capped mountains, and to the wild—sometimes magical—west. The Sweet Christmas Kisses bundle will bring you laughter, tears, and al...

---

An Almost Perfect Christmas

When it comes to business, Aaron Chase knows how to succeed. But when his daughter, Izzie, asks him for the perfect family Christmas, the handsome widower feels at a loss about how to make his little girl's dream come true. Pediatric Nurse Christy ...

---

Following His Heart

***USA Today Bestselling Author*** Sara Carson is a 30-something widow with a busy life. Two fun-loving best friends, a caring mom who needs her, and a thriving sweet shop. What more could a woman want? But when the ancient plumbing in her shop sprin...

---

Two Hearts in Winter

Loss and betrayal have caused Heather Phillips to give up on love. She's thrown herself into running The Lonely Loon, her Bed and Breakfast located on the boardwalk of Ocean City, Maryland. The "off season" in this tourist town is usually a tim...

---

Grown-Up Christmas List

Dina Griffin flees a dangerous situation and ends up in Ocean City, Maryland where she hopes to spend the holidays in hiding. Trusting no one, she wants only one thing this Christmas—to feel safe. Then Officer Gav Thomas threatens to arrest her for...

---

A Beautiful Stranger

When Sean Hudson arrives to claim his new daughter, he discovers the adoption hinges on the impossible. Unless he finds a wife immediately, the tiny orphan will be snatched away from him forever. But before Sean can abandon hope, a beautiful stranger...

---

Wild Hearts of Summer

Cathy Whitley's two best friends, Sara and Heather, may have found the men of their dreams… and that's all well and good for them. But that's not going to happen to Cathy. She allowed love to catch her off-guard once and it drained her, body ...

---

Made In Paradise

A Secret Made in Paradise…Her child is alive! For ten years Amber has believed her child was lost to her forever. Then an unexpected inheritance leads the lovely doctor back home… to the man she's always loved. There she discovers her beloved J...

---

---

A Reason To Believe

***A Sweet Contemporary Romance by USA Today Bestselling Author Donna Fasano*** A Real Fairy Tale It seems like a grand idea, temporarily trading her pixie wings for a womanly form to help handsome widower Paul Roland with his baby girl. And the mome...

---

The Wedding Planner's Son

Tawny McNealy is a driven, high-achiever who fully expects to someday take over and run the family accounting firm. But when an attempt is made to use her as a pawn, Tawny flees to the only place she's ever felt truly free and happy--the beach. Jack...

---

Finding Fiona

If her husband turns up alive--she'll kill him! Explaining to the seriously sexy cop why she hasn't noticed her husband has been missing for three days is both embarrassing and sobering. But the day Fiona Rowland lifts her head above the churning ch...

---

Dangerous Memories

What kind of woman am I? The question haunts Keira Rhodes when she awakens in the hospital with amnesia and learns that two men claim to be her baby's father. Logan claims he is her loving husband. Although Keira feels drawn to this quiet man, sh...

---

Second Chance Valentine

As teens, Josie and Alex met under golden sunshine, frolicked in the surf and sand, and fell head over toes in love. But circumstances arose that ruined their one glorious summer, and Josie fled Ocean City with a broken heart.Now Josie's grandmothe...

---

An Honorable Man

From USA Today Bestselling Author Donna FasanoNothing can make Native American Mat Makwa give up being a New York City police officer… except one little girl—all alone in the world—who needs a father. Returning to his Kolheek reservation to tak...

---

Healing Chay

From USA Today Bestselling Author Donna FasanoAll Chay Makwa wants is solitude so he can conquer these tormenting nightmares, yet he can't ignore the soft sobs of a woman in the woods near his cabin. The stranger with hair as pale as moonlight and ...

---

Woman of His Heart

From USA Today Bestselling Author Donna FasanoAn office romance? Dr. Dakota Makwa's man-hunting female patients are on the prowl—and he is their prey! The handsome Native American has had enough. He comes up with an unusual proposition for his nu...

---

---
Frequently Asked Questions (FAQ)
Donna Fasano has published 28 books.
Donna Fasano does not have a new book coming out soon. The latest book, Woman of His Heart, was published in October 2019.
The first book by Donna Fasano, Where's Stanley?, was published in March 2006.
Yes. Donna Fasano has 4 series.