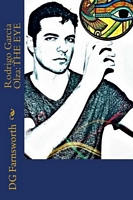 Newest Release
Bibliography:

9 Books - 1 Series

First Book:

October 2009

Latest Book:

June 2017
Full Series List in Order
1 - Vampire Curtain of Light (Jul-2015)
2 - Hidalgo Blood (Oct-2015)
3 - Hidalgo Twins (Feb-2016)
4 - Bloodstains by Dead Horses (Apr-2016)
5 - The Opening (Sep-2016)
6 - Purgatory Fog (Feb-2017)
7 - The Eye (Jun-2017)
Book List in Order:
9

titles
Superstar Passage

A ghost story in New Haven, Connecticut--or is it? A paranormal study of Karen Carpenter's haunting reincarnation mirrors the current rise of Higher Consciousness--culminating with the Mayan Calendar's 2012: an exploration of the Mayan connection to ...

---

Bombastic Gadflies

The menu needed altered severely. Not fit to consume or eat: that's how folks viewed the politics served to them in Kentucky. Candidates didn't level with the people. Dishing out negative advertising throughout the campaign sickened voters. Forking o...

---

Vampire Curtain of Light

His deepest fear is desire. In what way are you afraid of your own power of longing? Are you ever unwilling to release the full force of your passion, concerned that it might drive you out of control or lead you awry? Has the original owner of Fallon...

---

Hidalgo Blood

"We have art in order not to perish of the truth" -Nietzsche. Is there anything any more attractive than natural self acceptance? Believing in yourself is the magic that makes anything happen.God doesn't hate witches; he hates that they open a spirit...

---

Hidalgo Twins

"In Spain, the dead are more alive than the dead of any other country in the world." ---Federico García LorcaOne is the other's strength.They are just too similar. Their pull is like that of a magnet. Even before the twins formally met, they still f...

---

Bloodstains by Dead Horses

The entire idea of a vampire through the earliest recorded history has helped people make sense of their own world. The vampire today serves a totally different purpose than the historical paradigm. Social experiences described by true vampirism appe...

---

The Opening

Theater and art can be viewed as a form of religion. The live event of theater can be seen in the light of a spiritual service, ceremony, and ritual. Both theater drama and religion thrive on ambiguity. Some truths may only be witnessed in the dark; ...

---

Purgatory Fog

Fog occurs naturally in San Francisco: fog not unlike fog that engulfs San Francisco's Alcatraz Island, where Rodrigo García Olza mysteriously arrives underwater. Many so-called vampires worldwide are really demons. At least for this island, many th...

---

The Eye

Actor/vampire Rodrigo García Olza and his partner and protégé, fashion photographer Liam Mannering, embark on a Pacific Coast road trip on California State Route 1 from San Francisco to San Diego. The pretext of their adventure is the joy of trave...

---

---
Frequently Asked Questions (FAQ)
D.G. Farnsworth has published 9 books.
D.G. Farnsworth does not have a new book coming out soon. The latest book, The Eye, was published in June 2017.
The first book by D.G. Farnsworth, Superstar Passage, was published in October 2009.
Yes. D.G. Farnsworth has 1 series.