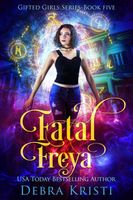 Newest Release
Bibliography:

14 Books - 2 Series

First Book:

November 2014

Latest Book:

October 2020

Rating:
Full Series List in Order
1 - The Moorigad Dragon (Nov-2014)
2 - Reap Not the Dragon (Feb-2015)
3 - Plight of the Dragon (Feb-2016)
1 - Becoming (Mar-2015)
2 - Awakening (Aug-2018)
Book List in Order:
14

titles
Dark Perceptions

Love is stronger than fear…or is it?

The last thing Sara remembers is a conflicted night out with her boyfriend, Matt, and laying out under the dark night's sky. How she came to be seated among the crowd under the Big Top is a mystery. When an...

---

The Moorigad Dragon

Saving a life shouldn't come with so many complications. Saving Marcus's life should've qualified as a good deed. Except, that's not why Kyra saves him. She's pulled to the deed by something supernatural. But then Marcus sees Kyra's hybri...

---

Reap Not the Dragon

A Reaper with a mission.

Sebastian is finished following commands. Higher powers be damned. He has his own agenda - find Kyra and help restore her memory.

At first his plan goes better than expected. But as life starts looking up for the would-...

---

Becoming

Ana's world is falling apart. What she thought were dreams start entering her waking life. Eerie shadows hunt her. Her dream guy becomes reality. And strange new abilities begin developing. Ana is becoming something other.

She is determined to fin...

---

Plight of the Dragon

An impossible predicament. Kyra and Sebastian have again reunited, but their future remains as foggy as the mist around Mystic's Carnival - uncertain and unpredictable. Fractured and torn, Kyra must restore her natural dragon-shifter self before her ...

---

Blood Promise

*The angel of harmony is about to become a warrior of destruction. *It's been sixty-seven years since a spell gone wrong devastated the planet. All that is left of humanity exists in the demon-ruled, sinking ruins of what was once New Yo...

---

Awakening

_____________________________________________________________________________________When the scales are tipped to the point of breaking, a balance bringer is born -- three sisters, one balancer at the core. This time, Ana, it's your burden to bear...

---

The First Balance Bringer

Before there was Ana and Jaden, there was Deona and Jove...the first incarnation of the Balance Bringer and her Tracer.In a time of great imbalance, when the elven tribes are retreating to their homeland, abandoning the world of Hiddenkel, three elve...

---

Magical Miri

There are the witches of the Quarter, and then there is the unwanted magickal bloodline. The family so secret, even its youngest members are unaware. That family would be mine. Now I must uncover the truth and discover my power before my family implo...

---

---

Bewitching Belle

Your kind are not smiled upon here, little witch.The fact that my family isn't welcome in the French Quarter is a message I keep receiving from the local practitioners. Stay out, keep to my own business. Only, my family and friends are my business. A...

---

Nowhere Nara

Being dead sucks. Being dead with amnesia can suck out your soul.My father told me to kiss a lot of boys and marry the best of the bunch. I remember an amazing kiss, but it doesn't matter much now. There'll be no marriage and no tomorrow. Not for me....

---

Clever Chloe

/ Fantasy

Death is my gift... my curse... my power to connect our world with the otherworld.I was born into a family of blood witches. Each of us with our own unique gifts. Mine - spiritual communication. Only, I'm still learning how it all works, and how to b...

---

Fatal Freya

/ General Fiction

I killed a man, turned him to dust, with nothing more than a hand touch.I don't know how to stop causing pain... or worse. I can't figure out what it is I do. My affects on others appears random. So very random. If only I had someone with whom I coul...

---

Igniting

The elements of water, earth, and air live in Ana's blood. Now fire will forge her soul.With the Balance Bringer binding complete, Ana recalls all that she is and all that she has ever been. Although knowing, remembering, doesn't make her mission-or ...

---
Frequently Asked Questions (FAQ)
Debra Kristi has published 14 books.
Debra Kristi does not have a new book coming out soon. The latest book, Fatal Freya, was published in October 2020.
The first book by Debra Kristi, The Moorigad Dragon, was published in November 2014.
Yes. Debra Kristi has 2 series.