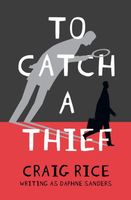 Newest Release
About the Author
Craig Rice
(Georgiana Ann Randolph Craig)
USA (1908 - 1957)

aka Gypsy Rose Lee, Daphne Sanders, George Sanders, Michael Venning

Craig Rice, the author of fourteen novels, countless short stories, and a number of true crime pieces, once rivaled Agatha Christie in sales. She was on the cover of Time Magazine in 1946. However, the past fifty years have seen her fall into relative obscurity.