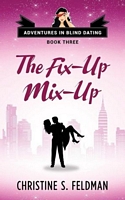 Newest Release
Bibliography:

11 Books - 2 Series

First Book:

March 2013

Latest Book:

July 2017

Rating:
Full Series List in Order
1 - It Happened One Night (Oct-2015)
2 - Center Stage (Mar-2017)
3 - The Fix-Up Mix-Up (Jul-2017)
1 - Pastels and Jingle Bells (Nov-2013)
2 - Love Lessons (Dec-2013)
3 - Playing Cupid (Jan-2014)
Book List in Order:
11

titles
Coming Home

No woman ever really forgets her first love. Callie Sorenson is no exception. Hers was tall, tanned, and - as her older brother's best friend - completely off limits. Danny McCutcheon. It's a name that Callie hasn't spoken in years, even if the man...

---

The Bargain

Tomboy Shannon Mahoney has always been a lot more comfortable with power tools than high heels or lipstick, and she wishes she could reinvent herself and finally tell her perfect boss, Drew Kingston, she has had a crush on him since high school. But ...

---

Pastels and Jingle Bells

Trish Ackerly never expected to cross paths with Ian Rafferty again, but when she spots the former bully of her childhood years through her bakery window, she thinks she may just have been given the best Christmas gift ever: the opportunity to final...

---

Love Lessons

Self-assured Nadia Normandy knows everything there is to know about men and dating, which seems to be why little old Mrs. Beasley maneuvers her into taking unsuspecting and bookish accountant Benji Garner under her wing. Her mission? Shape him up f...

---

Playing Cupid

Much as she loves her meddling matchmaker of a grandmother, free-spirited Aimee Beasley is tired of dodging the dull and downright tiresome dates the older woman keeps trying to arrange for her. So when she notices her beloved Gran preening in the p...

---

All's Fair in Love and Weddings

Prudence Collier spent the better part of her reckless youth proving that she was not aptly named, and unfortunately she burned a few bridges in the process, including where her family is concerned. So when her long-estranged sister invites her to he...

---

Winging It

Up until now, straitlaced Simon Kirkendale has done an admirable job of keeping his high society mother's demands for grandbabies at bay, but lately she's kicked things into high gear. So he isn't too disappointed to delay her latest matchmakin...

---

It Happened One Night

Who has time for dating these days? Certainly not struggling entrepreneur Paisley Jameson, who has way too much on her plate to pay any real attention to her shriveling social life. And not mechanic Joe Spencer either, who has a lot on his mind wit...

---

The Encore

/ General Fiction

When Jane married her college sweetheart and the love of her life, she never dreamed she would lose him to leukemia before either of them reached forty. A year later, she's struggling to move on and create a new life for herself, a second act that sh...

---

---

Center Stage

When financially-strapped actor J.J. McKinney responds to an unusual Help Wanted ad on the bulletin board outside his theater class, he has no idea that he's in for an evening of improv like no other: posing as the hitherto fabricated boyfriend of ...

---

The Fix-Up Mix-Up

The Fix-Up Mix-UpWhen the two biggest self-proclaimed matchmakers in town throw down and call each other out, Jenna Owens feels obliged to step in and broker the peace any way she can. After all, one is her mother and the other is her best friend, an...

---
Frequently Asked Questions (FAQ)
Christine S. Feldman has published 11 books.
Christine S. Feldman does not have a new book coming out soon. The latest book, The Fix-Up Mix-Up, was published in July 2017.
The first book by Christine S. Feldman, Coming Home, was published in March 2013.
Yes. Christine S. Feldman has 2 series.