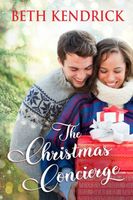 Newest Release
Bibliography:

16 Books - 1 Series

First Book:

August 2004

Latest Book:

October 2022

Rating:
Full Series List in Order
1 - Cure for the Common Breakup (May-2014)
2 - New Uses for Old Boyfriends (Feb-2015)
3 - Put a Ring on It (Nov-2015)
4 - Once Upon a Wine (Aug-2016)
5 - In Dog We Trust (Jan-2019)
Book List in Order:
16

titles
My Favorite Mistake

FIRST LOVE ISN'T FOREVER... Exhibit A: Faith's little sister, Skye, who muddled through her first divorce at the tender age of twenty-one. Faith has always provided damage control when Skye's love life gets too reminiscent of a daytime drama. But ...

---

The Bad Breakup Regime

in In One Year and Out the Other

It's not just another midnight.... Celebrate the start of something new with In One Year and Out the Other ...a sparkling New Year's Eve story collection by today's rising fiction stars! Cara Lockwood puts self-improvement to the test with ...

---

Exes and Ohs

exit the groom... Child psychologist Gwen Traynor has learned the hard way that "perfect" men aren't always what they seem. After being dumped the night before her wedding, she's understandably wary of diving back into the dating pool. But when s...

---

Fashionably Late

She's late for her life... Becca Davis has always played it safe -- denying her passion for fashion design in a dead-end job and letting her pragmatic boyfriend (mastermind of the "Kevin Bradley Ten-Year Plan") make the tough decisions in life. Stun...

---

Nearlyweds

Everyone says the first year of marriage is the hardest . . . but what would you do if you found out that you were never really married in the first place? In this irresistible romantic comedy from award-winning author Beth Kendrick, three wildly di...

---

The Pre-Nup

All you need is love? For the residents of swanky Mayfair Estates, a pre-nup is just another item on the wedding to-do checklist -- but three friends get more than they bargained for when they promise to love, cherish . . . and sign on the dotted lin...

---

Second Time Around

Every summer, four college friends hold a mini-reunion. They laugh, reminisce, and commiserate about their soul-sucking jobs. Maybe they should have listened to everyone who warned them to study something practical. Then an unexpected windfall arr...

---

The Bake-off

Beth Kendrick delivers a fresh, funny story about family, self-discovery, and the pursuit of the perfect piecrust. Suburban soccer mom Amy has always wanted to stand out from the crowd. Former child prodigy Linnie just wants to fit in. The two siste...

---

The Lucky Dog Matchmaking Service

From Beth Kendrick comes a hilarious and heartwarming story about bad dogs and the women who love them… Lara Madigan has a gift. She can help you find your soulmate--your canine soul mate, that is. As a dog trainer with a soft spot for strays...

---

---

The Week Before the Wedding

Beth Kendrick sweeps you off your feet with a captivating tale of how even the best-laid plans can falter at the altar. After enduring a chaotic childhood, Emily McKellips yearns for a drama-free life, complete with a white picket fence. Her dream...

---

Cure for the Common Breakup

Welcome to Black Dog Bay, a tiny seaside town in Delaware known as "the best place in America to bounce back from your breakup." Home to the Better Off Bed-and-Breakfast, the Eat Your Heart Out bakery, and the Whinery bar, Black Dog Bay offers a have...

---

New Uses for Old Boyfriends

After growing up in privilege and marrying into money, Lila Alders has gotten used to the good life. But when her happily-ever-after implodes, Lila must return to Black Dog Bay, the tiny seaside town where she grew up. She's desperate for a safe ha...

---

Put a Ring on It

The author of New Uses for Old Boyfriends returns to the Delaware seashore town of Black Dog Bay, where one woman learns to put passion before practicality… Brighton Smith doesn't do outrageous. As an insurance actuary, it's her job to asses...

---

Once Upon a Wine

A new novel set in the charming seaside town of Black Dog Bay, Delaware... Cammie Breyer needs a big glass of cabernet -- her restaurant failed and her chef boyfriend left for a hotter kitchen. Just when she thinks she's hit rock bottom, her Au...

---

In Dog We Trust

From the author of Once Upon a Wine, a new novel set in the charming seashore town of Black Dog Bay, Delaware. When everything has gone to the dogs... When Jocelyn Hillier is named legal guardian for the late Mr. Allardyce's pack of pedigree...

---

The Christmas Concierge

Christmas concierge Holiday Smith, known as the Wish Granter, procures impossible-to-find gifts for her elite clients. But after years of granting everyone's wishes but her own, she promises her family that this year she'll finally make it home for C...

---
Frequently Asked Questions (FAQ)
Beth Kendrick has published 16 books.
Beth Kendrick does not have a new book coming out soon. The latest book, The Christmas Concierge, was published in October 2022.
The first book by Beth Kendrick, My Favorite Mistake, was published in August 2004.
Yes. Beth Kendrick has 1 series.