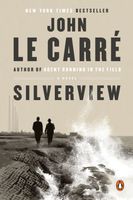 Newest Release
Bibliography:

31 Books - 1 Series

First Book:

August 1962

Latest Book:

October 2021

Rating:
About the Author
John le Carré is the nom de plume of David John Moore Cornwell, who was born in 1931 in Poole, Dorset, and was educated at Sherborne School, at the University of Berne (where he studied German literature for a year) and at Lincoln College, Oxford, where he graduated with a first-class honours degree in modern languages.

He taught at Eton from 1956 to 1958 and was a member of the British Foreign Service from 1959 to 1964, serving first as Second Secretary in the British Embassy in Bonn and subsequently as Political Consul in Hamburg. He started writing novels in 1961, and since then has published twenty-one titles.

John le Carre, a spy turned novelist who became the preeminent writer of espionage fiction in English, has died at age 89.

Born: October 19, 1931 - Poole, United Kingdom
Died: December 12, 2020 (age 89) - Cornwall, United Kingdom

Full Series List in Order
1 - Call for the Dead (Aug-1962)
2 - A Murder of Quality (Aug-1963)
3 - The Spy Who Came in from the Cold (1963)
4 - The Looking Glass War (Jun-1965)
5 - Tinker, Tailor, Soldier, Spy (1974)
6 - The Honourable Schoolboy (1977)
7 - Smiley's People (1979)
8 - The Secret Pilgrim (Jan-1991)
Book List in Order:
31

titles
Call for the Dead

The world-famous undercover operative, George Smiley, is bitter, weary--he has seen too much and done too much--yet he cannot refuse one last desperate call for his services. Smiley returns to solve a baffling case involving a suspect British civi...

---

The Spy Who Came in from the Cold

From the author of THE HONOURABLE SCHOOLBOY, TINKER TAILOR SOLDIER SPY and SMILEY'S PEOPLE, a thriller about an intelligence agent who has decided to put his life of espionage behind him, but first there is one more dangerous assignment to accomplish...

---

A Murder of Quality

George Smiley, emerges from retirement to solve a baffling, bloody crime. He becomes entangled with a woman as dangerous as she is charming... and a tottering, brilliant man haunted by a perverse secret of his past. Smiley pursues the murderer amid t...

---

The Looking Glass War

From the New York Times bestselling author of A Legacy of Spies.  "You are either good or bad, and both are dangerous." It would have been an easy job for the Circus: a can of film couriered from Helsinki to London. In the past the Circus handle...

---

A Small Town in Germany

A man is missing. Harting, refugee background, a Junior Something in the Britisl Embassy in Bonn. Gone with him are forty-three files, all of them Confidential or above It is vital that the Germans do not learn that Harting is missing, nor that th...

---

The Naive and Sentimental Lover

"I have visited Bohemia and got away unscathed." Aldo Cassidy is an entrepreneurial genius. At thirty-nine, he dominates the baby pram market and rewards his success with a custom Bentley. But Aldo's bourgeois life is upended by a chance encounte...

---

Tinker, Tailor, Soldier, Spy

A modern masterpiece, TINKER, TAILOR, SOLDIER, SPY begins George Smiley's chess match of wills and wits with Karla, his Soviet equivalent, as he's assigned to identify and destroy the double agent--a mole--who has burrowed his way into the top echelo...

---

The Honourable Schoolboy

Flush from exposing a mole in the organization, Smiley is charged with restoring order and morale to the British Secret Service and chooses the Far East as his arena for challenging the Soviets. Reprint....

---

Smiley's People

From the New York Times bestselling author of Tinker, Tailor, Soldier, Spy; Our Kind of Traitor; and The Night Manager, now a television series starring Tom Hiddleston. Tell Max that it concerns the Sandman…A very...

---

---

The Little Drummer Girl

John le Carré's classic novels deftly navigate readers through the intricate shadow world's of international espionage with unsurpassed skill and knowledge, and have earned him unprecedented worldwide acclaim. In this thrilling and though-provoking ...

---

The Perfect Spy

John Le Carré's classic novels deftly navigate readers through the intricate shadow worlds of international espionage with unsurpassed skill and knowledge, and have earned him aunprecedented worldwide acclaim. Magnus Pym, Britian's premier spy, has ...

---

The Secret Pilgrim

The Cold War is over. The rules of the spying game have changed. But to train new spies for this uncertain future, one must first show them the past. Enter the man called Ned, the loyal and shrewd veteran of the Circus. With the inspiration of his in...

---

The Russia House

World powers clash for dominance as a beautiful Russian woman carries out a staggering mission and a derelict English publisher becomes the unlikely recipient of the Soviet Union's top defense secret. Reprint....

---

Night Manager

Enter the new world of espionage, where the skills forged by generations of spies during the darkest days of the Cold War are put to even more terrifying use. Penetrate the secret world of ruthless arms dealers and drug smugglers who have risen to un...

---

---

The Tailor of Panama

He is Harry Pendel: Exclusive tailor to Panama's most powerful men. Informant to British Intelligence. The perfect spy in a country rife with corruption and revolution. What his "handlers" don't realize is that Harry has a hidden agenda of his own. D...

---

Single & Single

In a novel set in the highstakes high finance postCold War world, a son betrays and then saves his corrupt father and a husband is responsible for the violent destruction of his wife's entire family. Reprint....

---

The Constant Gardener

John le Carre's exquisite new novel opens in northern Kenya with the gruesome murder of the young and beautiful Tessa Quayle. Her husband, Justin, sets out on a personal odyssey in pursuit of the killers and their motive, and what he learns makes him...

---

Absolute Friends

A ferocious new novel from the master: when a man's good heart is his worst enemy. . . By chance and not by choice, Ted Mundy, eternal striver, failed writer, and expatriate son of a British Army officer, used to be a spy. But that was in the good...

---

---

The Mission Song

Abandoned by both his Irish father and Congolese mother, Bruno Salvador has long looked for someone to guide his life. He has found it in Mr. Anderson of British Intelligence.Bruno's African upbringing, and fluency in numerous African languages, has ...

---

A Most Wanted Man

New spies with new loyalties, old spies with old ones; terror as the new mantra; decent people wanting to do good but caught in the moral maze; all the sound, rational reasons for doing the inhuman thing; the recognition that we cannot safely love or...

---

Our Kind of Traitor

The unrivaled master of spy fiction returns with a taut and suspenseful of dirty money and dirtier politics. For nearly half a century, John le Carré's limitless imagination has enthralled millions of readers and moviegoers around the globe. Fr...

---

A Delicate Truth

A counter-terrorist operation, codenamed Wildlife, is being mounted on the British crown colony of Gibraltar. Its purpose: to capture and abduct a high-value jihadist arms buyer. Its authors: an ambitious Foreign Office Minister, a private defense c...

---

---

---

A Legacy of Spies

The undisputed master returns with a riveting new book -- his first Smiley novel in more than twenty-five years Peter Guillam, staunch colleague and disciple of George Smiley of the British Secret Service, otherwise known as the Circus, is living...

---

Agent Running in the Field

Nat, a 47 year-old veteran of Britain's Secret Intelligence Service, believes his years as an agent runner are over. He is back in London with his wife, the long-suffering Prue. But with the growing threat from Moscow Centre, the office has one mor...

---

Silverview

In his last completed novel, John le Carré turns his focus to the world that occupied his writing for the past sixty years -- the secret world itself.Named a most anticipated book of the fall by the Associated Press, TIME, People, Entertainment Week...

---

---

---

---

---
Award-Winning Books by John Le Carre
The Spy Who Came in from the Cold
1965 Edgar Allan Poe Award -- Novel
Frequently Asked Questions (FAQ)
John Le Carre has published 31 books.
John Le Carre does not have a new book coming out soon. The latest book, Silverview, was published in October 2021.
The first book by John Le Carre, Call for the Dead, was published in August 1962.
Yes. John Le Carre has 1 series.