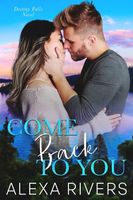 Newest Release
Bibliography:

18 Books - 3 Series

First Book:

November 2019

Latest Book:

June 2023

Rating:
Full Series List in Order
0.5 - Stay With You (Oct-2022)
1 - Come Back to You (Nov-2022)
2 - Always Been Yours (Jun-2023)
1 - Then There Was You (Jul-2020)
2 - Two of a Kind (Sep-2020)
3 - Safe In His Arms (Feb-2021)
4 - If Only You Knew (Sep-2021)
5 - Pretend to Be Yours (Feb-2022)
6 - Begin Again With You (May-2022)
7 - Let Me Love You (Oct-2022)
1 - Accidentally Yours (Nov-2019)
2 - From Now Until Forever (Dec-2019)
3 - It Was Always You (May-2020)
3.5 - Midnight Kisses (May-2020)
4 - Dreaming of You (May-2020)
4.5 - Second Chance Christmas (Nov-2020)
Book List in Order:
18

titles
Accidentally Yours

CEO Eli Lockwood is in over his head. Running his multi-million dollar empire? No problem. Relating to his rebellious little sister who has been entrusted to his care? That's a different story. And it's just his rotten luck that the only ...

---

From Now Until Forever

Being friends with benefits can work… but only if you don't fall in love… Sophie Delaware is ready to climb out of the slump she's been in since she ditched her lying, cheating ex. There's no way she wants to commit t...

---

Dreaming of You

She thinks she's too broken for happily-ever-after, but a chance encounter makes her wonder if love can heal her wounded heart… Clarissa Mitchell may spend her days with blushing brides, but that doesn't mean she wants to be one. After an inci...

---

It Was Always You

Who says you never get a second chance at your first love?Dr. Avery Brown is a skeptic by nature. It's a good trait for a scientist, but when it comes to relationships? It can complicate things. Not that it really matters. She's too busy revolutioniz...

---

Midnight Kisses

It'll take more than one perfect midnight kiss to bring these polar opposites together...Emily Parker has loved Justin Simons for years, but their timing was never right. The fact that he was engaged to her high school nemesis didn't help matters, ei...

---

Then There Was You

He's a big city developer determined to buy her land. She's a small town B&B owner who's vowed never to sell. When these opposites clash, sparks fly. Kat Hopa has spent the past three years renovating her beachside lodge in idyllic Haven Bay, and she...

---

Two of a Kind

He's a professional adventurer. Her only adventures have been between the pages of her favorite novels. When they share a mind-blowing kiss, will these polar opposites fizzle or combust? Blogger Brooke Griffiths has spent a lifetime being held back b...

---

Second Chance Christmas

Will a flighty free-spirit and a rugged Irish bartender have their second chance at love this festive season? Evie Parata breezed out of her small town as a teenager to see the world and never looked back. But lately, the years of constant motion hav...

---

Safe In His Arms

She's running for her life. He's hiding from his past. When the two collide, can they emerge with their hearts intact?When Megan Talbot flees her violent ex, she seeks refuge in the charming beachside town of Haven Bay. The kind-hearted locals are ha...

---

---

If Only You Knew

Five years ago, she left her ex and gave birth in secret. Now her ex's sexy brother has moved to town, and he wants answers. But he might just steal her heart, too.Single mother Bex Cane doesn't have time for love. It's hard enough managing three job...

---

Love is Coming to Town

What's a small town Christmas without a little romance?Fake relationships, second chances, friends to lovers, and sexy brother's best friends.Mix in some small town gossip, meddling matchmakers, and Christmas magic and you have a perfect holiday esca...

---

Pretend to Be Yours

Faith needs a fake boyfriend to ward off her matchmaking mother. Gorgeous single dad Shane fits the bill. Now he just needs to persuade her to give him a chance at something real. Faith St. John doesn't do relationships. Not after a string of men tol...

---

Begin Again With You

She's a trophy-wife turned outcast. He's the hunky librarian she once rejected. Sparks fly when he becomes her boss, but can they put the past behind them to try again?Jobless and homeless, Charity St. John is forced to return to Haven Bay with her t...

---

Let Me Love You

She's broken-hearted. He's just broken. When they become temporary neighbors, will they be able to heal together?Mikayla Talbot has been in love with her boss for years, but when she humiliates herself in front of him—and his brand new fianc&e...

---

Stay With You

I thought flying halfway around the world for a gap year would be a great adventure, but it's not the stunning mountain scenery that makes my heart go crazy. It's the gorgeous trainee firefighter who rescues me during my first week in Destiny Falls.L...

---

Come Back to You

I should have known when I sold my mansion in Bel Air and flew to the bottom of the world with a suitcase and a dream that nothing would go according to plan.Returning to the small town where I'd spent the happiest year of my life had seemed like a g...

---

A Place to Belong

FelicityI didn't expect to find a half-dressed man in my new kitchen. I really didn't expect him to claim that I was the intruder. It turns out his mom is my landlord, and she's trying to matchmake us. Unluckily for me, surly lumberjack-lookalike Wya...

---

---
Frequently Asked Questions (FAQ)
Alexa Rivers has published 18 books.
The next book by Alexa Rivers, Always Been Yours, will be published in June 2023.
The first book by Alexa Rivers, Accidentally Yours, was published in November 2019.
Yes. Alexa Rivers has 3 series.