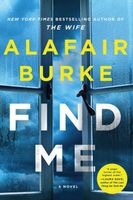 Newest Release
About the Author
Alafair Burke is the best-selling author of six novels, including City of Lies and City of Fear in the Ellie Hatcher series. A former prosecutor, she now teaches criminal law and lives in Manhattan. Long Gone is her first stand-alone thriller.
Full Series List in Order
1 - Dead Connection (Jul-2007)
2 - Angel's Tip (Sep-2008)
3 - 212 (Apr-2010)
4 - Long Gone (Jul-2011)
4 - Never Tell (Jun-2012)
5 - All Day and a Night (Jun-2014)
5.5 - City of Lies (Jan-2010)
5.5 - Find Me (Jan-2022)
1 - Judgment Calls (Jul-2003)
2 - Missing Justice (Jun-2004)
3 - Close Case (Jul-2005)
Book List in Order:
20

titles
---

Judgment Calls

After three years on the job in Portland's Drug and Vice Division, Deputy DA Samantha Kincaid gets what she wants: her first case with the Major Crimes Team. Kendra Martin, a 13-year-old runaway, has been found drugged, viciously assaulted, and left ...

---

Missing Justice

Newly promoted Deputy District Attorney Samantha Kincaid's first assignment back after a much-needed vacation is a hot one: Judge Clarissa Easterbrook has gone missing from a wealthy Portland neighborhood, and Sam has to make the DA look good until t...

---

Close Case

A MURDER TOO CLOSE FOR COMFORT Deputy District Attorney Samantha Kincaid likes to be where the action is: at the scene of a crime, at the arrest of a suspect, with the cops on the Major Crimes Team. But when street-smart, plugged-in reporter Percy C...

---

Dead Connection

When two young women are murdered on the streets of New York, exactly one year apart, Detective Ellie Hatcher is called up for a special assignment on the homicide task force. The killer has left behind a clue connecting the two cases to First Date, ...

---

Winning

WHAT IS IT LIKE TO CORNER A MURDERER? TO UNMASK A HIDDEN KILLER? In The Blue Religion, bestselling author Michael Connelly brings together nineteen original stories from some of today's greatest crime writers to reveal the thrills and dangers of b...

---

Angel's Tip

In a city full of victims . . . it's hard to choose just one. Fresh-faced Indiana college student Chelsea Hart is so excited to spend the final hours of her spring break in the VIP room of an elite New York City club that she remains behind when ...

---

City of Fear

/ Thriller

---

City of Lies

/ Thriller

---

212

In New York City, Nights Are Dangerous. Days Are Numbered. When New York University sophomore Megan Gunther finds personal threats posted to a Web site specializing in campus gossip, she's taken aback by their menacing tone. Someone knows her dail...

---

---

Long Gone

What if everything you thought you knew turned out to be a lie? After a layoff and months of struggling, Alice Humphrey finally lands her dream job managing a new art gallery in Manhattan's trendy Meatpacking District. According to Drew Campbell, ...

---

The Mother

When a different kind of justice is needed -- swift, effective, and personal -- a new type of avenger must take action. Vengeance features new stories by bestselling crime writers including Lee Child, Michael Connelly, Dennis Lehane, and Karin Slaugh...

---

Never Tell

Sixteen-year-old Julia Whitmire appeared to have everything: a famous father, a luxurious Manhattan town house, a coveted spot at the elite Casden prep school. When she is found dead in her bathtub, a handwritten suicide note left on her bed, her...

---

If You Were Here

Magazine journalist McKenna Jordan is chasing the latest urban folktale--the story of an unidentified woman who heroically pulled a teenage boy from the subway tracks seconds before the arrival of an oncoming train. When McKenna locates a video snipp...

---

All Day and a Night

A new murder case with ties to a convicted serial killer leads Detective Ellie Hatcher into a twisting investigation with explosive and deadly results in this superb mystery.. When psychotherapist Helen Brunswick is murdered in her Park Slope offi...

---

---

Waking Kylie

/ Thriller

From the New York Times bestselling author of The Ex comes a new e-short featuring an excerpt from her forthcoming novel, The Wife.

After losing a criminal case, a prosecutor asks herself how far she's willing to go to protect the young g...

---

---

The Better Sister

Keep your enemies close and your sister closer. Though Chloe was the younger of the two Taylor sisters, she always seemed to be the one in charge. She was the honor roll student with big dreams and an even bigger work ethic. Nicky -- always restle...

---

---

---

Find Me

The disappearance of a young woman leaves her best friend reeling and an NYPD homicide detective digging into her own past in this twisty mystery about the power of female friendships. From the New York Times bestselling author of The Better Sister a...

---
Frequently Asked Questions (FAQ)
Alafair Burke has published 20 books.
Alafair Burke does not have a new book coming out soon. The latest book, Find Me, was published in January 2022.
The first book by Alafair Burke, Judgment Calls, was published in July 2003.
Yes. Alafair Burke has 2 series.