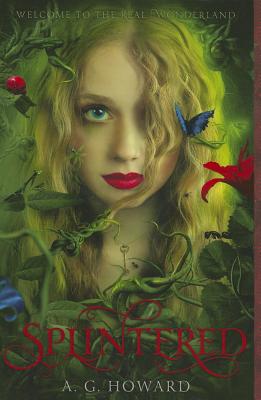 Length:

6 Books

First Book:

January 2013

Latest Book:

January 2015

Genres:

Fantasy

Age Level:

Young Adult (12-17)

Rating:
Splintered Series in Order (6 Books)
Book Descriptions for series: Splintered
Alice The Absent

Book - 0.5


Long before Alyssa Gardner found her way into the rabbit hole to have the adventure of a lifetime and find the love of an eternity, her great-great-great grandmother, Alice, stumbled in. The child's frolics and adventures left footprints across the p...

---

Splintered

Book - 1


This stunning debut captures the grotesque madness of a mystical under-land, as well as a girl's pangs of first love and independence. Alyssa Gardner hears the whispers of bugs and flowers--precisely the affliction that landed her mother in a mental ...

---

The Moth in the Mirror

Book - 1.5


An original ebook-only novella in the Splintered series, told from the points of view of both Jeb and Morpheus. Morpheus wants to know more about his rival for Alyssa's affections, so he digs into Jeb's memories of his time in Wonderland. But he may ...

---

---

---

Untamed: A Splintered Companion

Alyssa Gardner went down the rabbit hole and took control of her destiny. She survived the battle for Wonderland and the battle for her heart. In this collection of three novellas, join Alyssa and her family as they look back at their memories of Won...

---
Frequently Asked Questions (FAQ)
There are 6 books in the Splintered series.
The Splintered series does not have a new book coming out soon. The latest book, Ensnared (Book 3), was published in January 2015.
The first book in the Splintered series, Splintered, was published in January 2013.
The Splintered series primarily falls into the Fantasy genre. This young adult series was written for ages 12-17, but can be enjoyed by adults too.