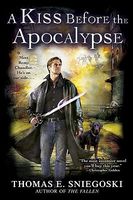 Length:

9 Books

First:

May 2008

Latest:

October 2015

Rating:
Series Description
Remy Chandler, Boston-based private investigator, is no typical PI. He is an angel with supernatural powers living amongst mere mortals on Earth. He's not a typical fallen angel though, he volunteered to descend from heaven. Key among his angelic powers is his ability to understand any language, human or animal. He can also make himself invisible and hear the thoughts of others.

Do you love cases with zombies, werewolves, demons or dark places ? Then the Remy Chandler Novels are the perfect urban paranormal detective mystery series you're looking for.

The series is by author Thomas E. Sniegoski, most well known for his contributions to the Buffyverse, and for his other series The Fallen and Billy Hooten.