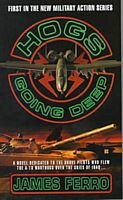 Length:

6 Books

First Book:

May 1999

Latest Book:

January 2002

Genres:

Action Adventure

Rating:
Hogs Series in Order (6 Books)
Book Descriptions for series: Hogs
Going Deep

Book - 1


The first in a new series of military action thrillers celebrating the exploits of the pilots who fly the A-10A Warthogs follows Lieutenant William James "B. J." Dixon and his commander, Major James "Mongoose" Johnson, as they prepare for action over...

---

---

---

---

Target: Saddam

Book - 5


When they hear that Saddam Hussein is headed for a village right behind enemy lines, the A-10A Warthogs head into enemy territory to take out the Iraqi leader, rescue one of their pilots who is on the ground in the vicinity, and stop the Gulf War wit...

---

Death Wish

Book - 6


OVER THE DESERTS OF IRAQ The A-10A Warthogs are the final word in air-to-ground combat. Taking on any threat on land or in the sky, the only thing tougher than the machines are the men and women who fly them. BEYOND THE CALL OF DUTY When members...

---
Frequently Asked Questions (FAQ)
There are 6 books in the Hogs series.
The Hogs series does not have a new book coming out soon. The latest book, Death Wish (Book 6), was published in January 2002.
The first book in the Hogs series, Going Deep, was published in May 1999.
The Hogs series primarily falls into the Action Adventure genre.